Vendo Seiko 7s36-0050 SBSS003 1997 Arancio
Postad på Orologi Passioni 2022-10-11 16:57:00 +0000 av **Patpatri**
Note that the text below is in most cases automatically translated from it's original language
As the title suggests, I sell Seiko 7s36-0050 SBSS003 year 1997 The watch works and was serviced last year, excellent time keeping and winding maintenance.
Completely original and coeval watch, never been polished.
Glass with light marks. Rare version with orange dial Internal rotating bezel with crown Original bracelet
Box and papers in Japanese language included. Additional links of the bracelet that allow it to be worn on wrists up to about 19 cm.
No Exchanges, No Trade-ins
I ask for 600 euros including shipping by express courier, delivery in 24/48 hours.
Paypal payment for goods and services to be added + 5% on the total due to sales taxes and package insurance amount. for other types of payment obviously no supplement - Paypal friends - postepay - bank transfer
I thank O&P for the space granted and I attach photos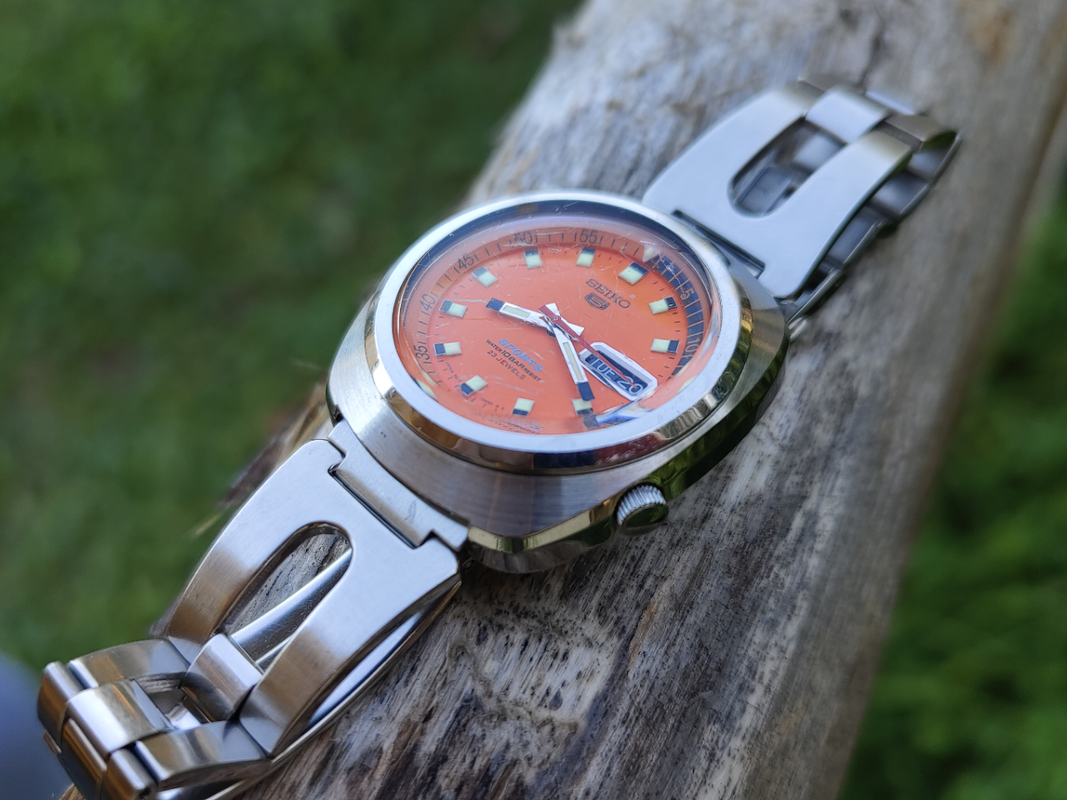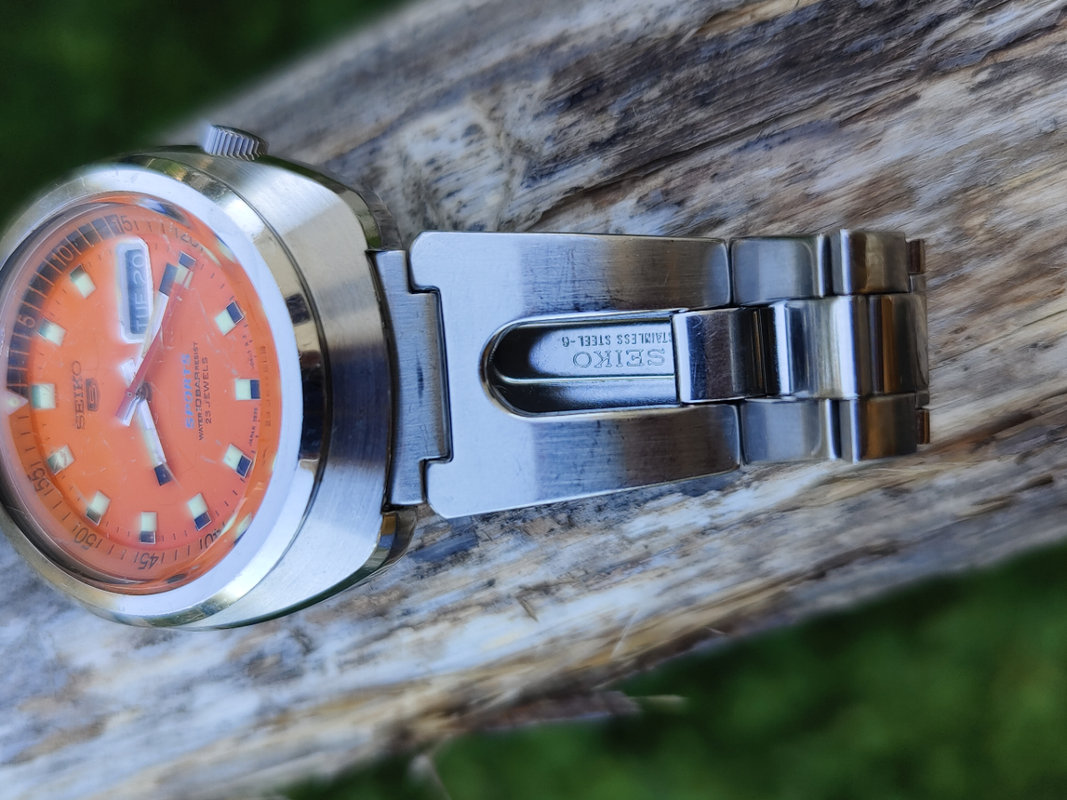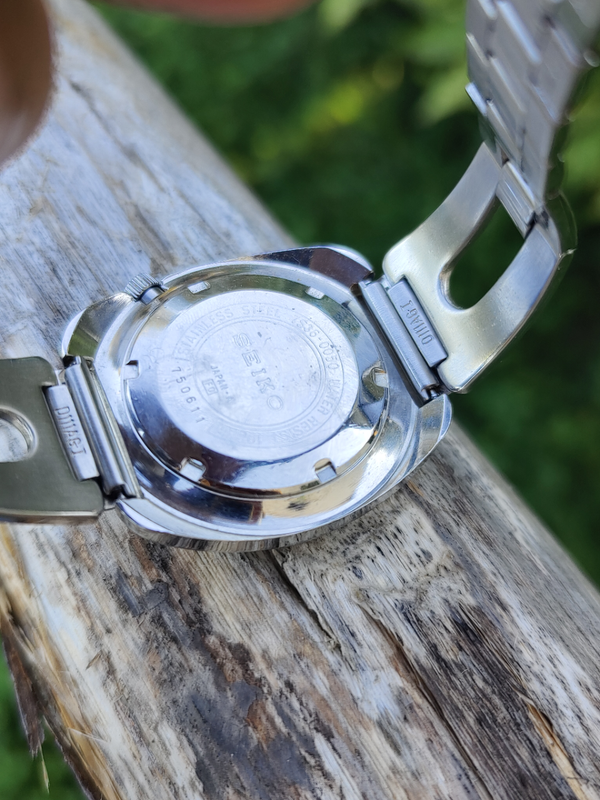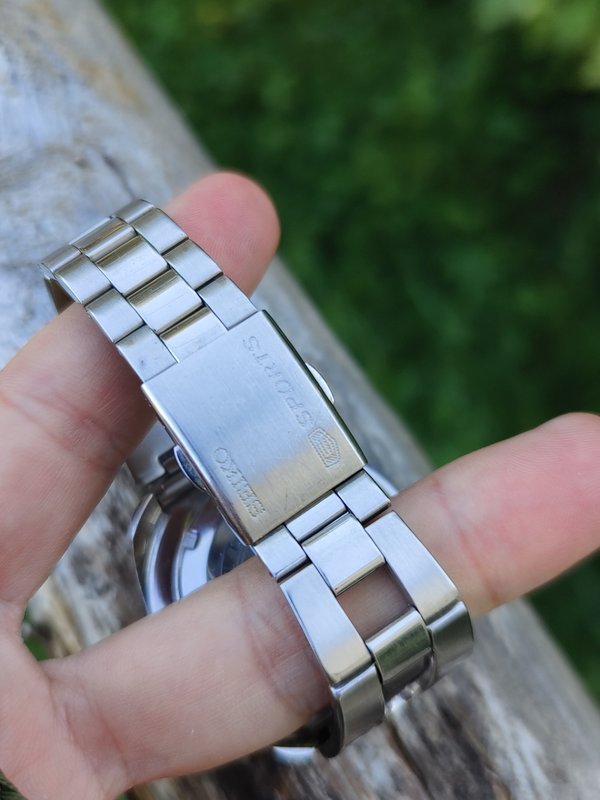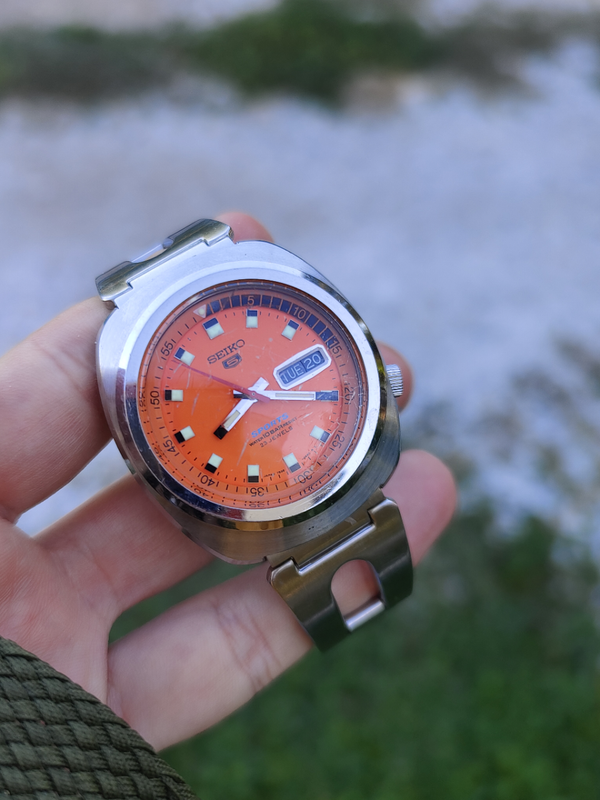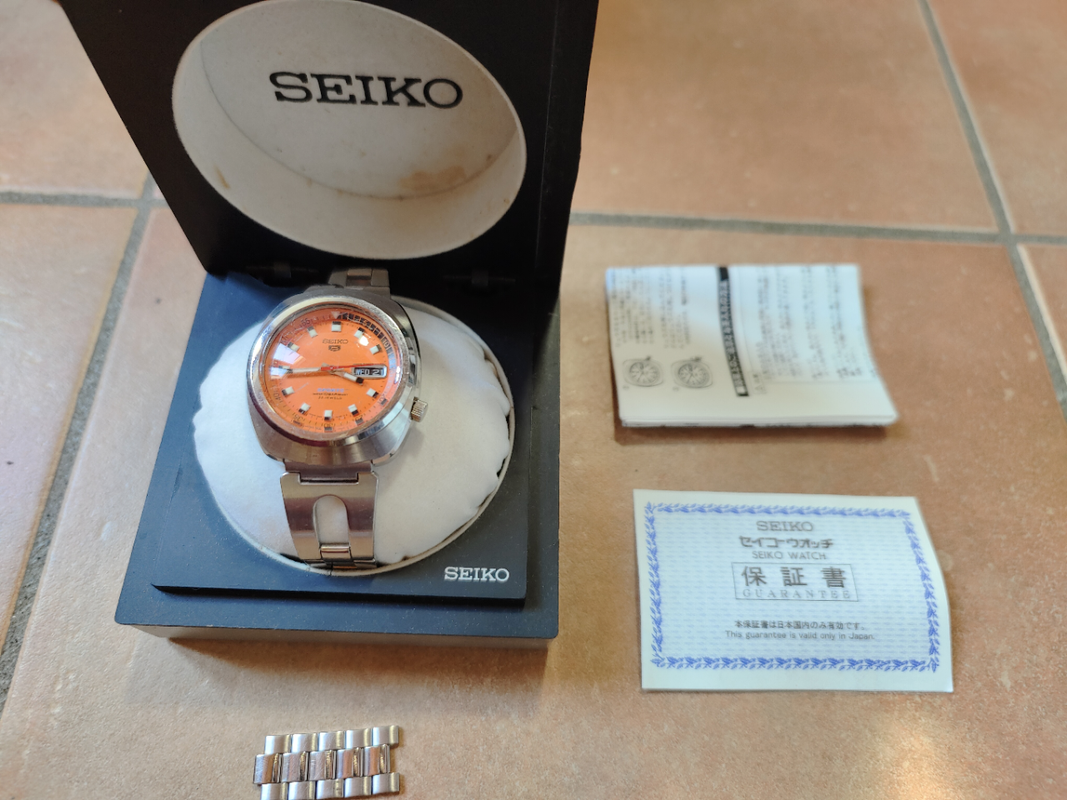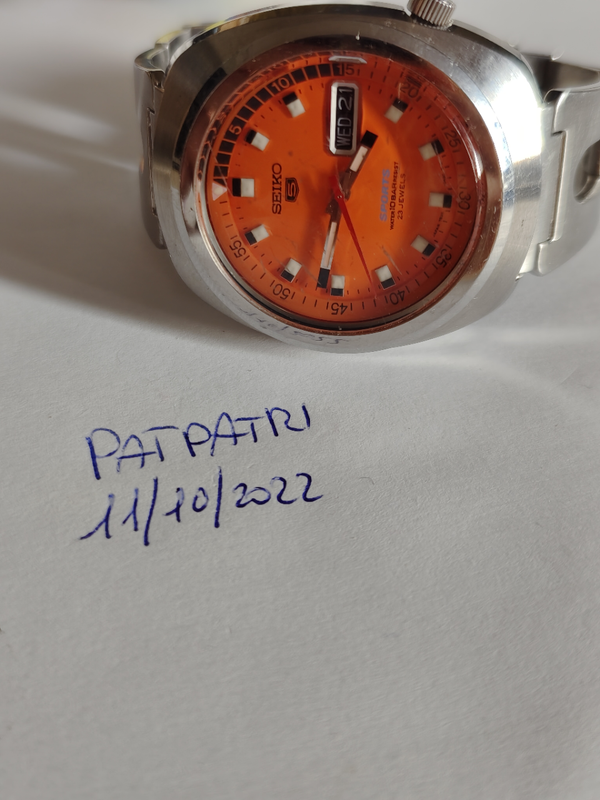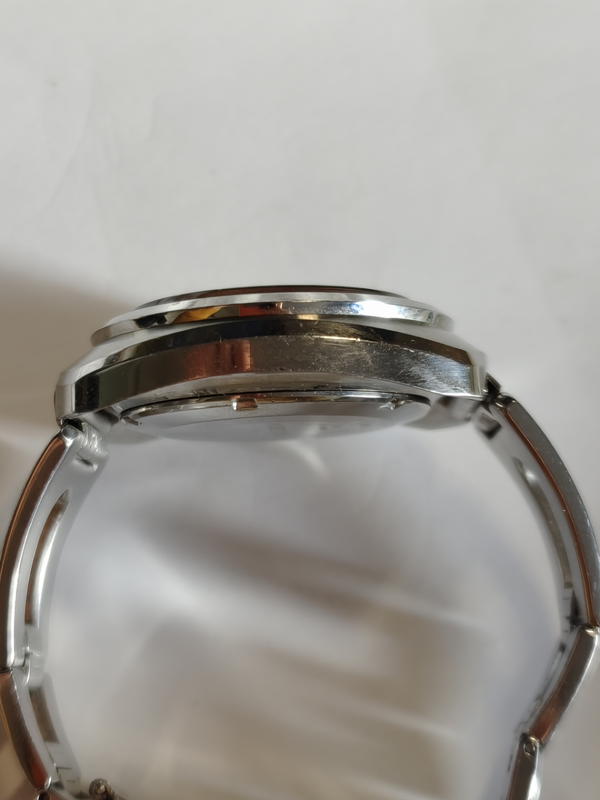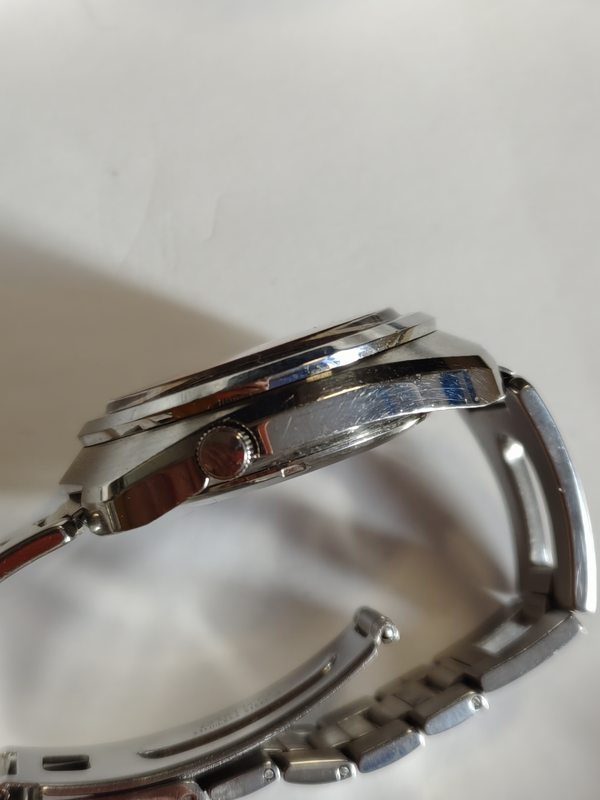 Notera att texten nedan i de flesta fall är automatiskt översatt från sitt ursprungsspråk.
Som titeln antyder säljer jag Seiko 7s36-0050 SBSS003 år 1997 Klockan fungerar och servades förra året, utmärkt tidtagning och lindningsunderhåll.
Helt original och coeval klocka, aldrig polerad.
Glas med ljusa märken. Sällsynt version med orange urtavla Intern roterande ram med krona Original armband
Kartong och papper på japanska ingår. Ytterligare länkar av armbandet som gör att det kan bäras på handleder upp till ca 19 cm.
Inga byten, inga inbyten
Jag ber om 600 euro inklusive frakt med expressbud, leverans inom 24/48 timmar.
Paypal betalning för varor och tjänster tillkommer + 5% på summan på grund av moms och paketförsäkringsbelopp. för andra typer av betalningar uppenbarligen inget tillägg - Paypal-vänner - efterskottsbetalning - banköverföring
Jag tackar O&P för det utrymme som beviljats ​​och jag bifogar bilder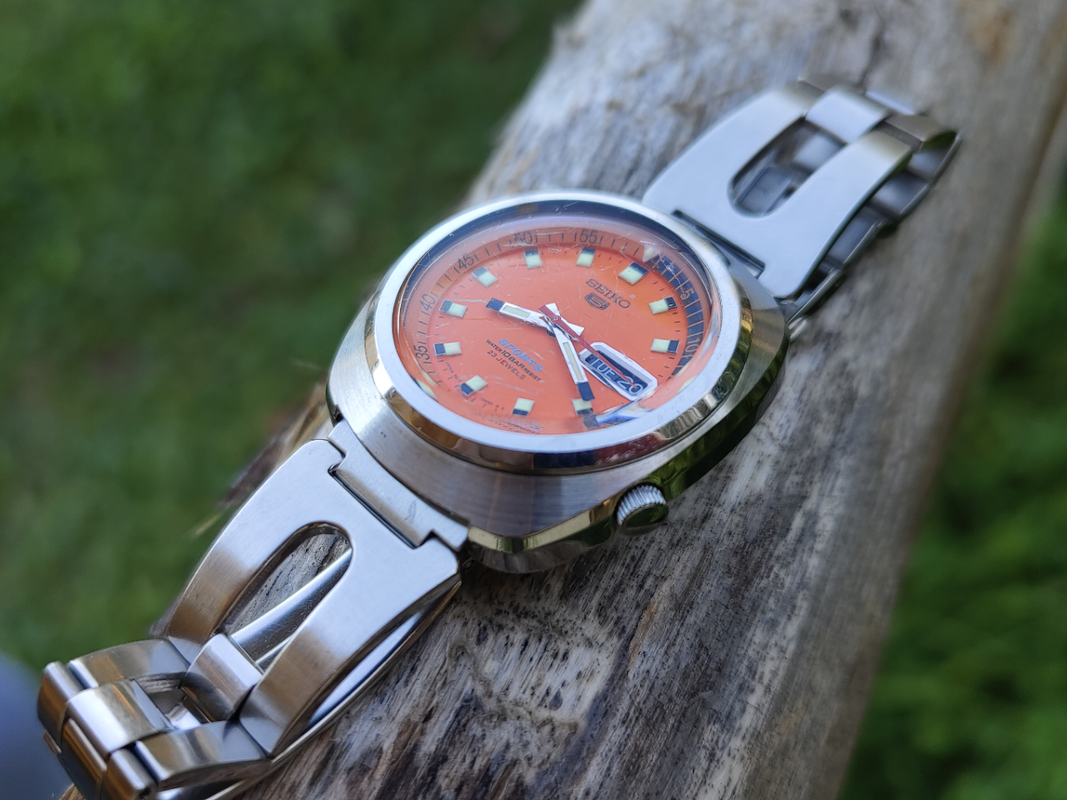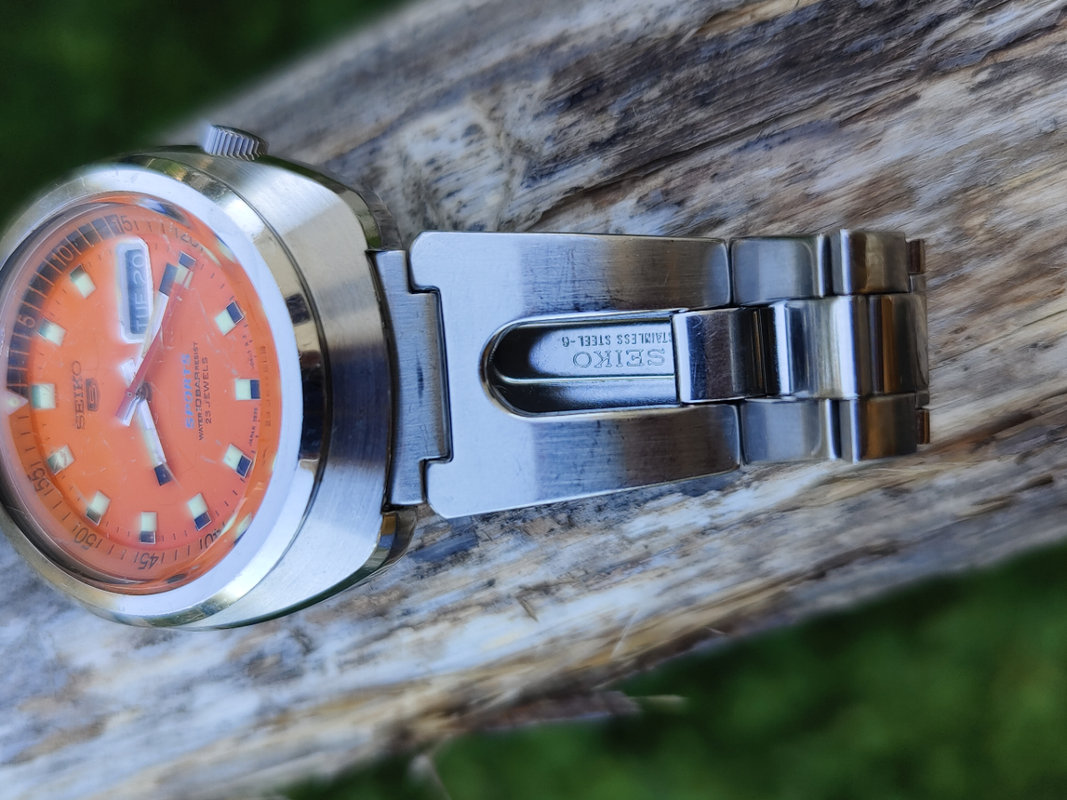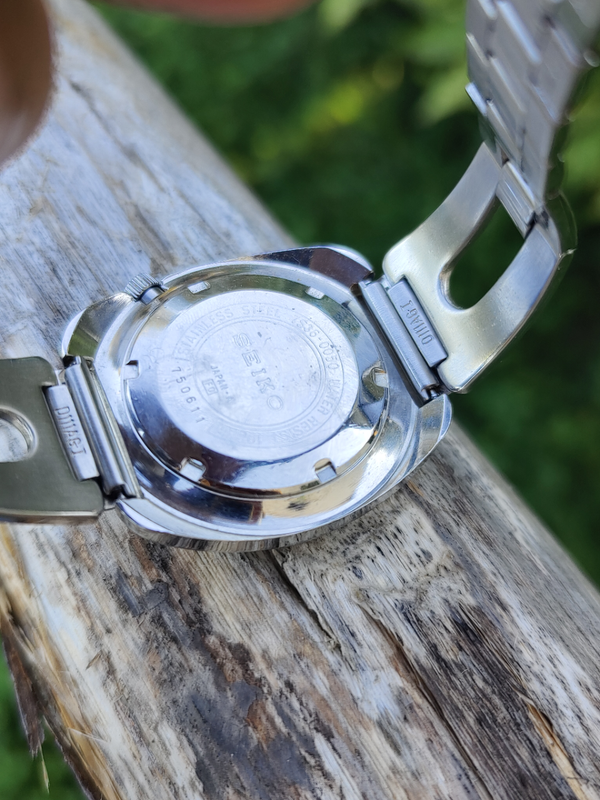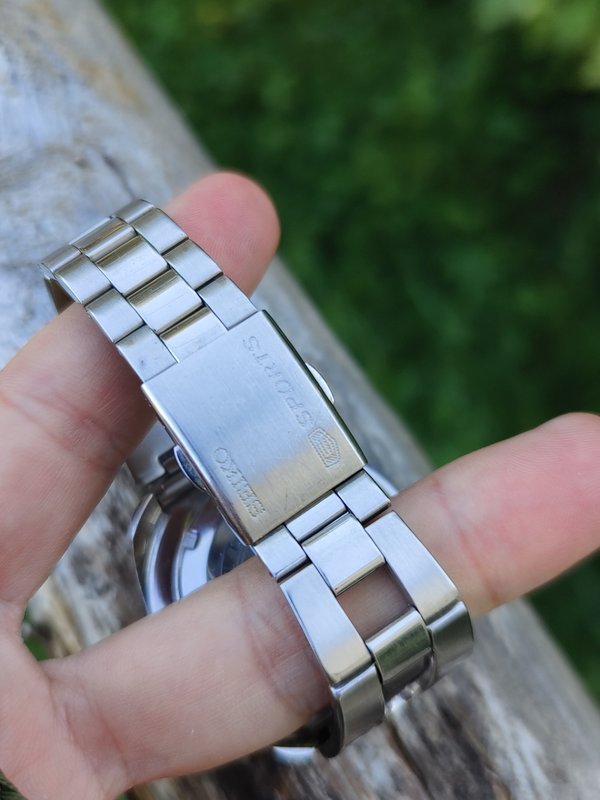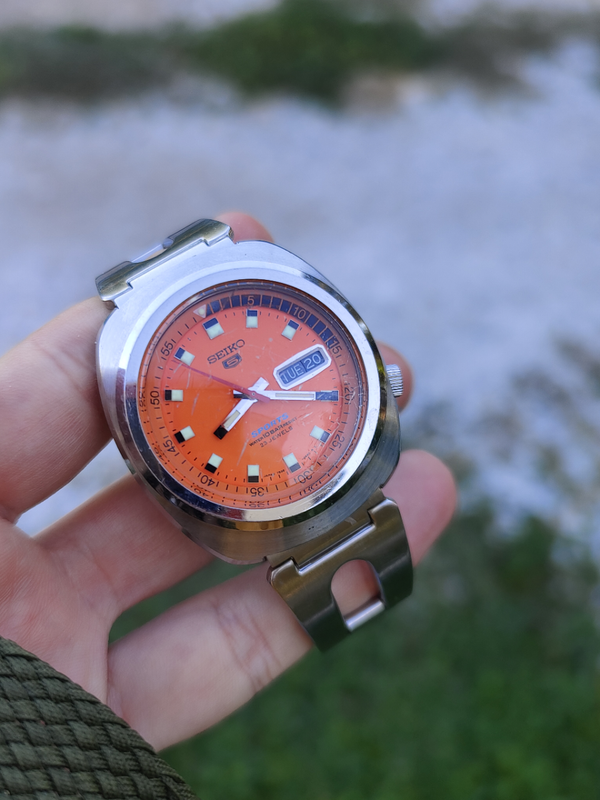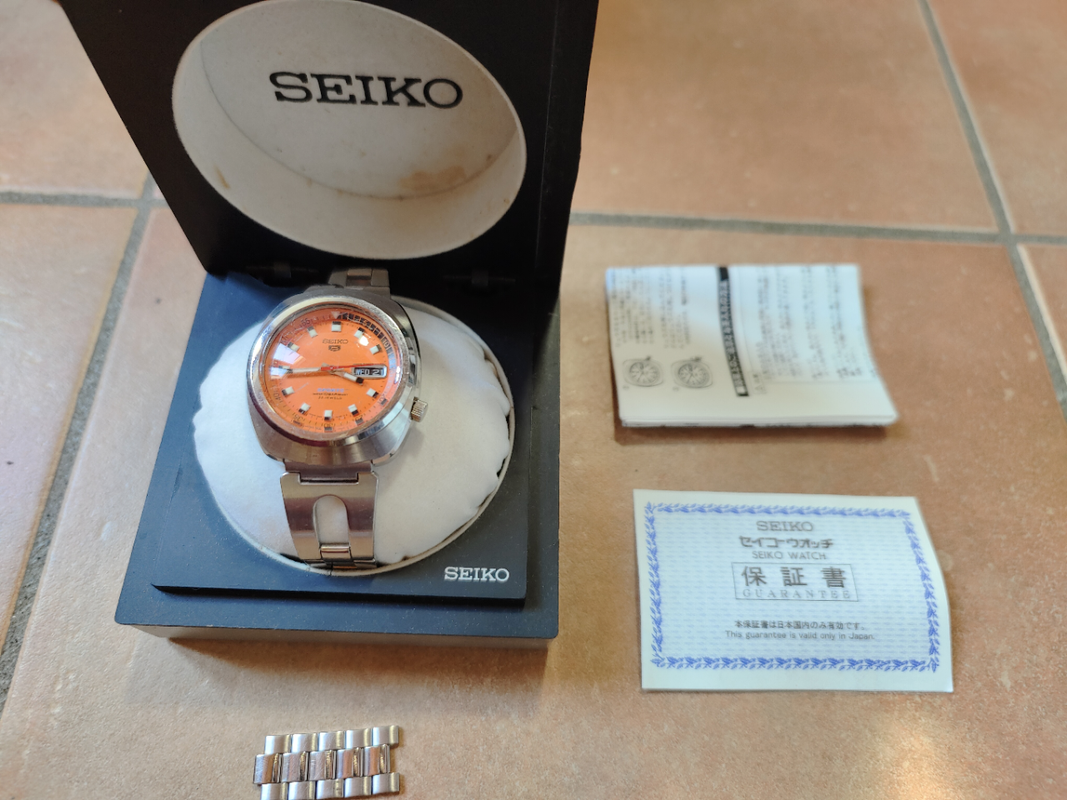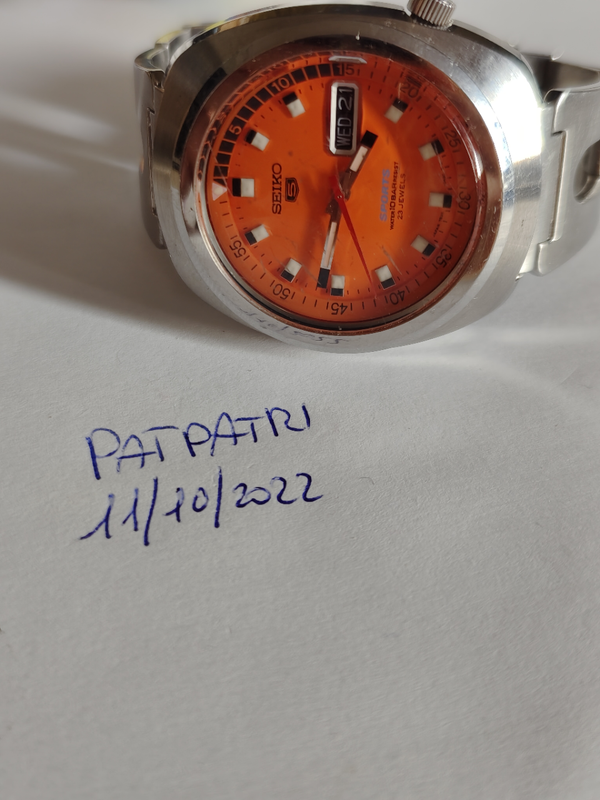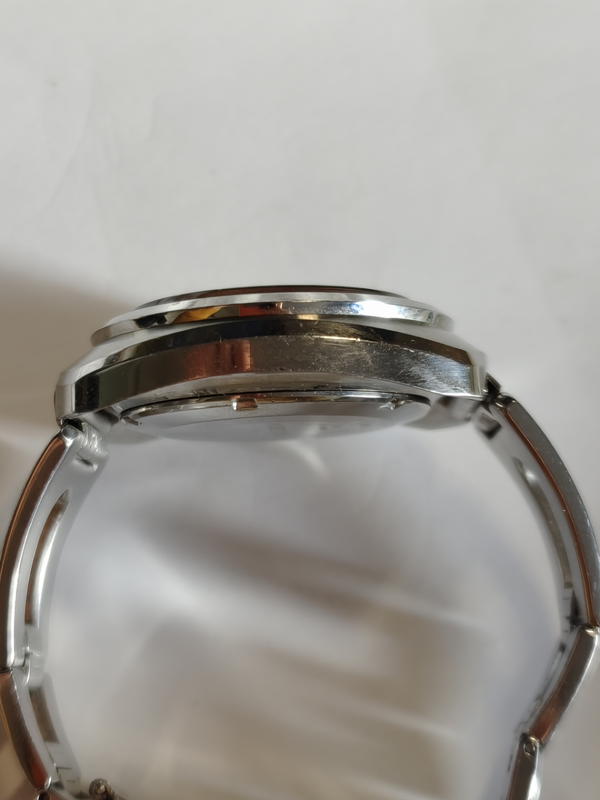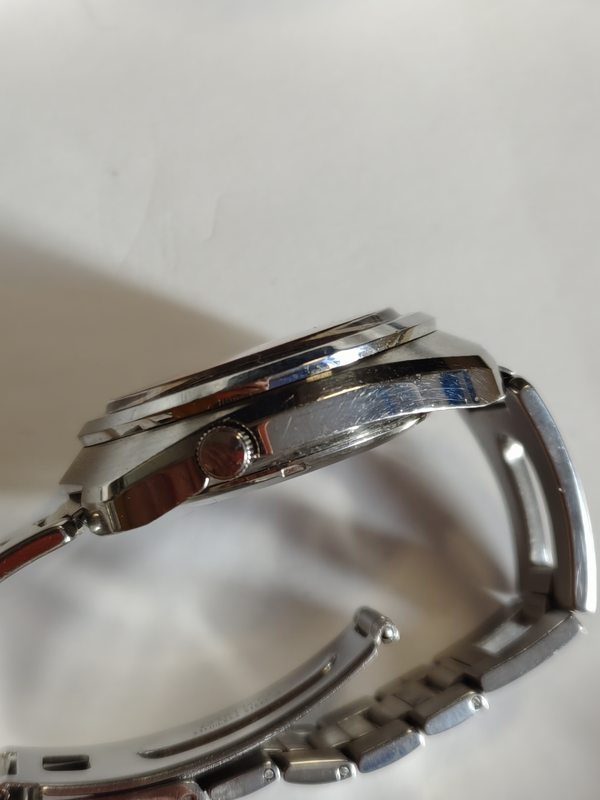 Beachten Sie, dass der folgende Text in den meisten Fällen automatisch aus seiner Originalsprache übersetzt wird.
Wie der Titel schon sagt, verkaufe ich Seiko 7s36-0050 SBSS003 Baujahr 1997 Die Uhr funktioniert und wurde letztes Jahr gewartet, ausgezeichnete Zeitmessung und Aufzugswartung.
Komplett originale und zeitgleiche Uhr, nie poliert.
Glas mit leichten Flecken. Seltene Ausführung mit orangefarbenem Zifferblatt Innen drehbare Lünette mit Krone Originelles Armband
Box und Papiere in japanischer Sprache inklusive. Zusätzliche Glieder des Armbands, die es ermöglichen, es an Handgelenken bis etwa 19 cm zu tragen.
Kein Umtausch, keine Inzahlungnahme
Ich verlange 600 Euro inklusive Versand per Expresskurier, Lieferung in 24/48 Stunden.
Paypal-Zahlung für Waren und Dienstleistungen, die hinzugefügt werden müssen + 5 % auf den Gesamtbetrag aufgrund von Umsatzsteuern und Paketversicherungsbetrag. für andere Zahlungsarten natürlich kein Zuschlag - Paypal Freunde - Postepay - Banküberweisung
Ich danke O&P für den gewährten Platz und füge Fotos bei
IMG-20220921-090949 IMG-20220921-090954 IMG-20220921-090956 IMG-20220921-091009 IMG-20220921-091016 IMG-20220921-091026 IMG-20221004-092349 IMG-20221011-163033 IMG-20221011-163247 IMG-20221011-163307
Notez que le texte ci-dessous est dans la plupart des cas traduit automatiquement à partir de sa langue d'origine.
Comme le titre l'indique, je vends Seiko 7s36-0050 SBSS003 année 1997 La montre fonctionne et a été révisée l'année dernière, excellente tenue de l'heure et entretien du remontage.
Montre entièrement originale et contemporaine, jamais polie.
Verre avec de légères marques. Version rare avec cadran orange Lunette tournante interne avec couronne Bracelet d'origine
Boîte et papiers en langue japonaise inclus. Maillons supplémentaires du bracelet qui permettent de le porter sur des poignets jusqu'à environ 19 cm.
Pas d'échanges, pas de reprise
Je demande 600 euros port compris par courrier express, livraison en 24/48h.
Paiement Paypal pour les biens et services à ajouter + 5% sur le total dû aux taxes de vente et au montant de l'assurance colis. pour les autres types de paiement évidemment pas de supplément - Paypal friends - postepay - virement bancaire
Je remercie O&P pour l'espace accordé et je joins des photos
Houd er rekening mee dat onderstaande tekst in de meeste gevallen automatisch wordt vertaald vanuit de oorspronkelijke taal.
Zoals de titel al doet vermoeden, verkoop ik Seiko 7s36-0050 SBSS003 jaar 1997 Het horloge werkt en heeft vorig jaar een servicebeurt gehad, uitstekende tijdwaarneming en opwindonderhoud.
Geheel origineel en even oud horloge, nooit gepoetst.
Glas met lichte sporen. Zeldzame uitvoering met oranje wijzerplaat Interne draaibare lunette met kroon Originele armband
Doos en papieren in Japanse taal aanwezig. Extra schakels van de armband waardoor deze om polsen tot ongeveer 19 cm gedragen kan worden.
Geen ruilen, geen inruil
Ik vraag 600 euro inclusief verzending per koerier, levering binnen 24/48 uur.
Paypal-betaling voor toe te voegen goederen en diensten + 5% op het totaal vanwege omzetbelasting en pakketverzekering. voor andere soorten betalingen uiteraard geen toeslag - Paypal vrienden - achteraf betalen - bankoverschrijving
Ik dank O&P voor de verleende ruimte en voeg foto's bij
IMG-20220921-090949 IMG-20220921-090954 IMG-20220921-090956 IMG-20220921-091009 IMG-20220921-091016 IMG-20220921-091026 IMG-20221004-092349 IMG-20221011-163033 IMG-20221011-163247 IMG-20221011-163307