P- Tag Heuer Professional 200m (Q)
Postad på Chronomag 2023-09-18 16:21:00 +0000 av **???**
Note that the text below is in most cases automatically translated from it's original language
Hello, I am offering for sale my Tag Heuer Professional 200M (Quartz). I bought the watch here on the forum, wore it for a while and took it in for service at Koscom, because it had two minor ailments since the purchase (a cracked glass and a loose bezel). The wait was a bit longer though, so I bought a Brajtle in the meantime and apparently I'll become an OWG. In any case, these TH are great all-rounders – either for someone who believes in smaller watches or wants a bigger one for their partner, they are simply unisex as hell. The stated diameter is 38 mm (with a screw-down crown it is 40 mm). The thickness is about 0.9 mm, so it's really comfortable to wear. As part of the service, the following took place:
Sapphire replacement
Bezel mechanism replacement (clicks wonderfully)
Battery replacement
Seal replacement
Pressure cooker (see photo)
All in all, they are completely maintenance-free divers with a smaller case, but with great charisma until the next battery change. I will send them on non-origo rubber with an enclosed steel pull (see photo). The original end caps are also available, but unfortunately the spare parts are not. The stroke is for the hand with a circumference of approx. 17 cm.
I imagine the price to be 12,000 CZK and it includes import within Prague or the surrounding area, or Moravia can also be negotiated. Otherwise, the price includes Post Office or Počta, it depends on the buyer's preferences. Just selling.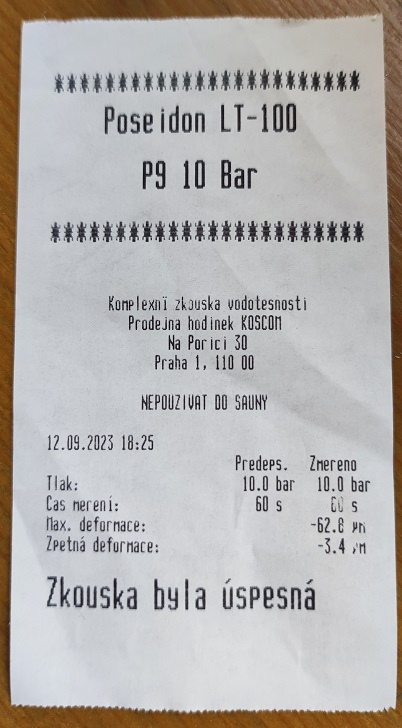 Notera att texten nedan i de flesta fall är automatiskt översatt från sitt ursprungsspråk.
Hej, jag säljer min Tag Heuer Professional 200M (Quartz). Jag köpte klockan här på forumet, bar den ett tag och tog in den på service hos Koscom, eftersom den hade två mindre krämpor sedan köpet (ett sprucket glas och en lös ram). Väntan blev dock lite längre, så jag köpte en Brajtle under tiden och tydligen ska jag bli en OWG. Hur som helst är dessa TH fantastiska allrounders – antingen för någon som tror på mindre klockor eller vill ha en större till sin partner, de är helt enkelt unisex som fan. Den angivna diametern är 38 mm (med skruvad krona är den 40 mm). Tjockleken är ca 0,9 mm, så den är riktigt skön att ha på sig. Som en del av gudstjänsten ägde följande rum:
Safirersättning
Byte av rammekanism (klickar underbart)
Batteribyte
Byte av tätning
Tryckkokare (se bild)
Sammantaget är de helt underhållsfria dykare med ett mindre fodral, men med stor utstrålning fram till nästa batteribyte. Jag kommer att skicka dem på icke-origo gummi med en sluten ståldragare (se bild). Originalgavlarna finns också, men tyvärr inte reservdelarna. Slaget är för handen med en omkrets på ca 17 cm.
Jag föreställer mig att priset är 12 000 CZK och det inkluderar import inom Prag eller omnejd, annars kan Mähren också förhandlas. Annars inkluderar priset Post Office eller Počta, det beror på köparens preferenser. Bara sälja.
baee9bdjpeg.
8jpeg.
787e5e
Beachten Sie, dass der folgende Text in den meisten Fällen automatisch aus seiner Originalsprache übersetzt wird.
Hallo, ich biete meine Tag Heuer Professional 200M (Quarz) zum Verkauf an. Ich habe die Uhr hier im Forum gekauft, eine Zeit lang getragen und zum Service bei Koscom gebracht, da sie seit dem Kauf zwei kleinere Wehwehchen hatte (ein gesprungenes Glas und eine lockere Lünette). Die Wartezeit war allerdings etwas länger, also habe ich mir in der Zwischenzeit einen Brajtle gekauft und werde offenbar OWG. Auf jeden Fall sind diese TH tolle Allrounder – ob für jemanden, der an kleinere Uhren glaubt oder sich eine größere für seinen Partner wünscht, sie sind einfach verdammt unisex. Der angegebene Durchmesser beträgt 38 mm (mit verschraubter Krone sind es 40 mm). Die Dicke beträgt ca. 0,9 mm und ist daher sehr angenehm zu tragen. Im Rahmen des Gottesdienstes geschah Folgendes:
Saphirersatz
Austausch des Lünettenmechanismus (klickt wunderbar)
Batterieersatz
Dichtungsaustausch
Schnellkochtopf (siehe Foto)
Alles in allem sind es völlig wartungsfreie Taucher mit kleinerem Gehäuse, aber mit toller Ausstrahlung bis zum nächsten Batteriewechsel. Ich verschicke sie auf Nicht-Origo-Gummi mit beiliegendem Stahlgriff (siehe Foto). Die originalen Endkappen sind ebenfalls vorhanden, die Ersatzteile leider nicht. Der Strich ist für die Hand mit einem Umfang von ca. 17 cm.
Ich stelle mir einen Preis von 12.000 CZK vor und darin ist der Import innerhalb von Prag oder Umgebung enthalten, oder auch Mähren kann ausgehandelt werden. Ansonsten sind Post oder Počta im Preis inbegriffen, es hängt von den Vorlieben des Käufers ab. Verkaufe einfach.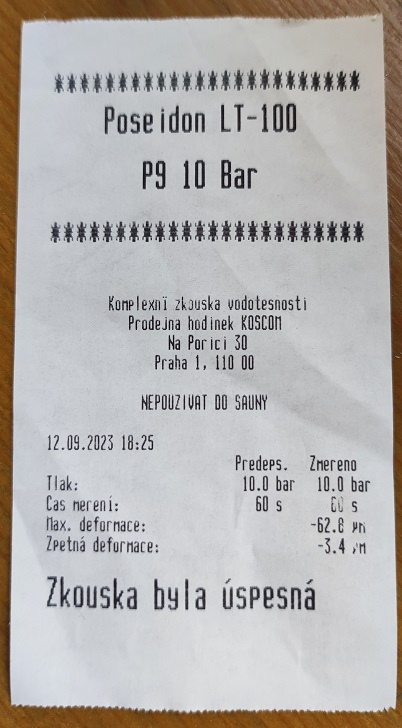 Notez que le texte ci-dessous est dans la plupart des cas traduit automatiquement à partir de sa langue d'origine.
Bonjour, je vous propose à la vente ma Tag Heuer Professional 200M (Quartz). J'ai acheté la montre ici sur le forum, je l'ai portée pendant un certain temps et je l'ai fait réparer chez Koscom, car elle souffrait de deux problèmes mineurs depuis l'achat (un verre fissuré et une lunette desserrée). Mais l'attente a été un peu plus longue, alors j'ai acheté un Brajtle entre-temps et apparemment je vais devenir OWG. Dans tous les cas, ces TH sont d'excellentes montres polyvalentes – que ce soit pour quelqu'un qui croit aux montres plus petites ou qui en veut une plus grande pour son partenaire, elles sont tout simplement unisexes. Le diamètre indiqué est de 38 mm (avec une couronne vissée il est de 40 mm). L'épaisseur est d'environ 0,9 mm, ce qui le rend très agréable à porter. Dans le cadre de la prestation, ont eu lieu :
Remplacement du saphir
Remplacement du mécanisme de lunette (clique à merveille)
Remplacement de la batterie
Remplacement du joint
Autocuiseur (voir photo)
Dans l'ensemble, ce sont des plongeurs sans entretien, avec un boîtier plus petit, mais avec un grand charisme jusqu'au prochain changement de batterie. Je les enverrai sur du caoutchouc non origo avec une tirette en acier incluse (voir photo). Les embouts d'origine sont également disponibles, mais malheureusement les pièces de rechange ne le sont pas. Le trait est destiné à la main d'une circonférence d'environ 17 cm.
J'imagine que le prix est de 12 000 CZK et il comprend l'importation à Prague ou dans ses environs, ou la Moravie peut également être négociée. Sinon, le prix comprend la poste ou Počta, cela dépend des préférences de l'acheteur. Je vends juste.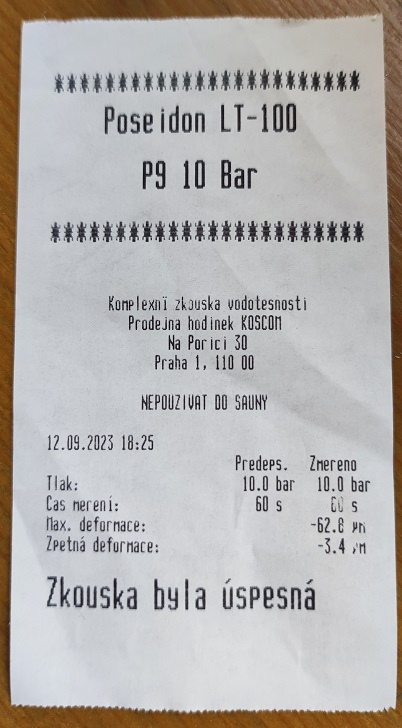 Houd er rekening mee dat onderstaande tekst in de meeste gevallen automatisch wordt vertaald vanuit de oorspronkelijke taal.
Hallo, ik bied mijn Tag Heuer Professional 200M (Quartz) te koop aan. Ik heb het horloge hier op het forum gekocht, een tijdje gedragen en voor service binnengebracht bij Koscom, omdat het sinds de aankoop twee kleine kwaaltjes had (een gebarsten glas en een losse lunette). Het wachten duurde echter iets langer, dus ik heb in de tussentijd een Brajtle gekocht en blijkbaar word ik een OWG. Hoe dan ook zijn deze TH geweldige allrounders – voor iemand die in kleinere horloges gelooft of een grotere voor zijn partner wil, ze zijn gewoon unisex. De aangegeven diameter is 38 mm (met een geschroefde kroon is dit 40 mm). De dikte is ongeveer 0,9 mm, dus zeer comfortabel om te dragen. Als onderdeel van de dienst vond het volgende plaats:
Saffier vervanging
Vervanging van het bezelmechanisme (klikt heerlijk)
Batterij vervanging
Vervanging van afdichtingen *Snelkookpan (zie foto)
Al met al zijn het volledig onderhoudsvrije duikers met een kleinere behuizing, maar met een groot charisma tot de volgende batterijwissel. Ik verstuur ze op non-origo rubber met een bijgevoegde stalen trekhaak (zie foto). De originele eindkappen zijn ook aanwezig, maar de reserveonderdelen helaas niet. De slag is voor de hand met een omtrek van ca. 17 cm.
Ik veronderstel dat de prijs 12.000 CZK is en dat dit inclusief import binnen Praag of omgeving is, maar er kan ook onderhandeld worden over Moravië. Anders is de prijs inclusief postkantoor of Počta, afhankelijk van de voorkeuren van de koper. Gewoon verkopen.