TAG HEUER 1000 Professional Sub.
Postad på Chronomag 2023-09-17 13:24:00 +0000 av **???**
Note that the text below is in most cases automatically translated from it's original language
Hello everyone,
I am offering my TAG Heuer Tins in very nice and wearable condition.
Ref.980.013 N
The watch was produced from 1985 - 1992 when the production of the 1000 series was discontinued. Reportedly, the 1000 series was an extraordinary success and practically saved TAG in the quartz crisis.
ETA Cal ticks inside. 955.114/TAG Heuer Cal. 4.88. Put in a new Energizer battery last week. The watch runs smoothly.
Steel case diameter: 38 x 45 x 9.5 mm without crown and crown guard. With a 41.5 mm crown. Both the case and the bracelet are in their original, unrestored condition. The watch is comfortable and wears great.
Lug distance: 18 mm. The clasp has a flip-over safety and a diving extension. The length is suitable for a wrist with a diameter of approx. 18 cm.
Diving bezel, left-hand, 60 clicks. The insert is in beautiful condition. The original lumibod took time, so I redid it, compared to the old tritium, it shines more.
WR 200, screw-in crown. The thread runs flawlessly.
Hands and dial is tritium, everything is in beautiful condition and without patina.
Mineral glass.
The price for this nice youngtimer is: **16,000 CZK incl. Post Offices/PPL or Post Offices. Personal delivery is welcome here in Zlín.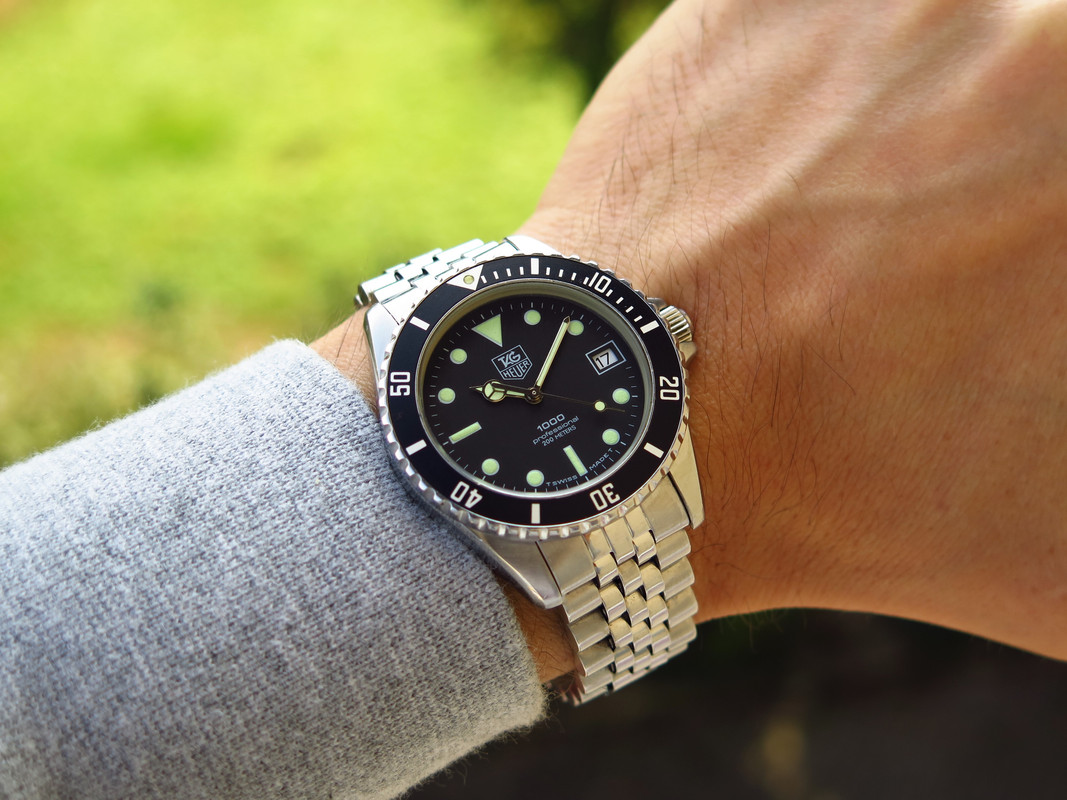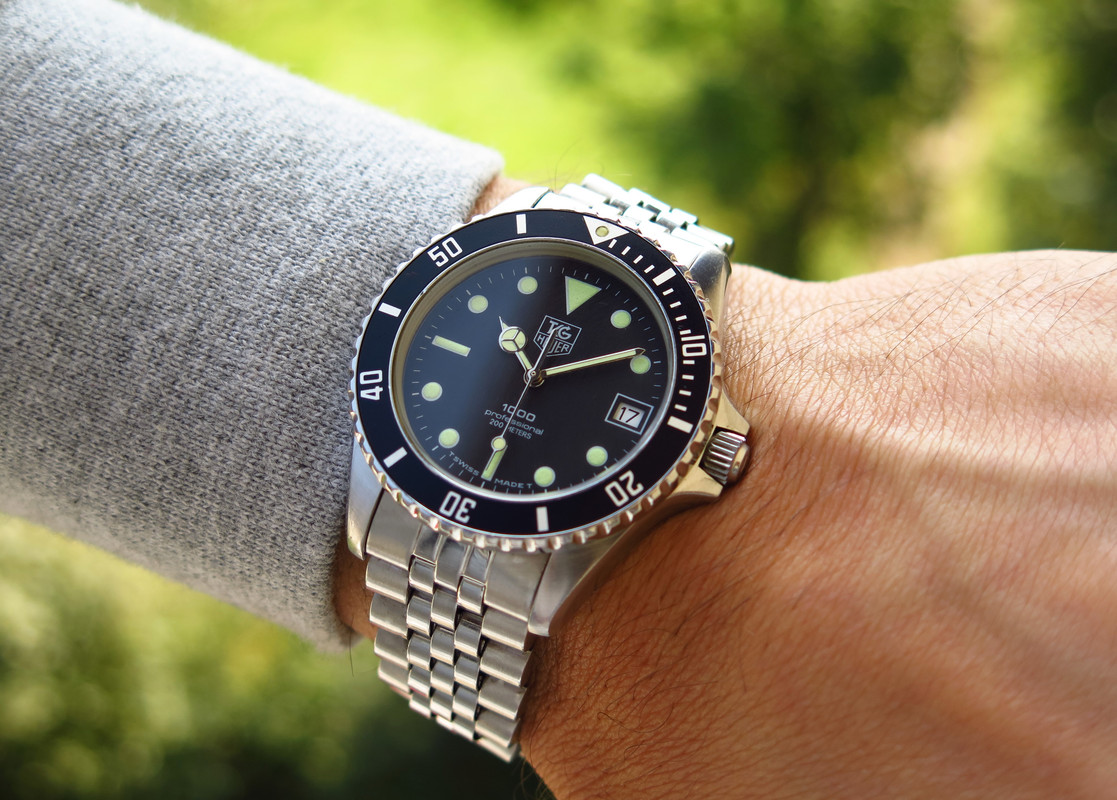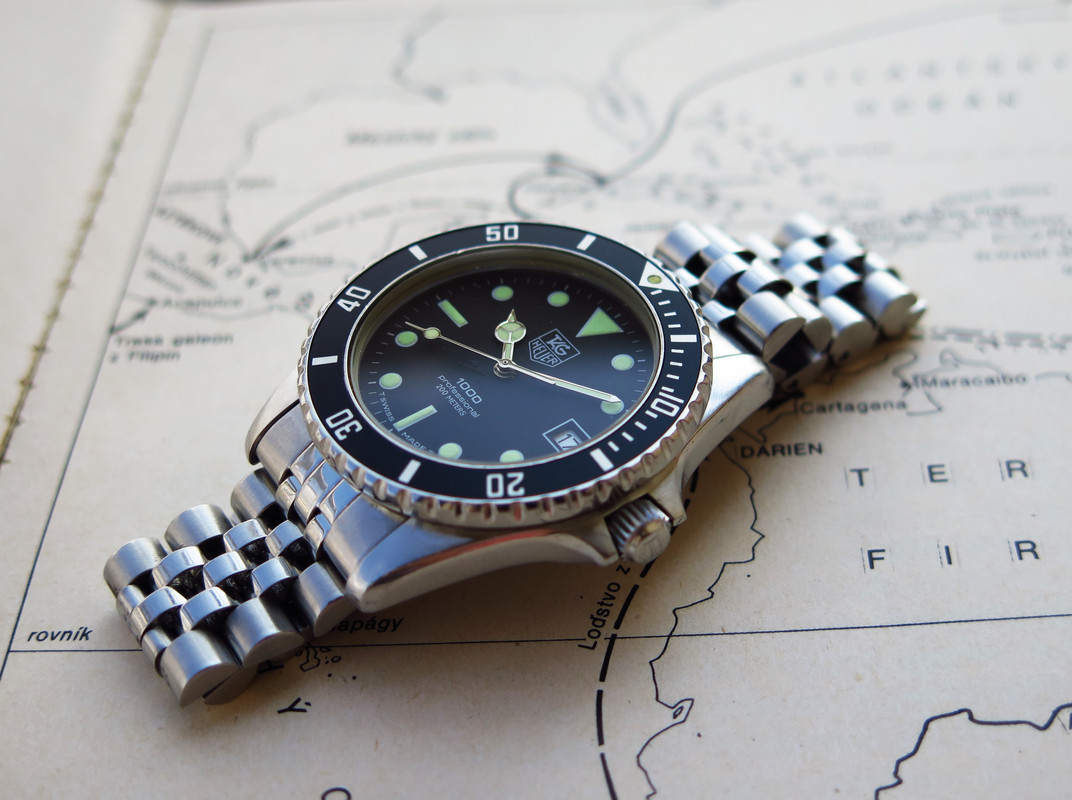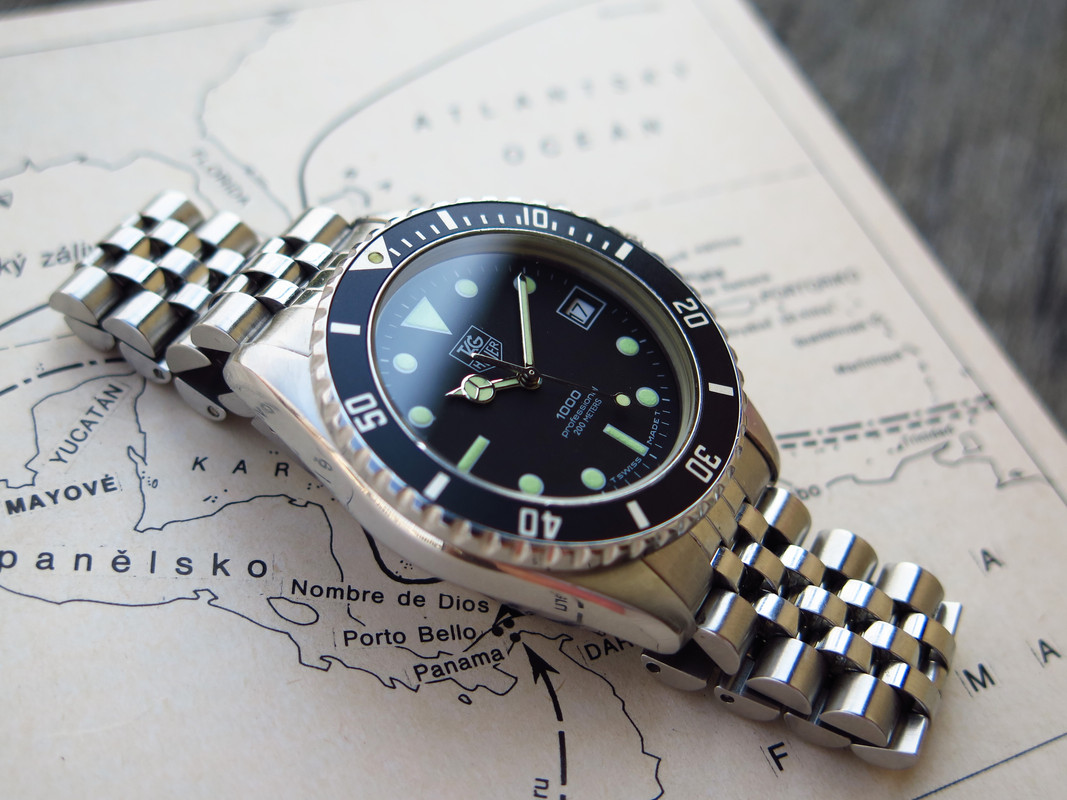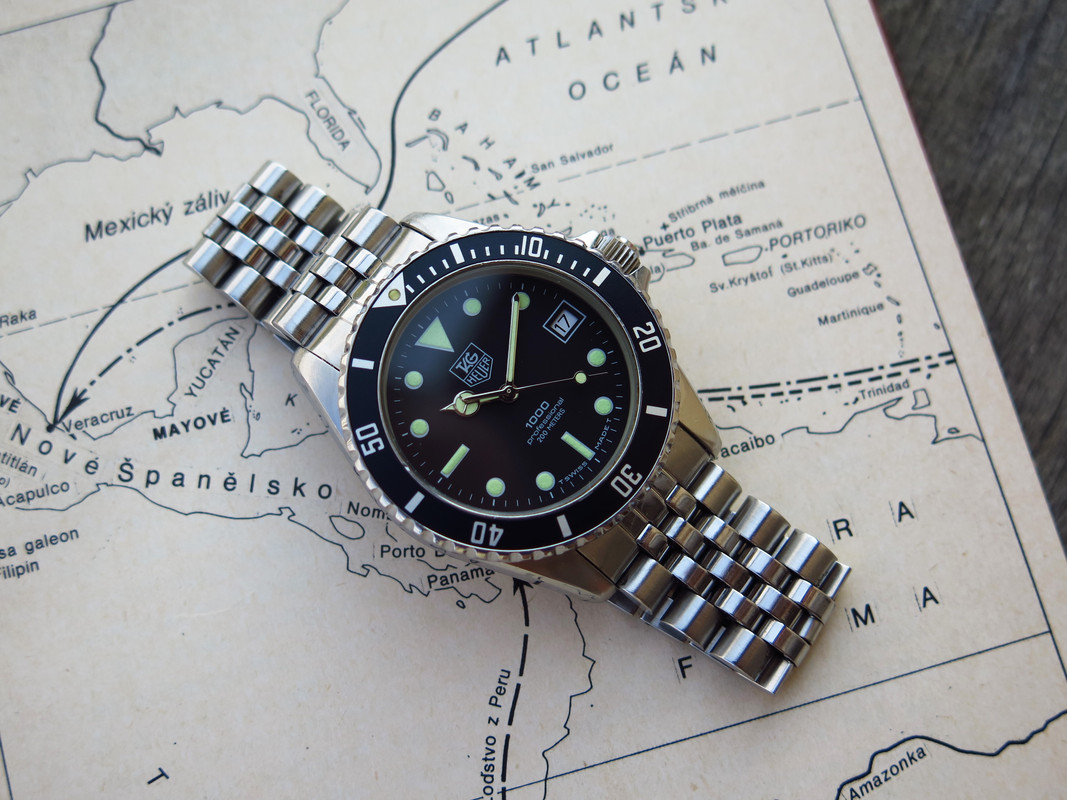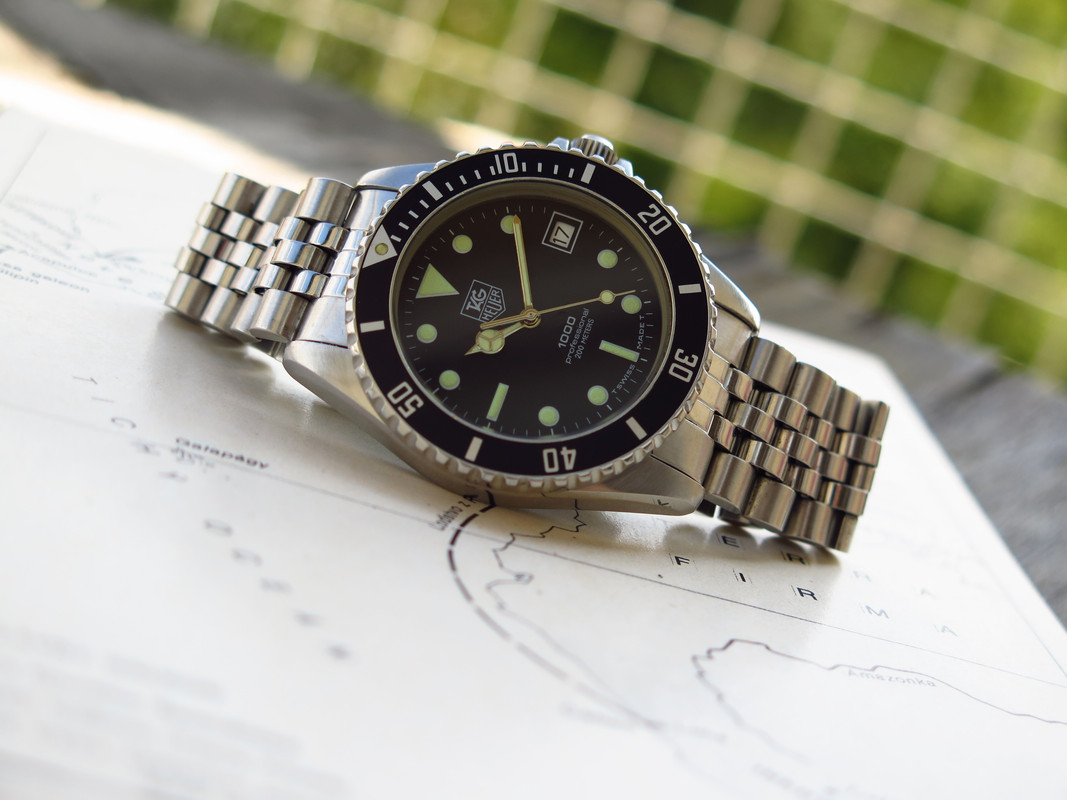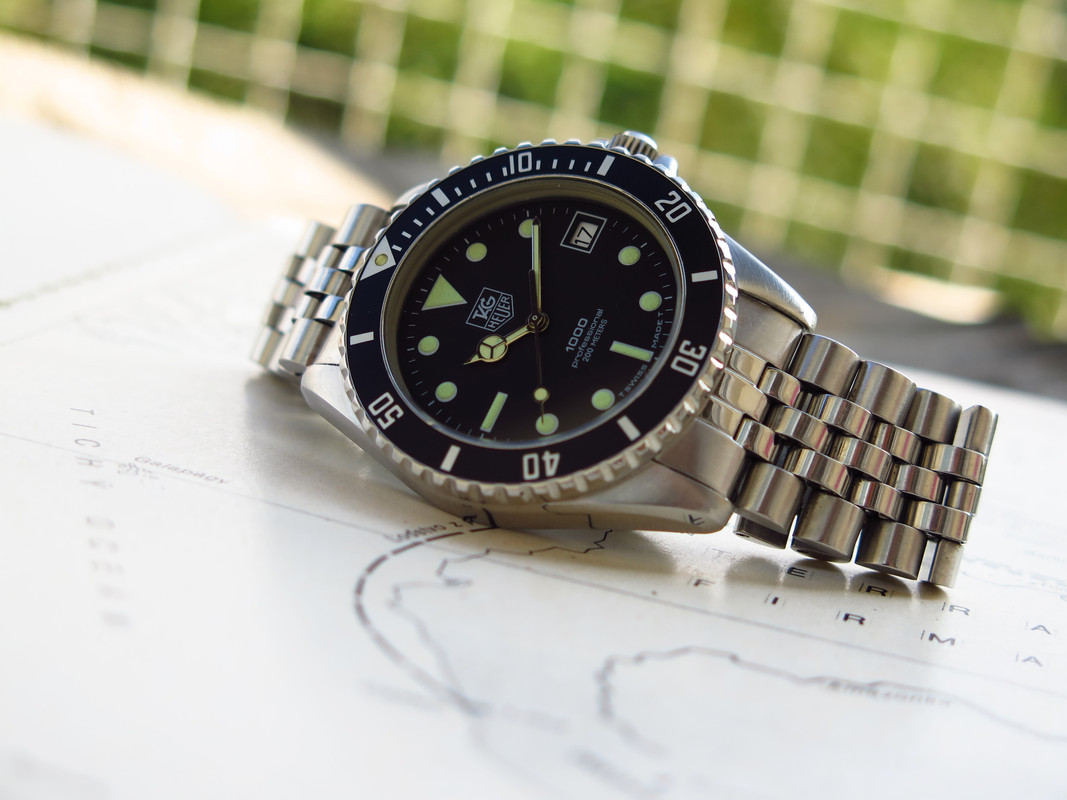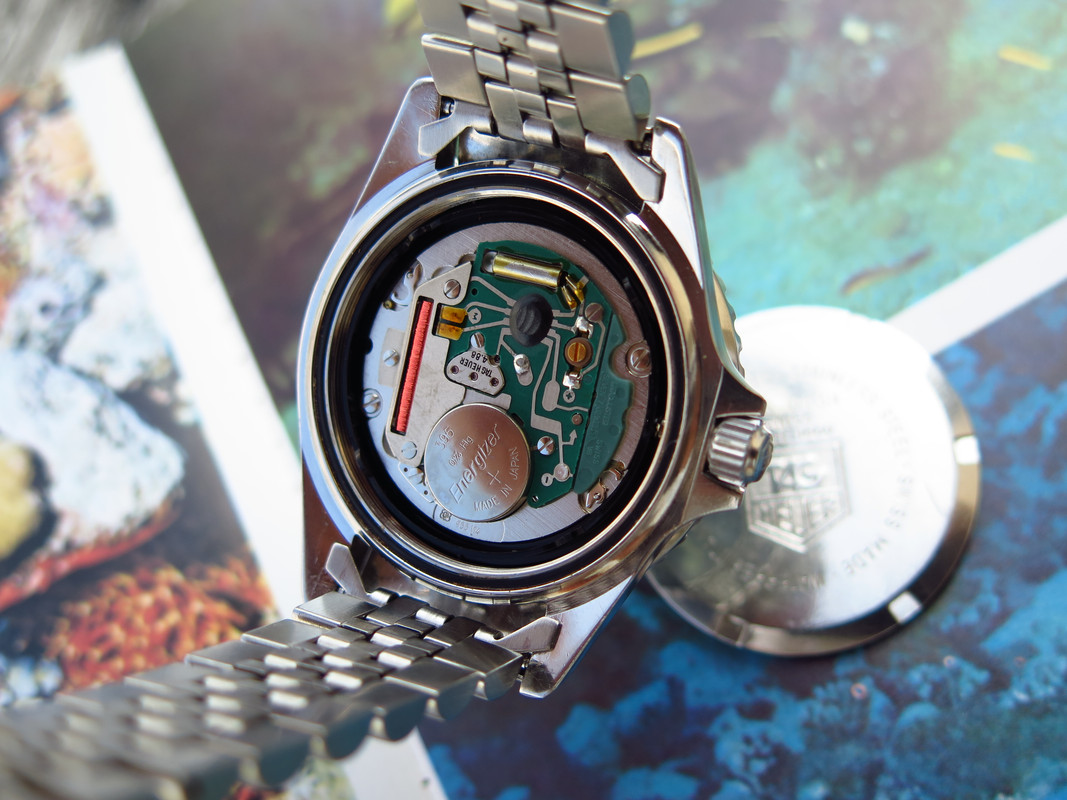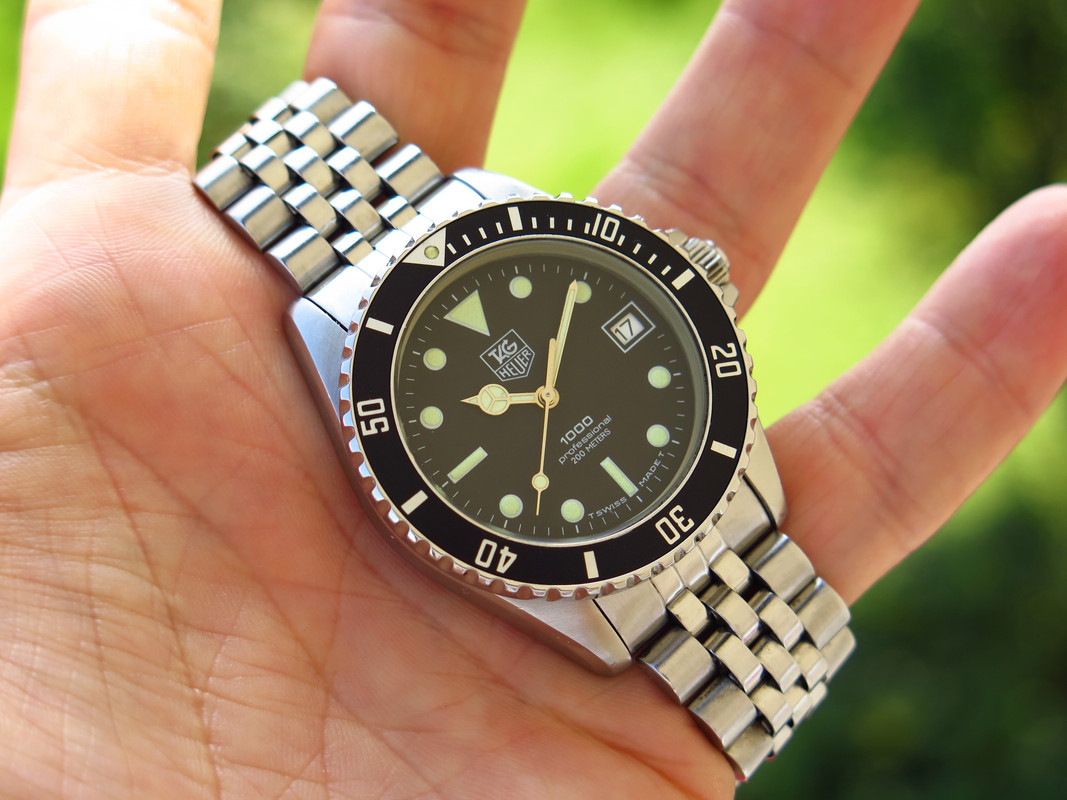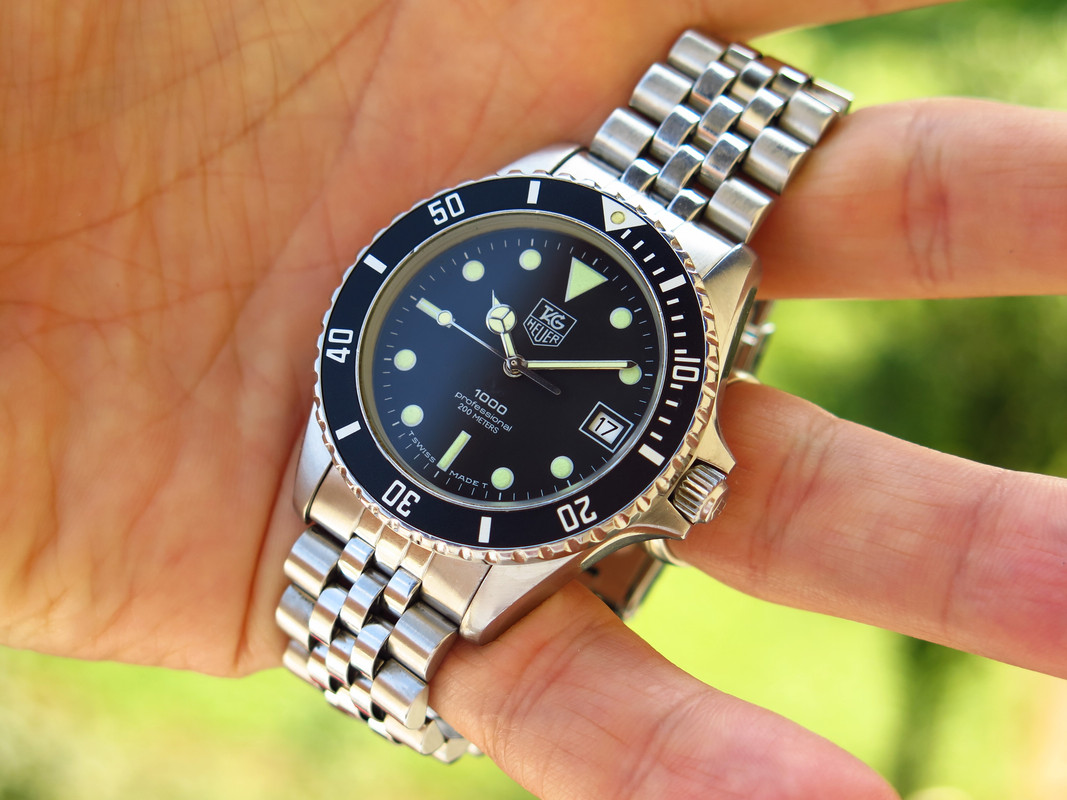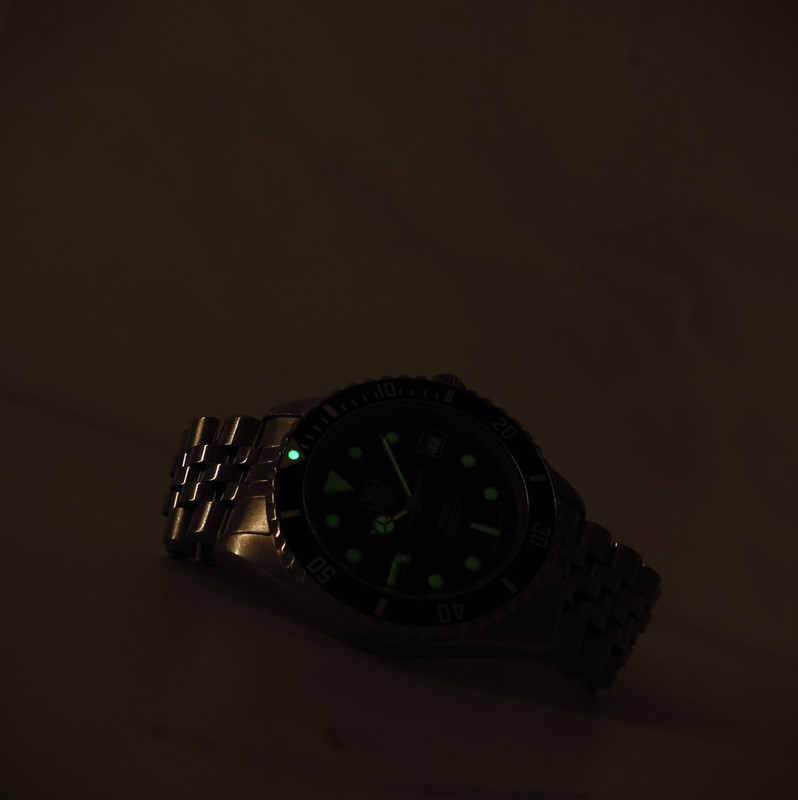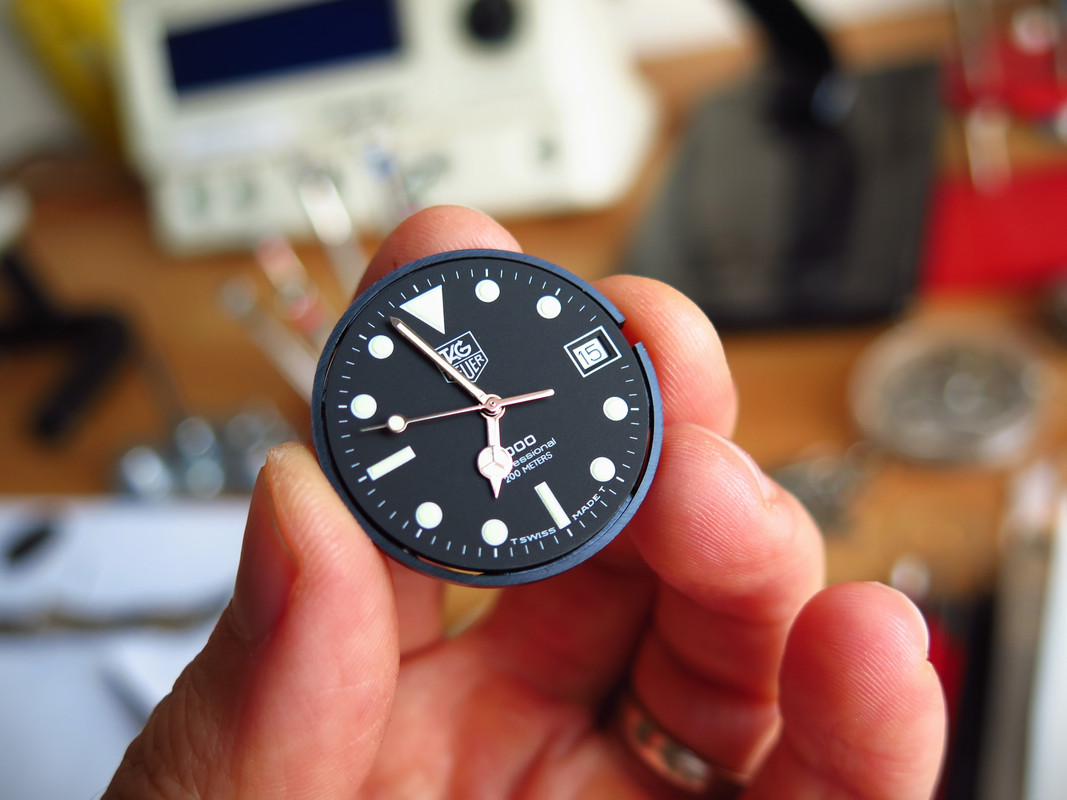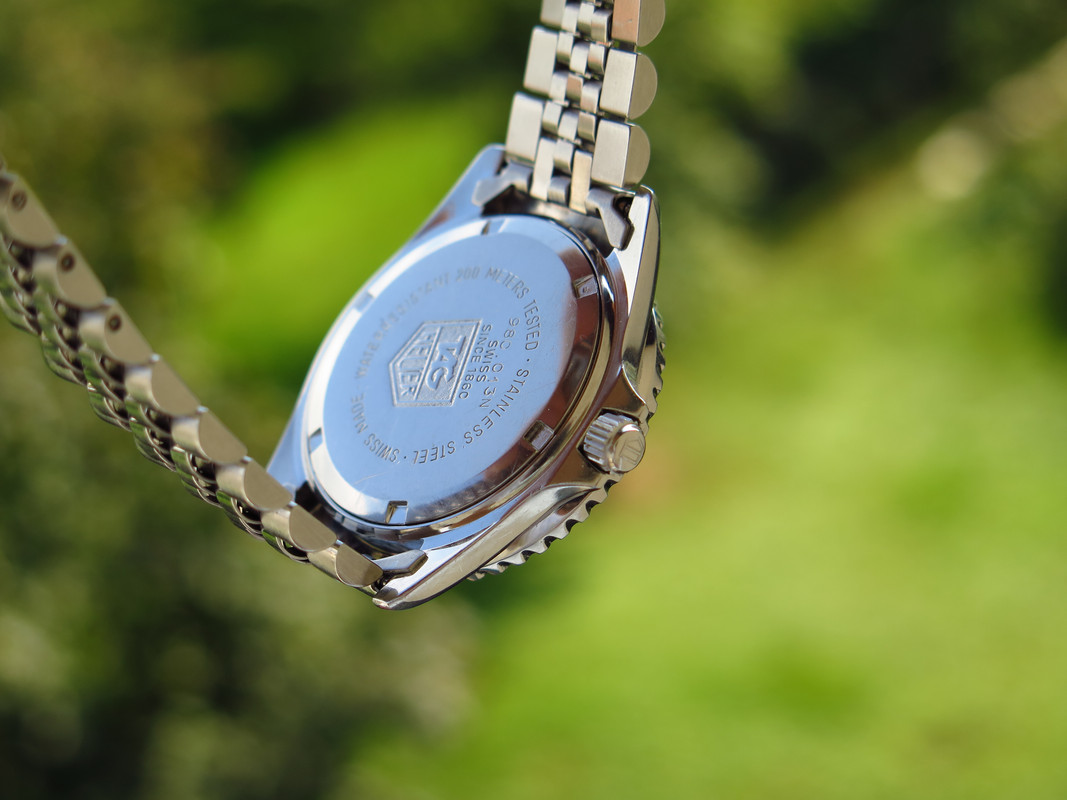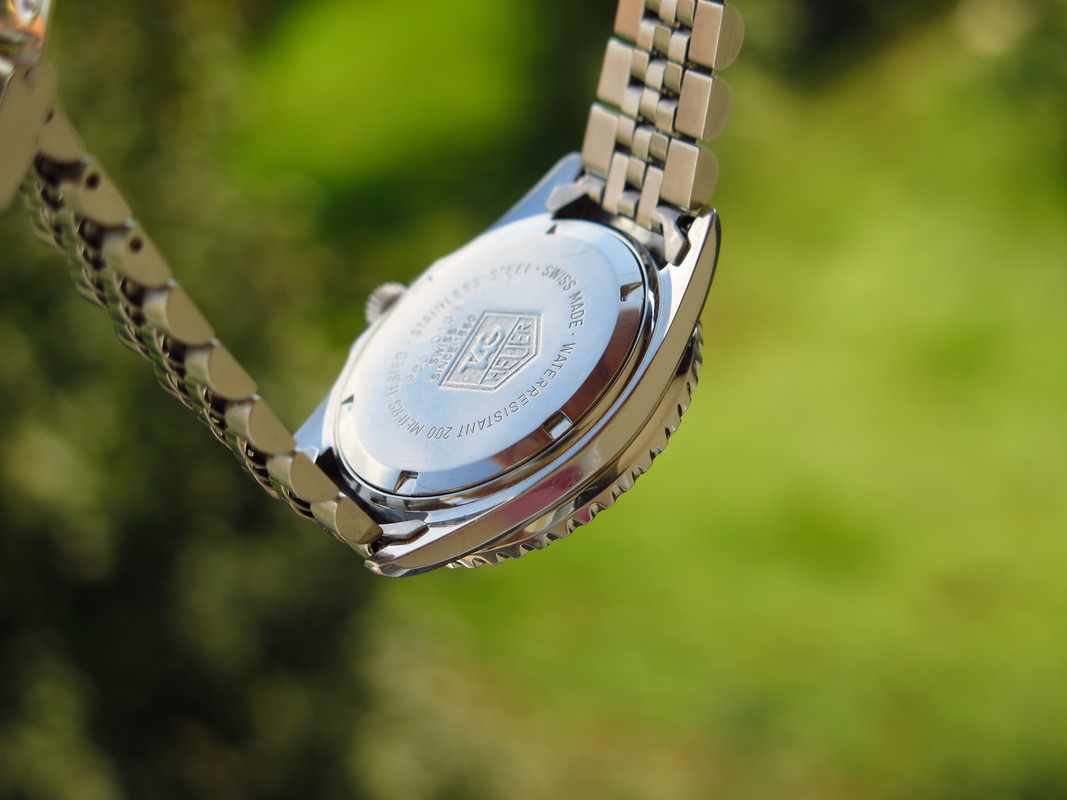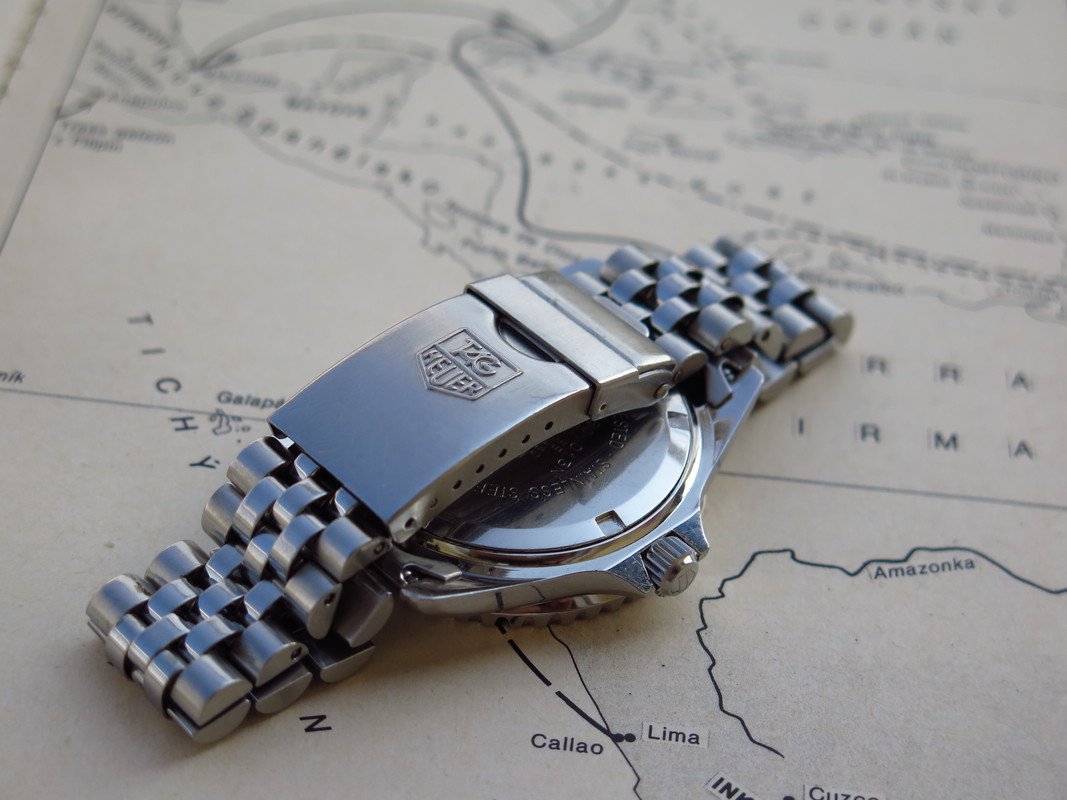 Notera att texten nedan i de flesta fall är automatiskt översatt från sitt ursprungsspråk.
Hej alla,
Jag erbjuder mina TAG Heuer-burkar i mycket fint och bärbart skick.
Ref. 980.013 N
Klockan tillverkades från 1985 - 1992 då produktionen av 1000-serien lades ner. Enligt uppgift var 1000-serien en enastående framgång och praktiskt taget räddade TAG i kvartskrisen.
ETA Cal tickar in. 955.114/TAG Heuer Kal. 4,88. Sätt i ett nytt Energizer-batteri förra veckan. Klockan går smidigt.
Stålhusdiameter: 38 x 45 x 9,5 mm utan krona och kronskydd. Med en 41,5 mm krona. Både fodralet och armbandet är i sitt ursprungliga, orestaurerade skick. Klockan är bekväm och bär bra.
Lyftavstånd: 18 mm. Spännet har en flip-over säkerhet och en dykförlängning. Längden är lämplig för en handled med en diameter på ca 18 cm.
Dykarram, vänster, 60 klick. Insatsen är i vackert skick. Den ursprungliga lumiboden tog tid, så jag gjorde om den, jämfört med den gamla tritiumen så lyser den mer.
WR 200, inskruvad krona. Tråden går felfritt.
Visar och urtavla är av tritium, allt är i vackert skick och utan patina.
Mineralglas.
Priset för denna trevliga youngtimer är: **16 000 CZK inkl. Postkontor/PPL eller Postkontor. Personlig leverans är välkommen här i Zlín.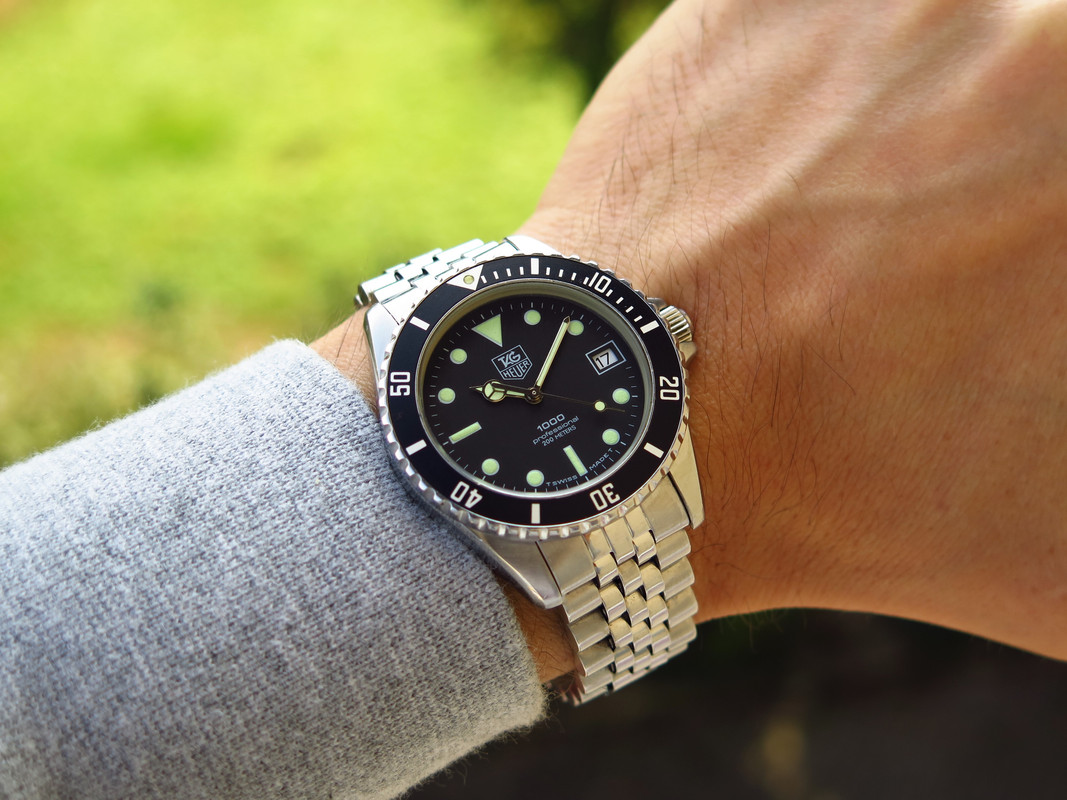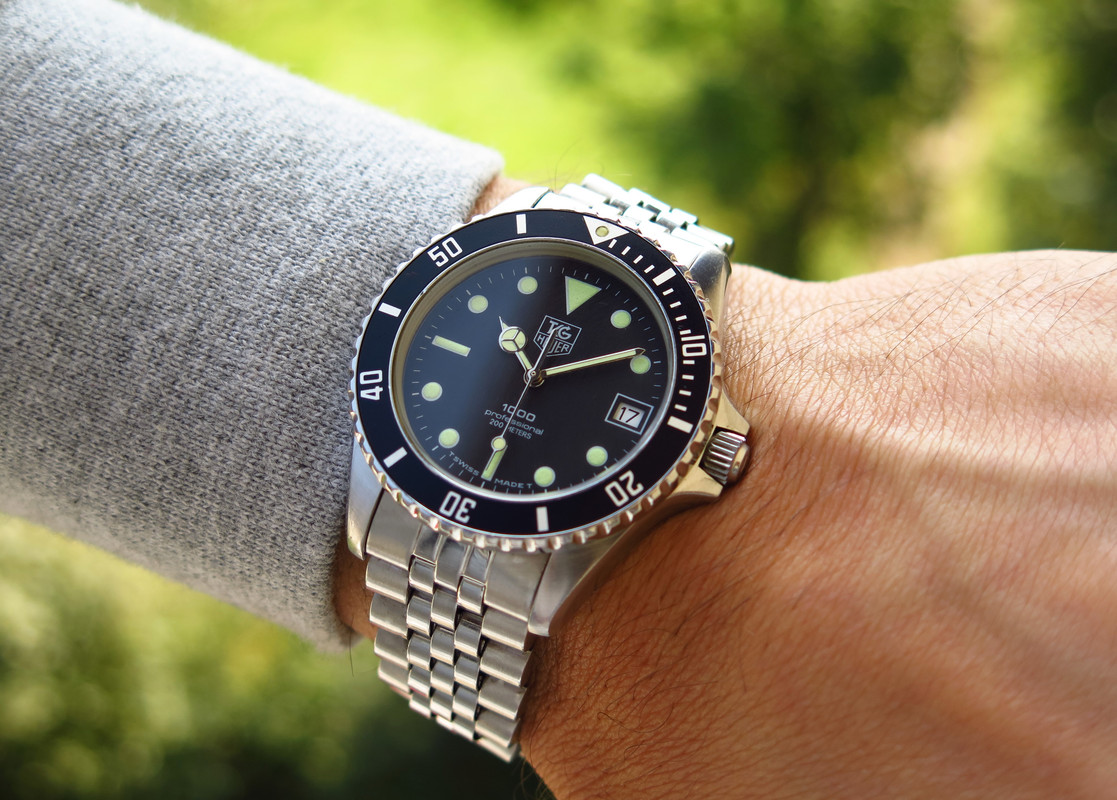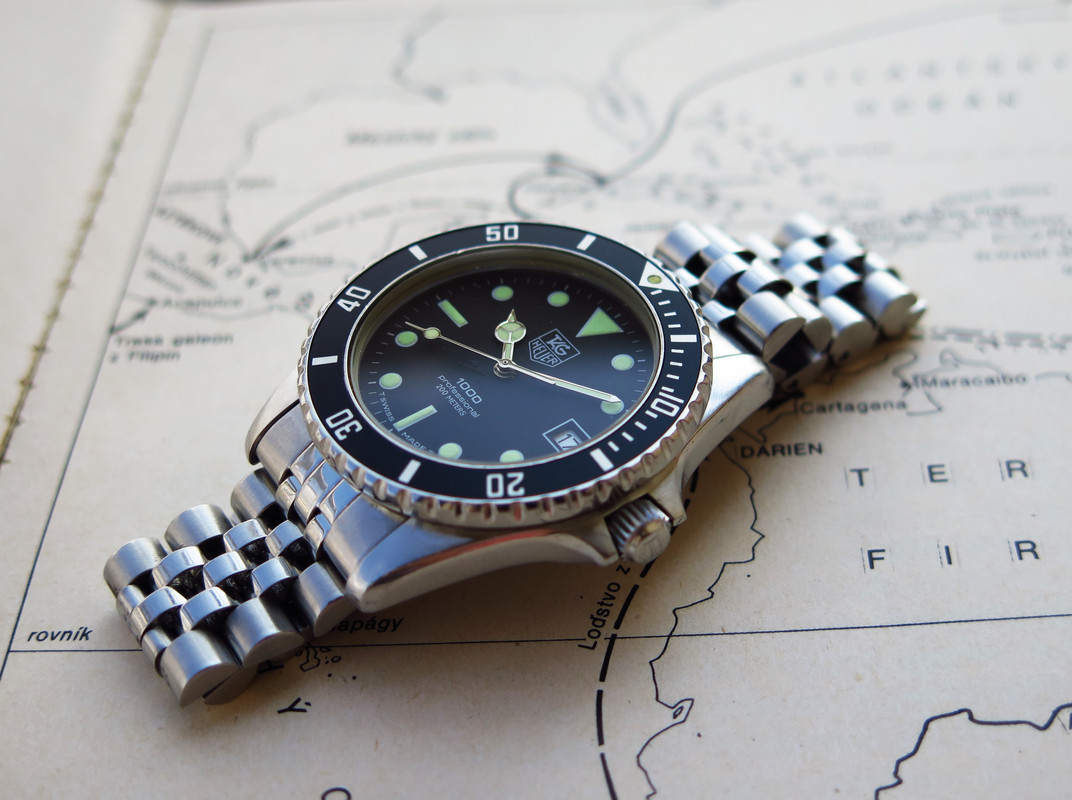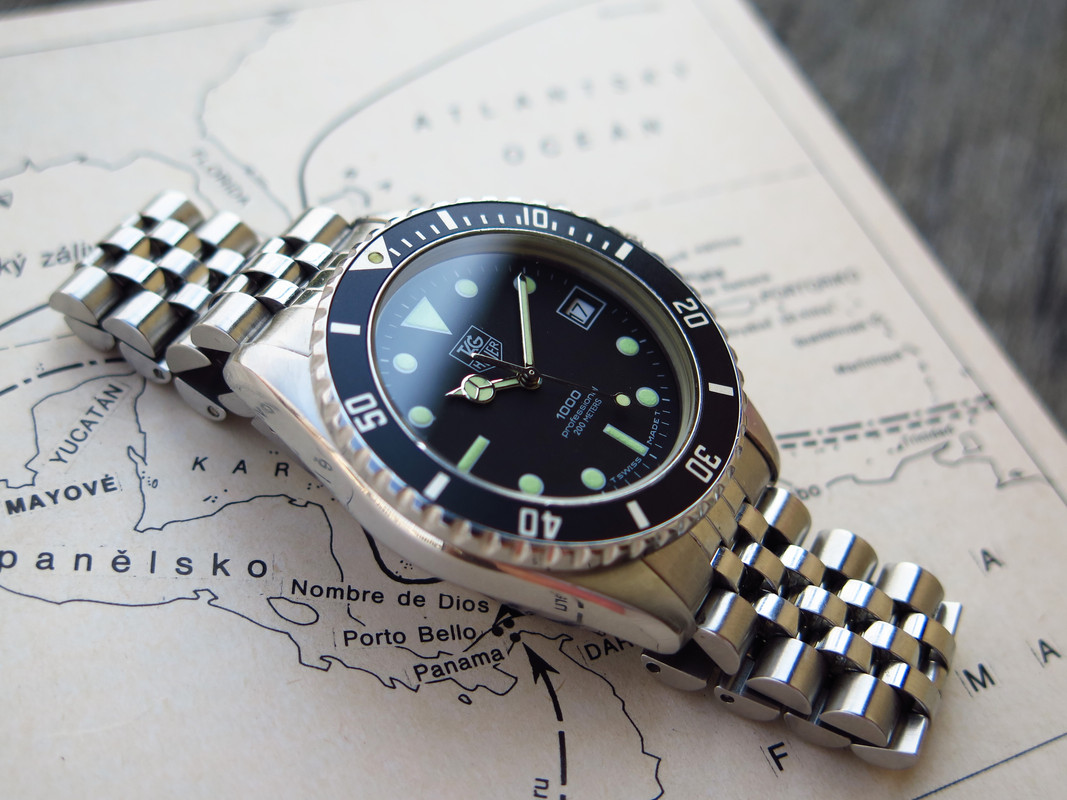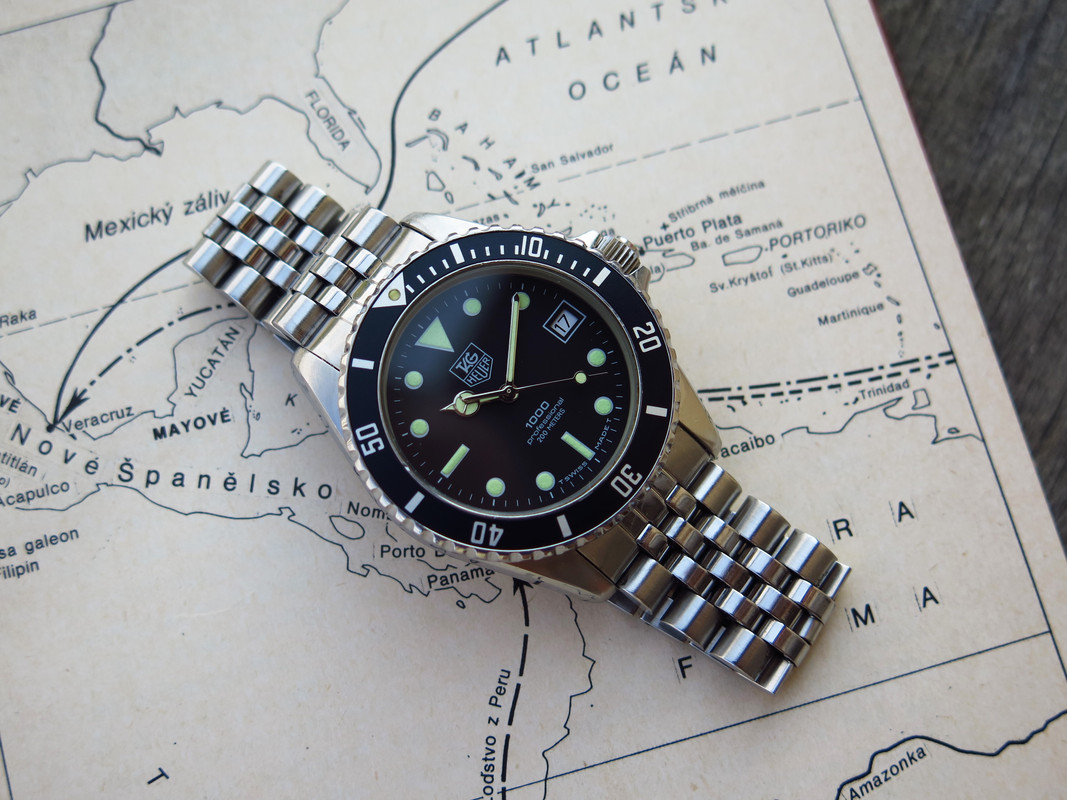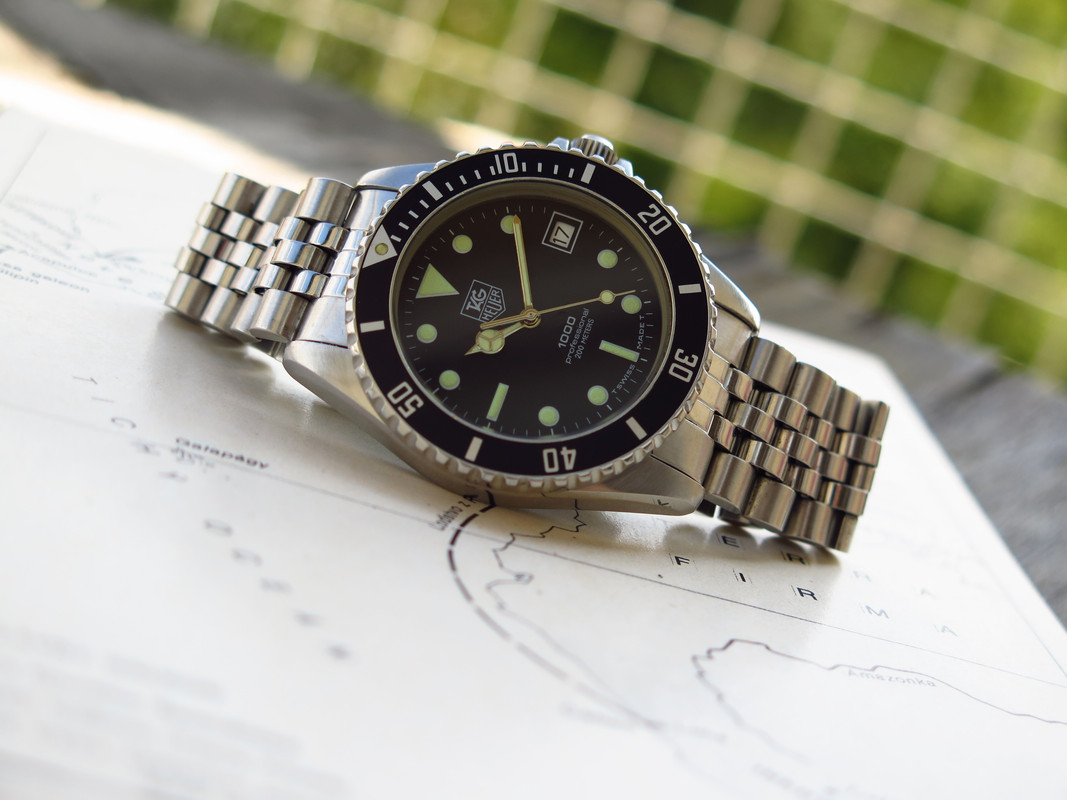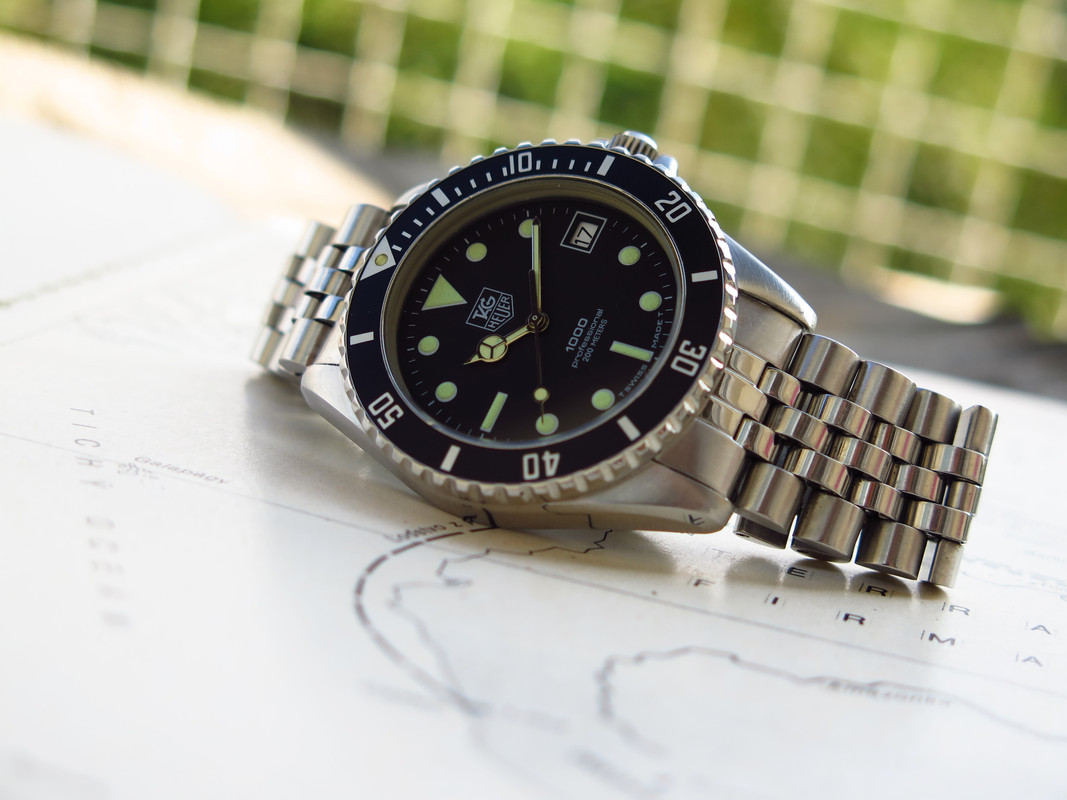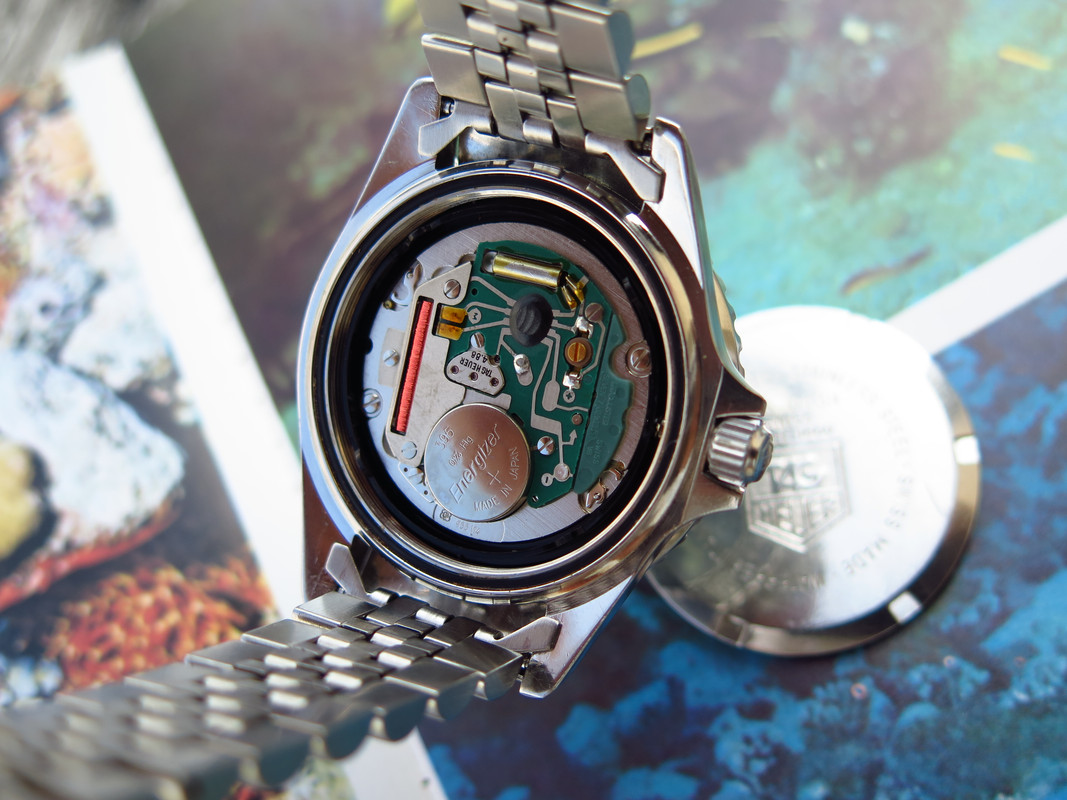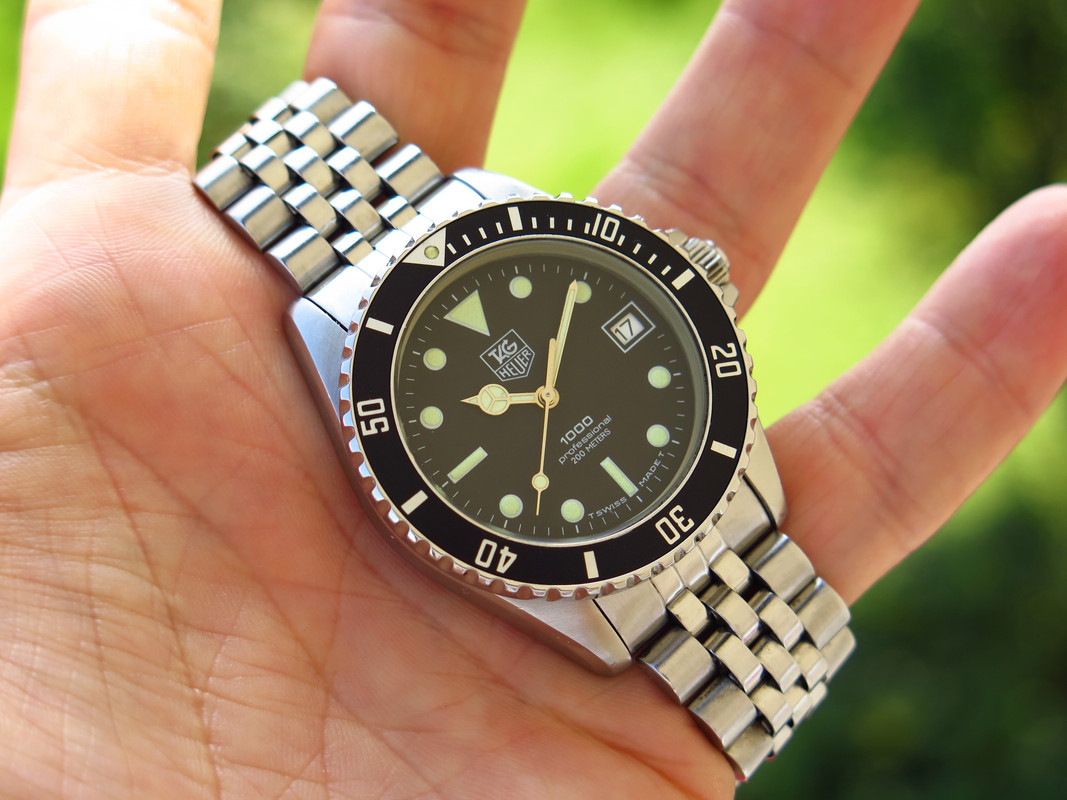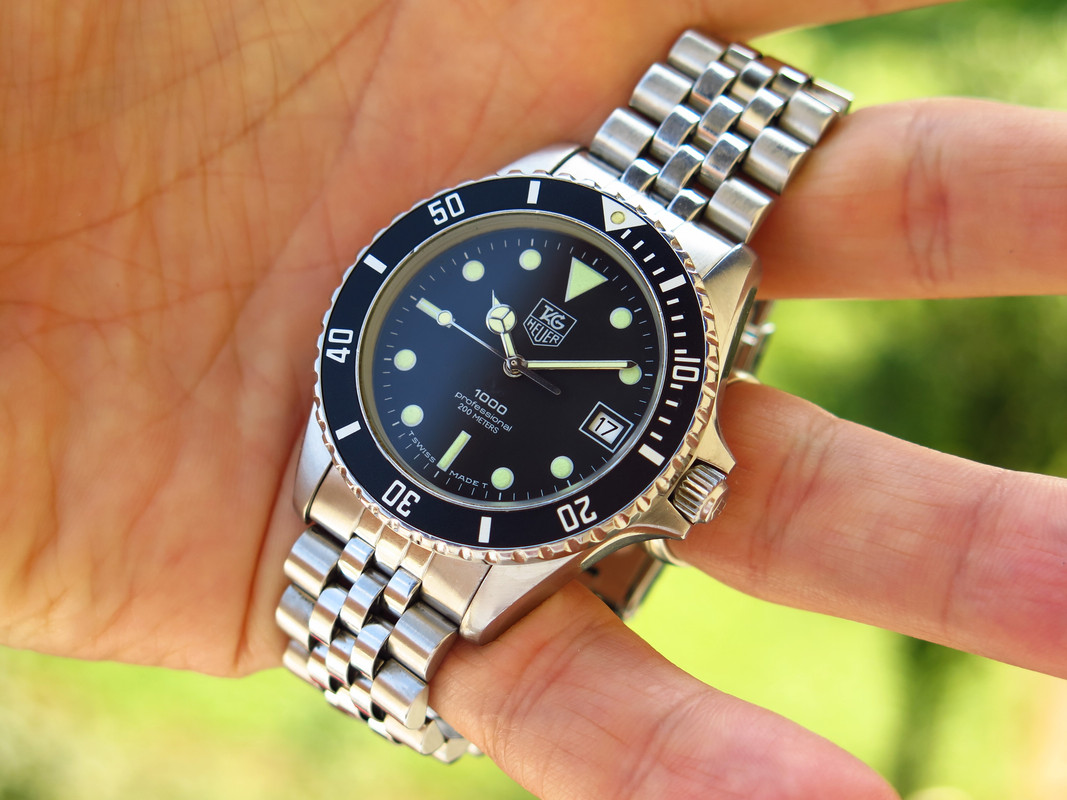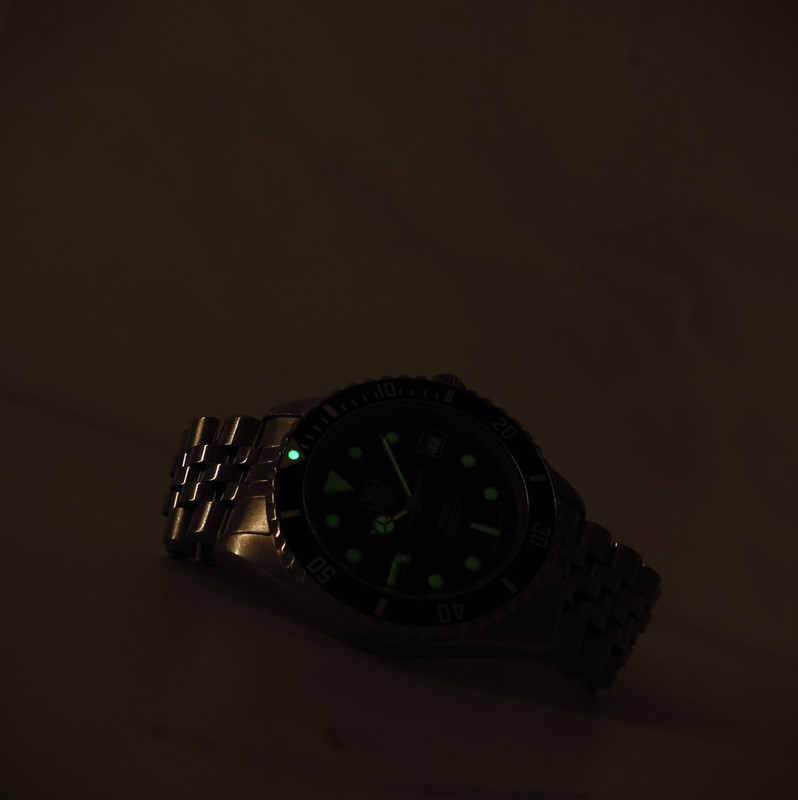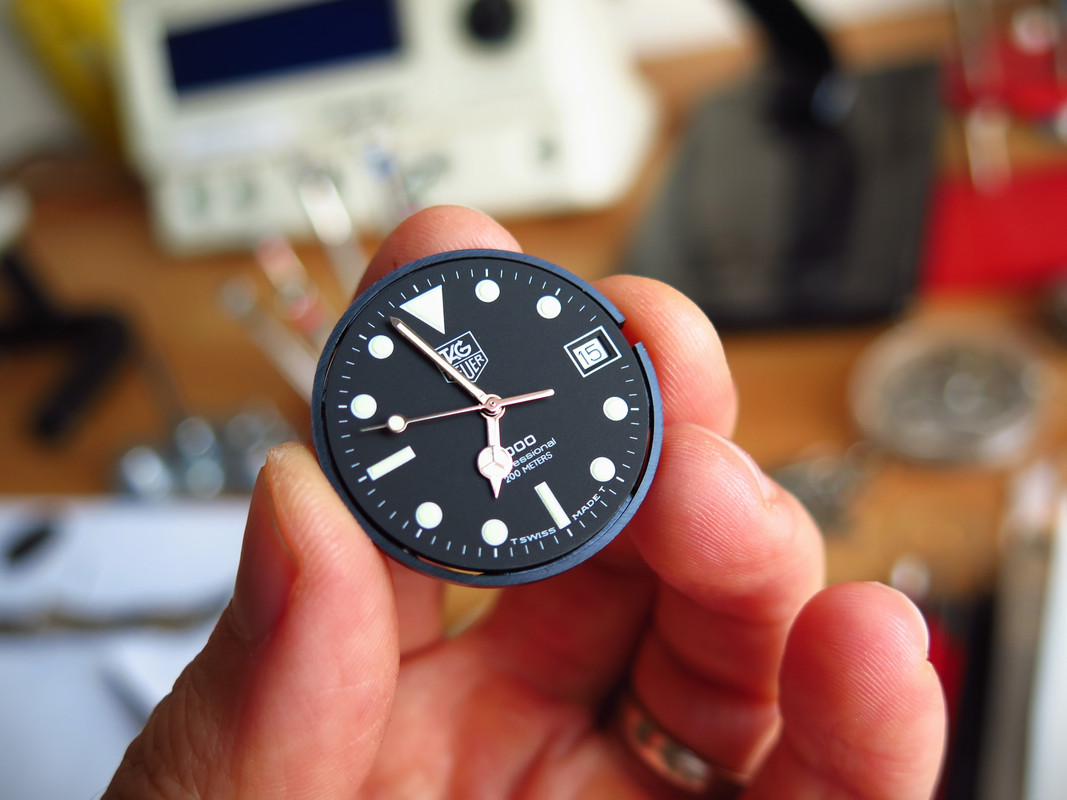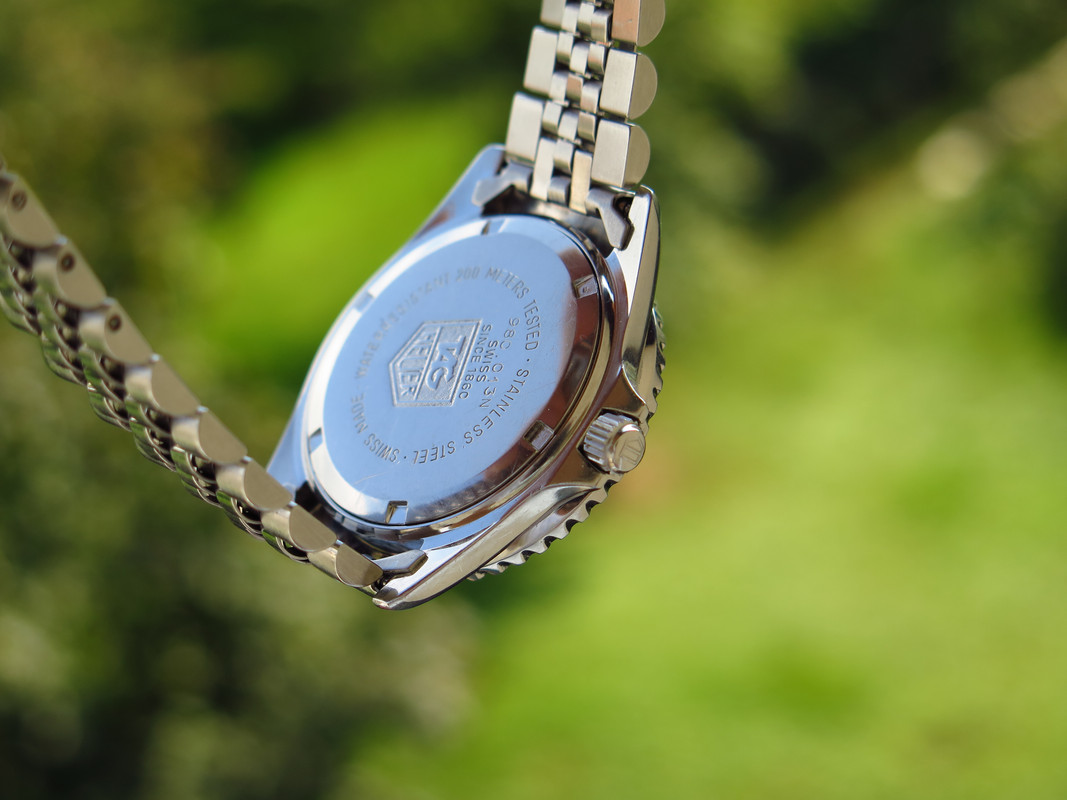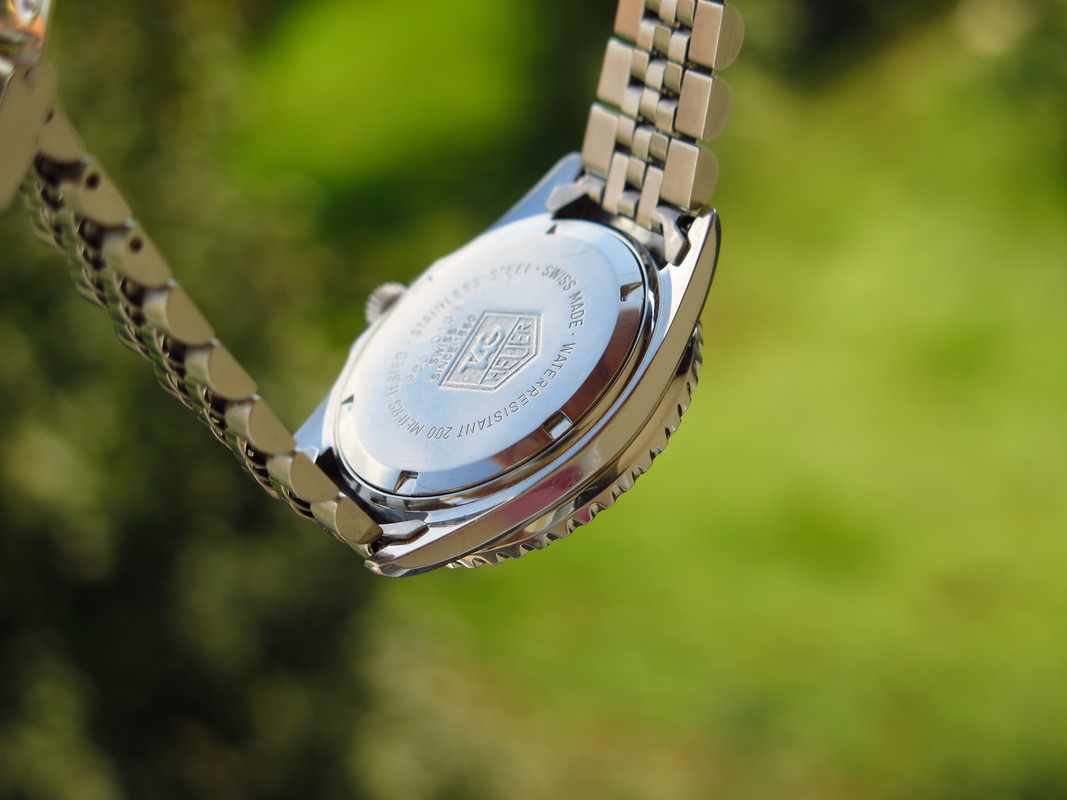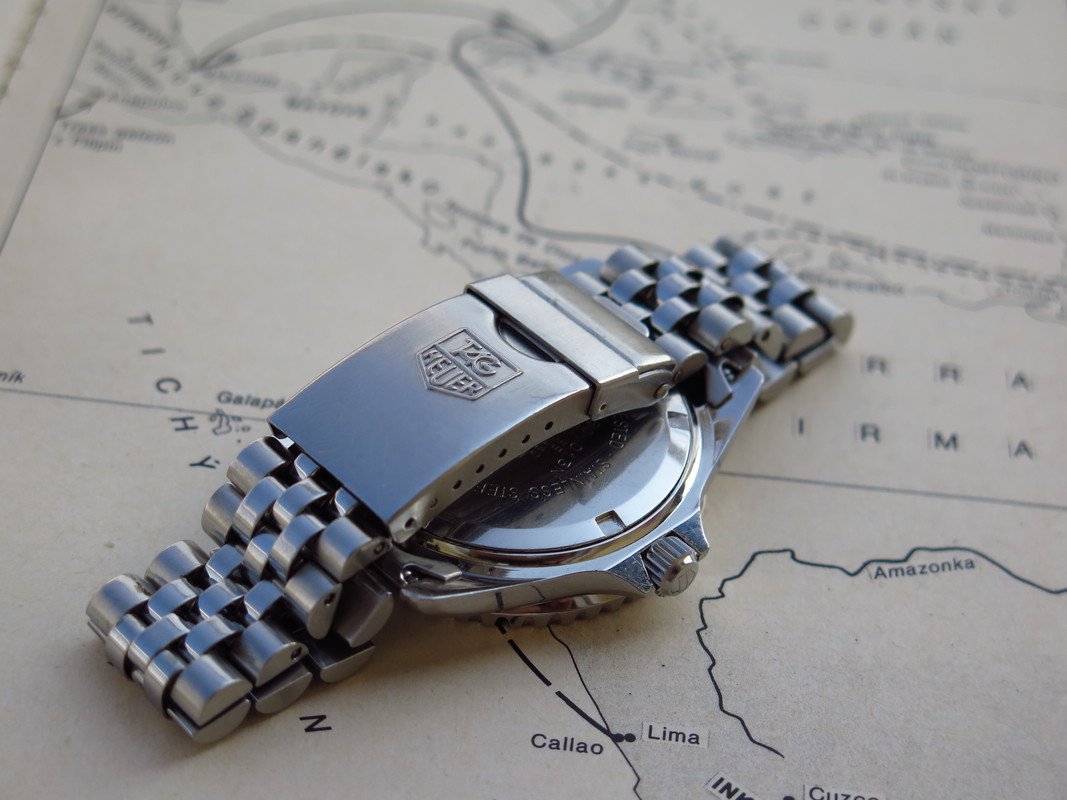 Beachten Sie, dass der folgende Text in den meisten Fällen automatisch aus seiner Originalsprache übersetzt wird.
Hallo zusammen,
Ich biete meine TAG Heuer Tins in sehr schönem und tragbarem Zustand an.
Ref.980.013 N
Die Uhr wurde von 1985 bis 1992 hergestellt, als die Produktion der 1000er-Serie eingestellt wurde. Berichten zufolge war die 1000er-Serie ein außergewöhnlicher Erfolg und rettete TAG praktisch aus der Quarzkrise.
ETA Cal tickt im Inneren. 955.114/TAG Heuer Cal. 4,88. Habe letzte Woche eine neue Energizer-Batterie eingesetzt. Die Uhr läuft reibungslos.
Durchmesser des Stahlgehäuses: 38 x 45 x 9,5 mm ohne Krone und Kronenschutz. Mit einer 41,5-mm-Krone. Sowohl das Gehäuse als auch das Armband befinden sich im originalen, unrestaurierten Zustand. Die Uhr ist bequem und trägt sich großartig.
Laschenabstand: 18 mm. Der Verschluss verfügt über eine Überschlagsicherung und eine Tauchverlängerung. Die Länge ist für ein Handgelenk mit einem Durchmesser von ca. 18 cm geeignet.
Taucherlünette, links, 60 Klicks. Der Einsatz ist in einem schönen Zustand. Der ursprüngliche Lumibod brauchte Zeit, also habe ich ihn neu gemacht, im Vergleich zum alten Tritium glänzt er mehr.
WR 200, verschraubte Krone. Der Thread läuft einwandfrei.
Zeiger und Zifferblatt sind aus Tritium, alles ist in schönem Zustand und ohne Patina.
Mineralglas.
Der Preis für diesen schönen Youngtimer beträgt: **16.000 CZK inkl. Postämter/PPL oder Postämter. Persönliche Lieferung ist hier in Zlín willkommen.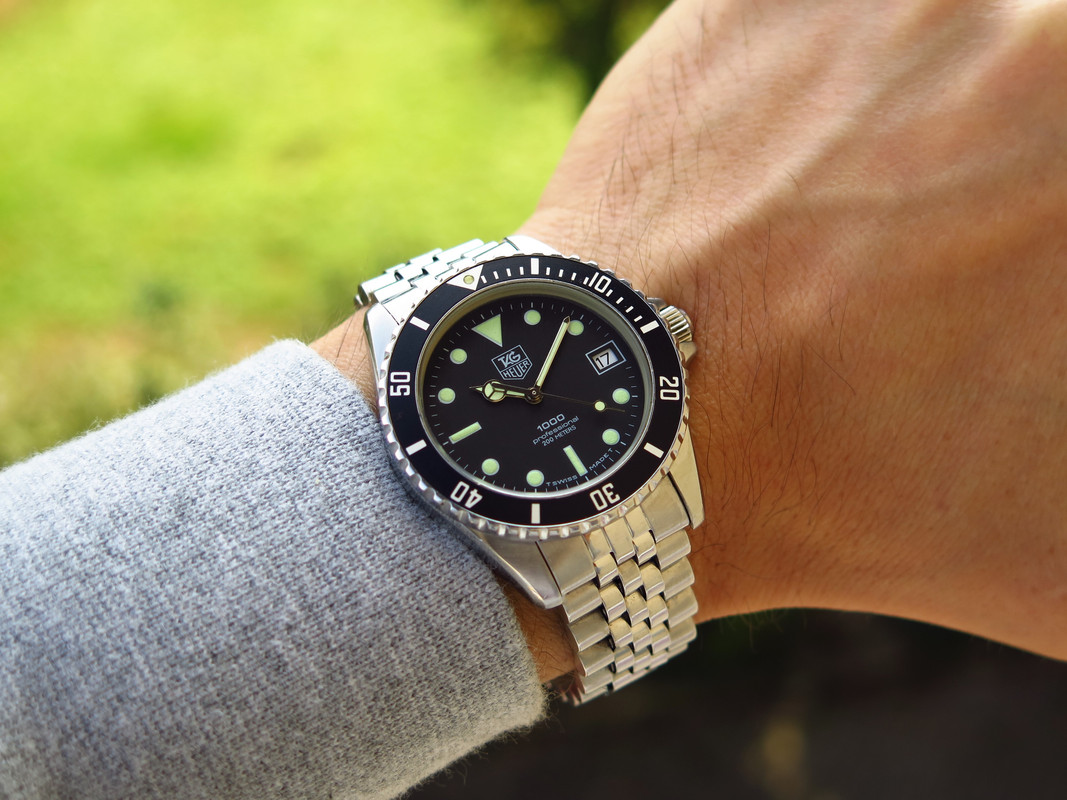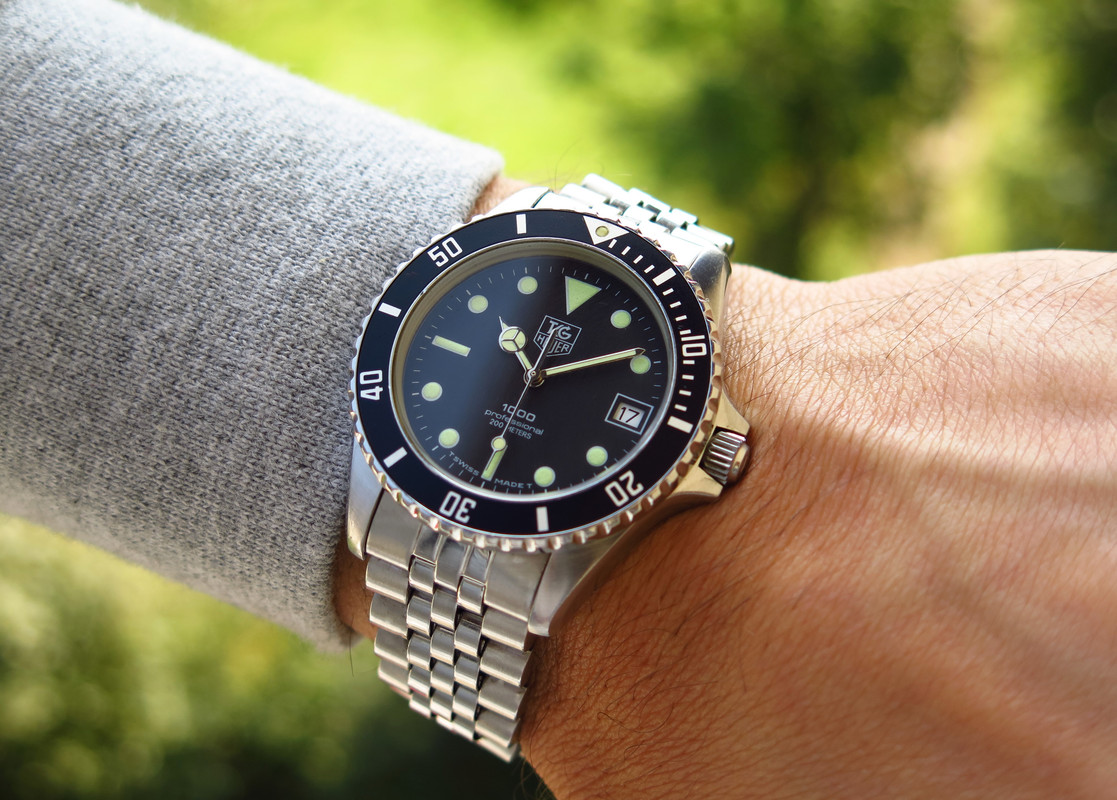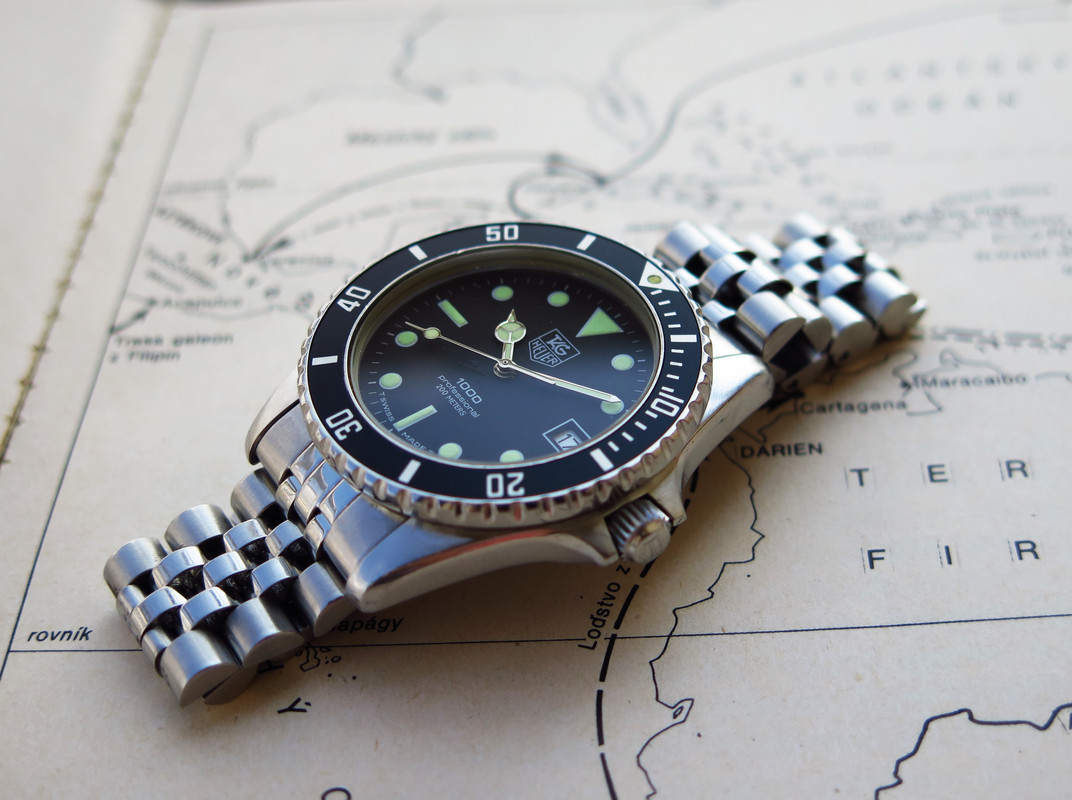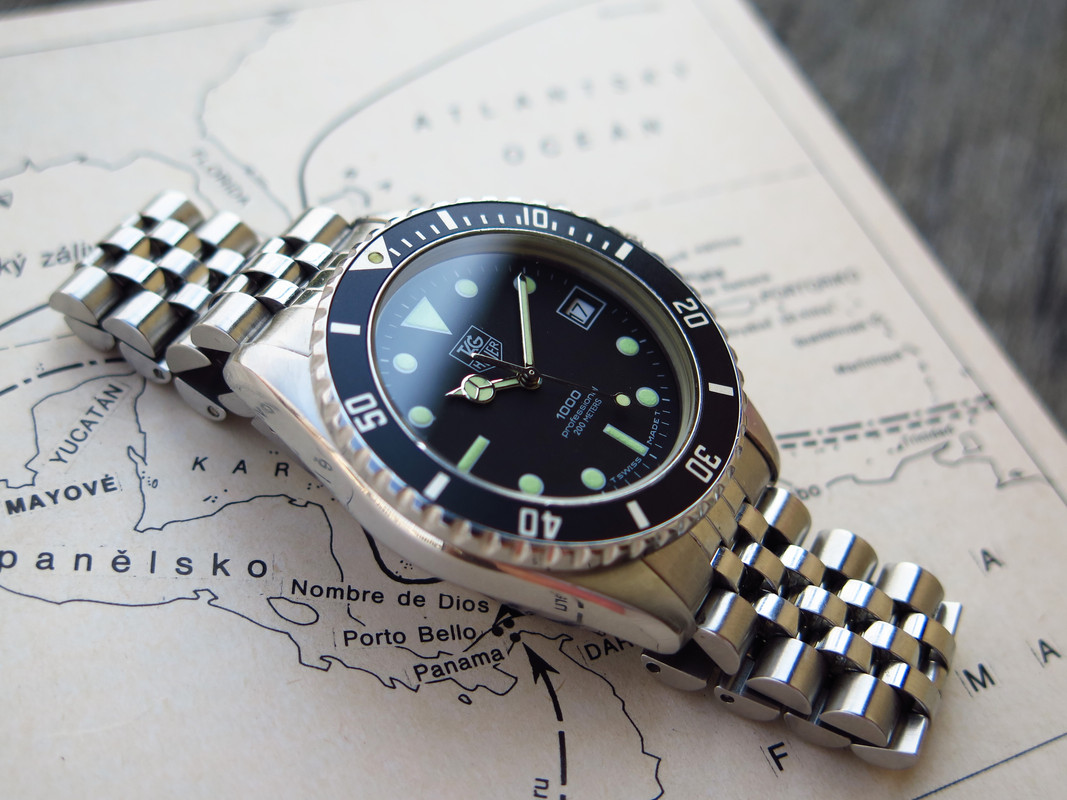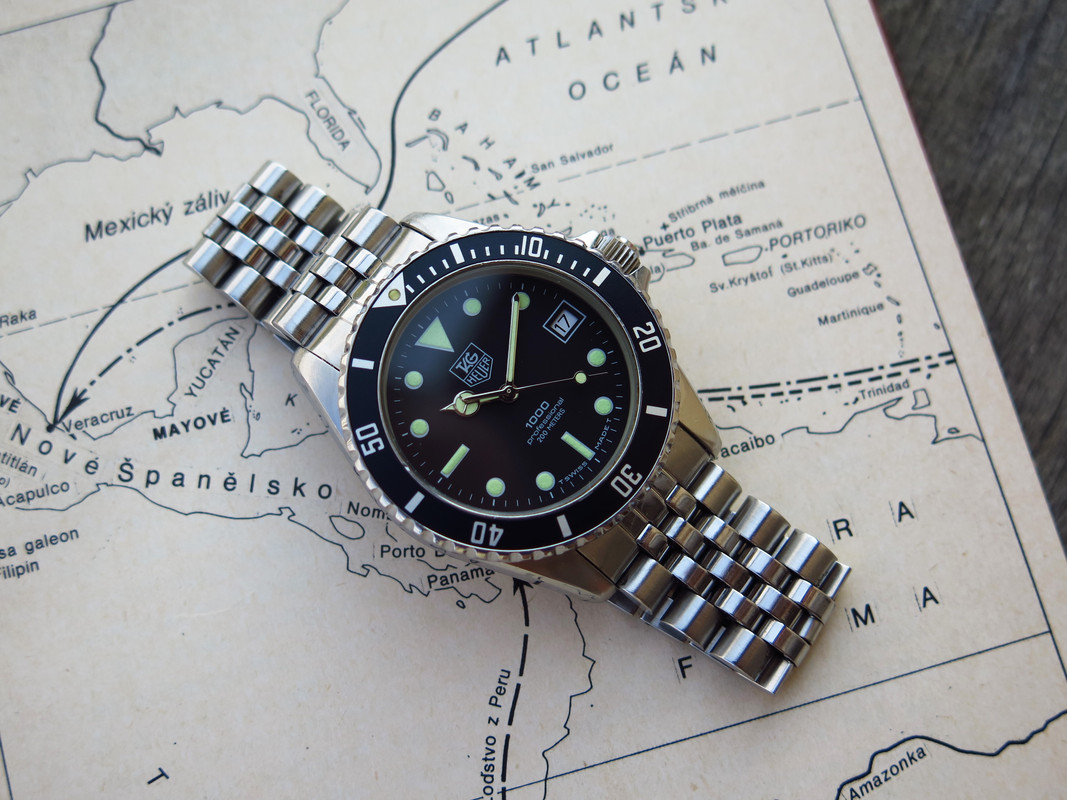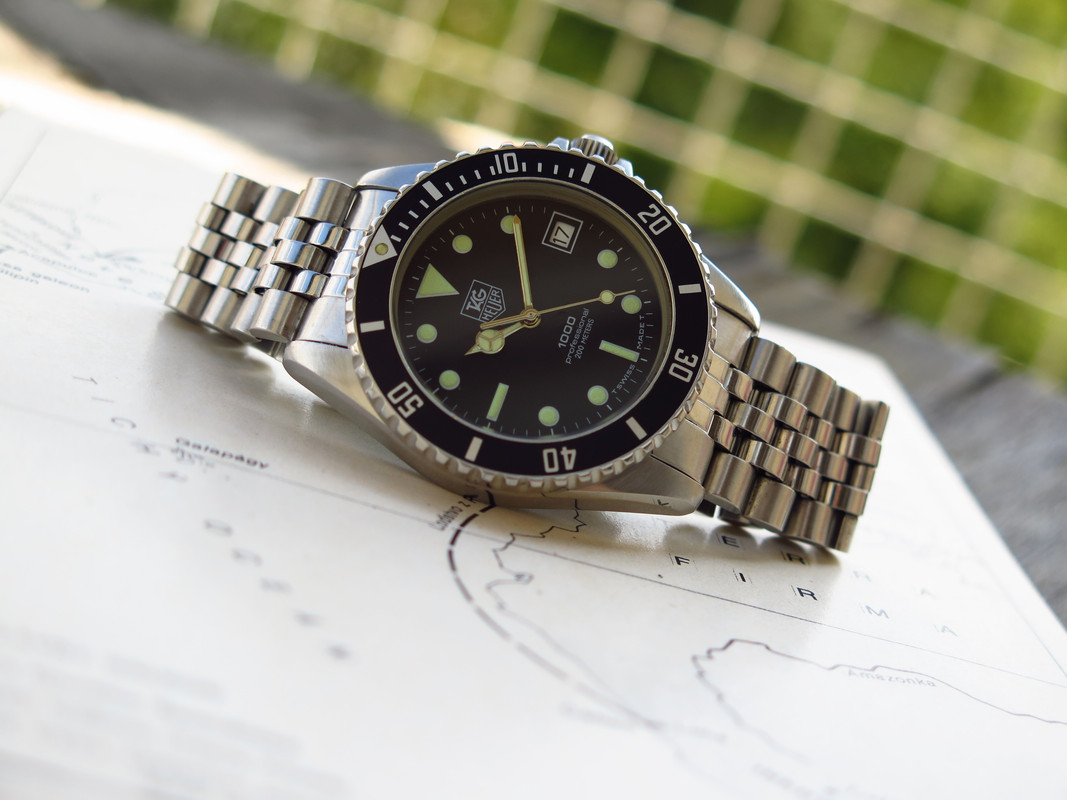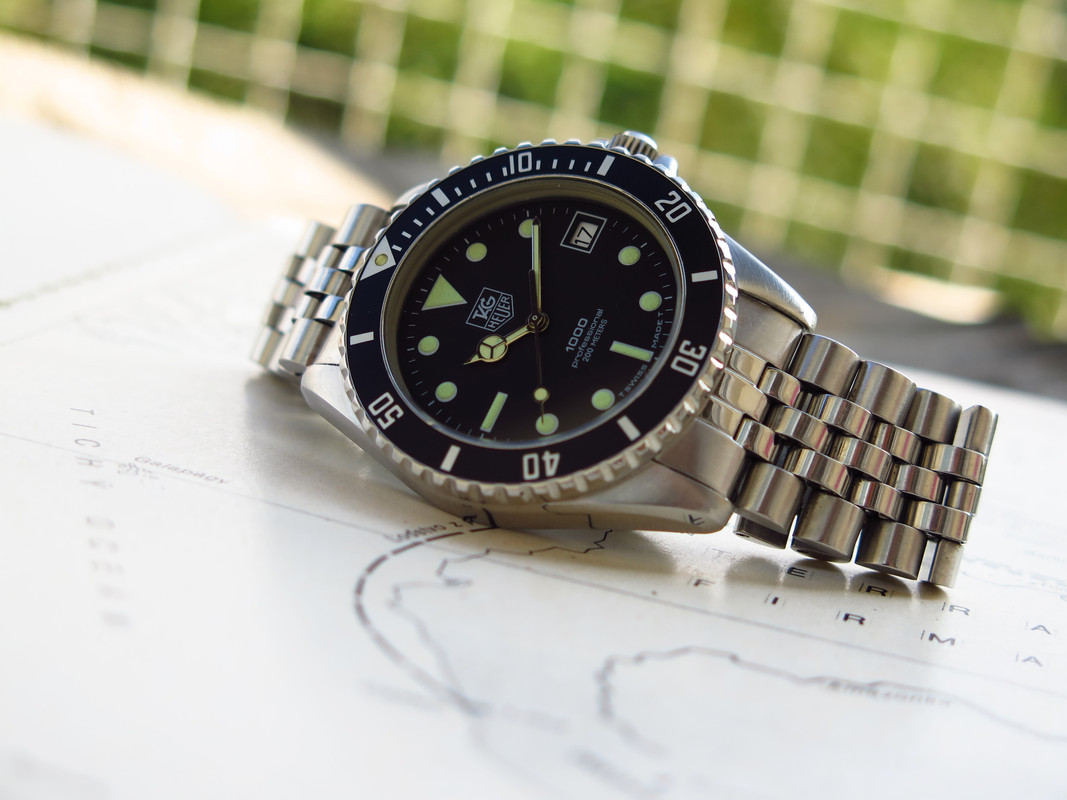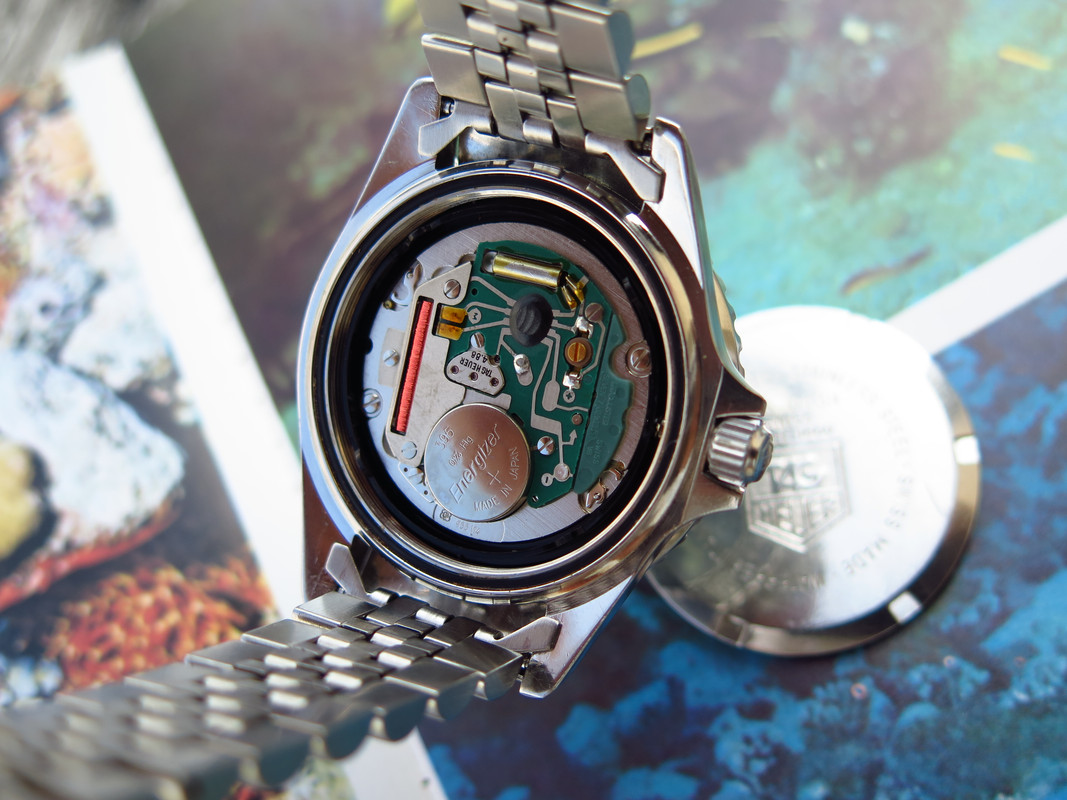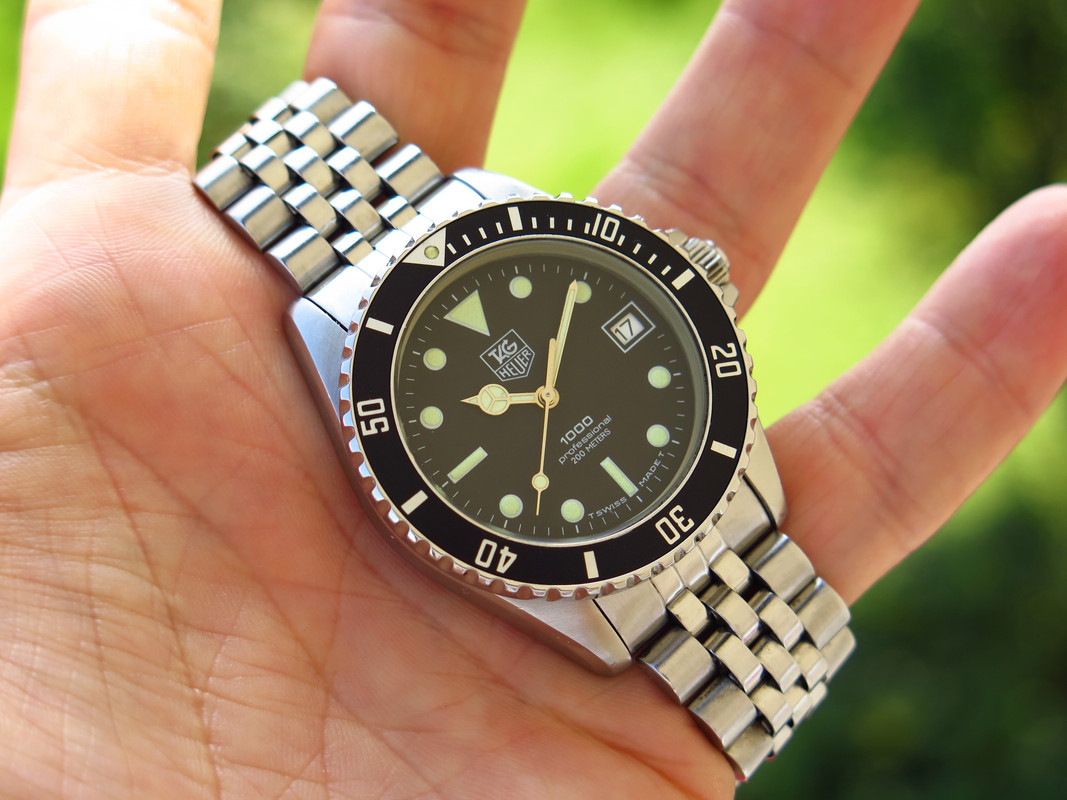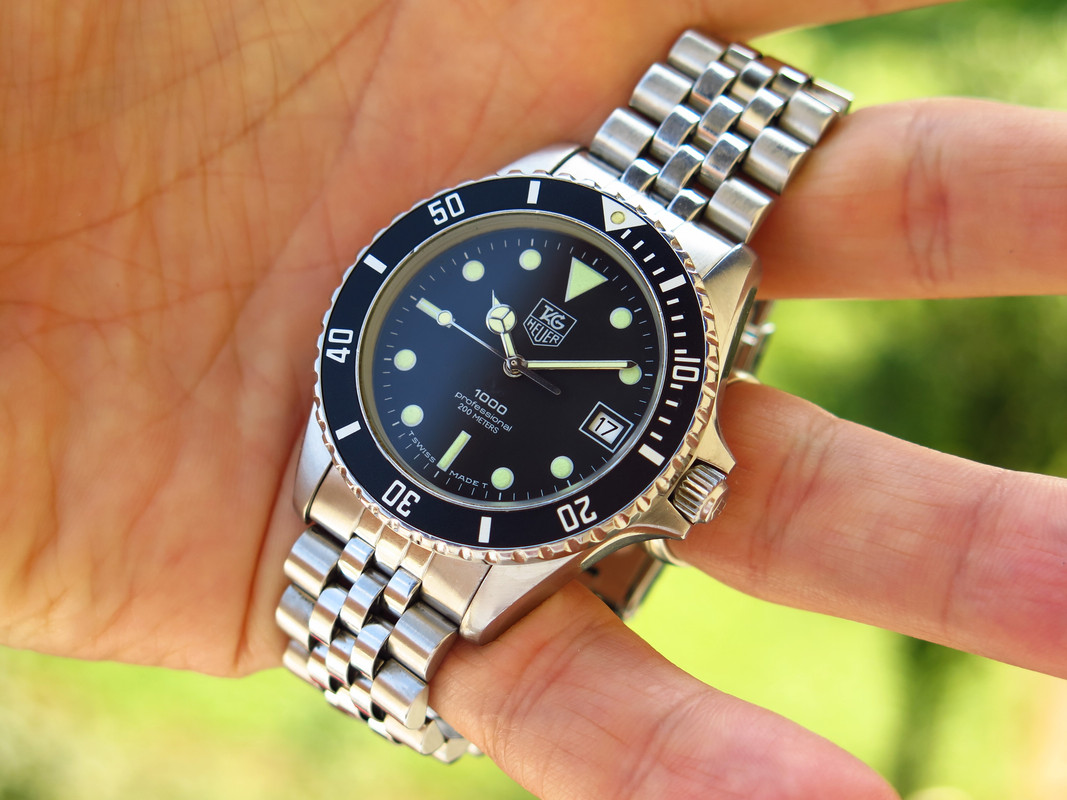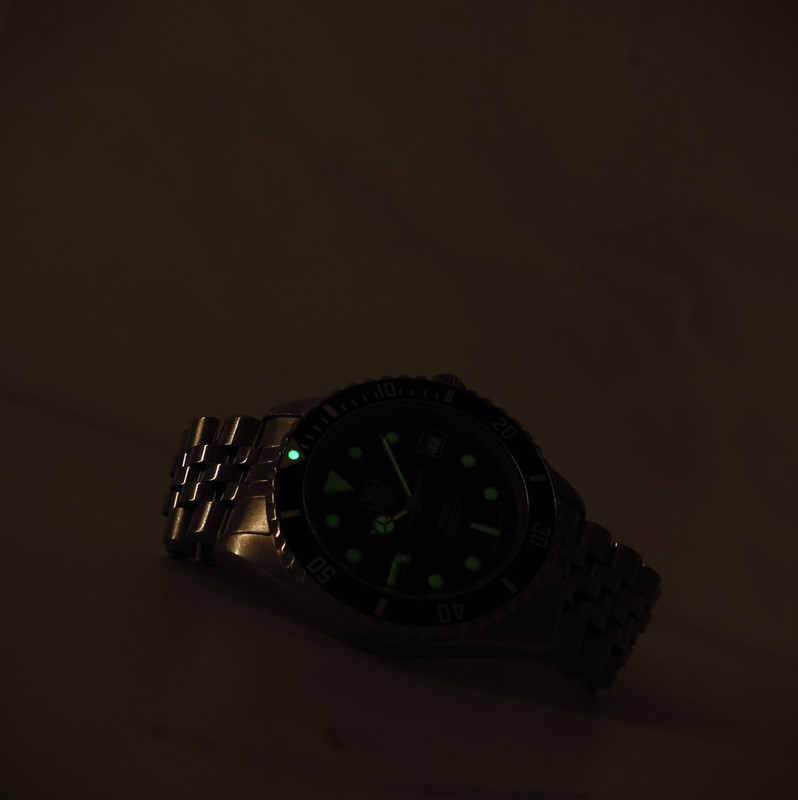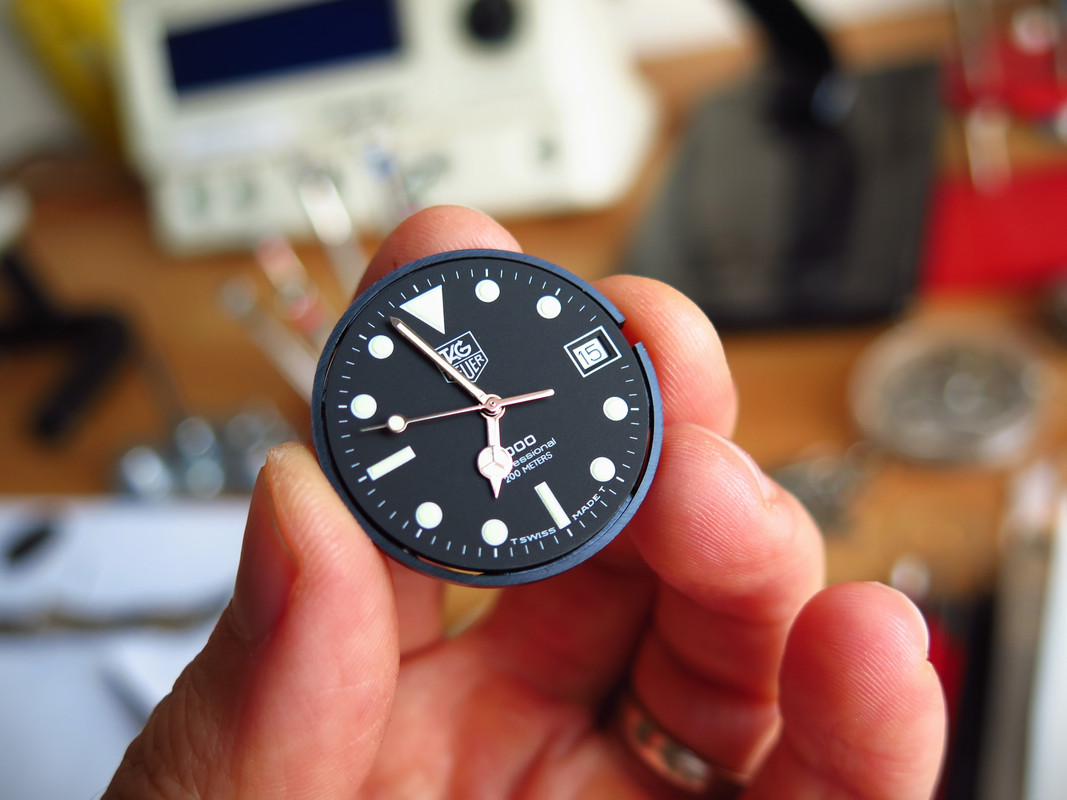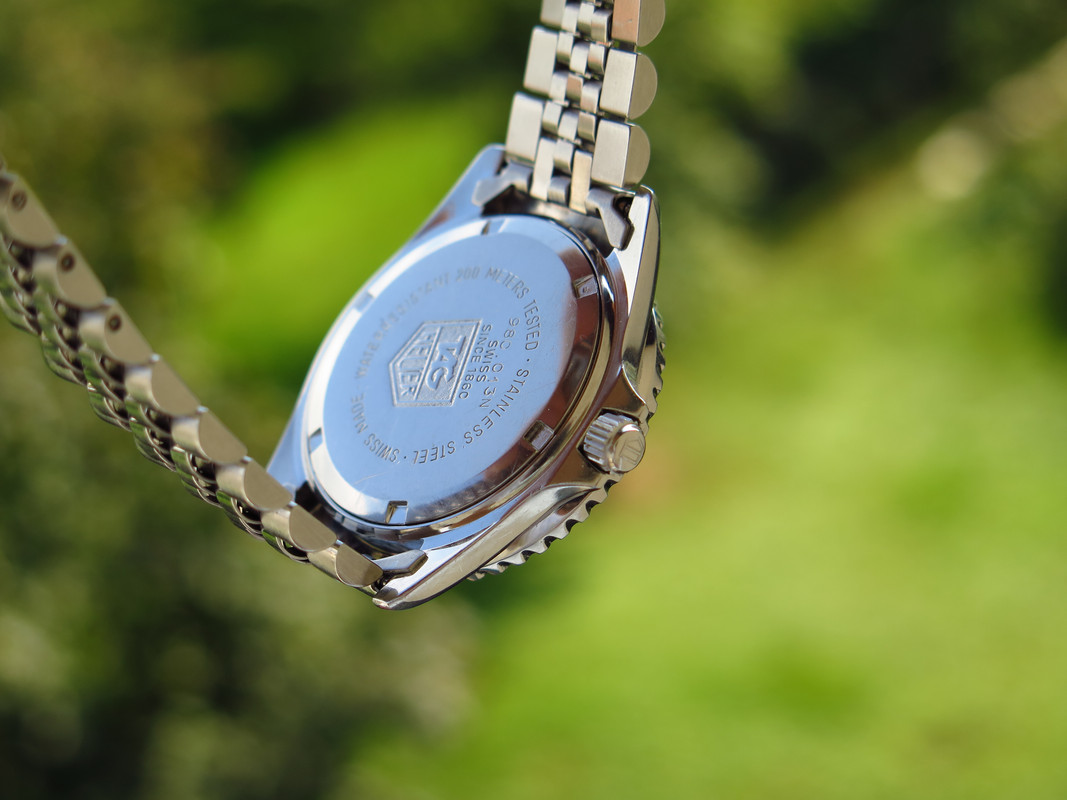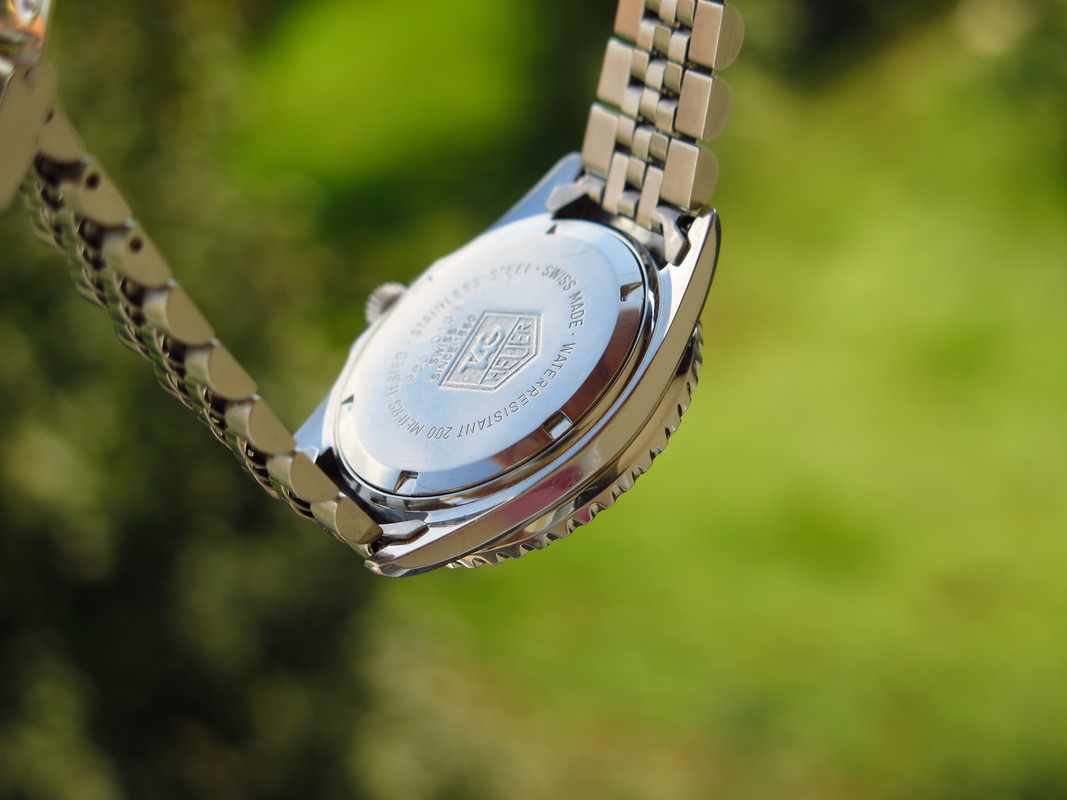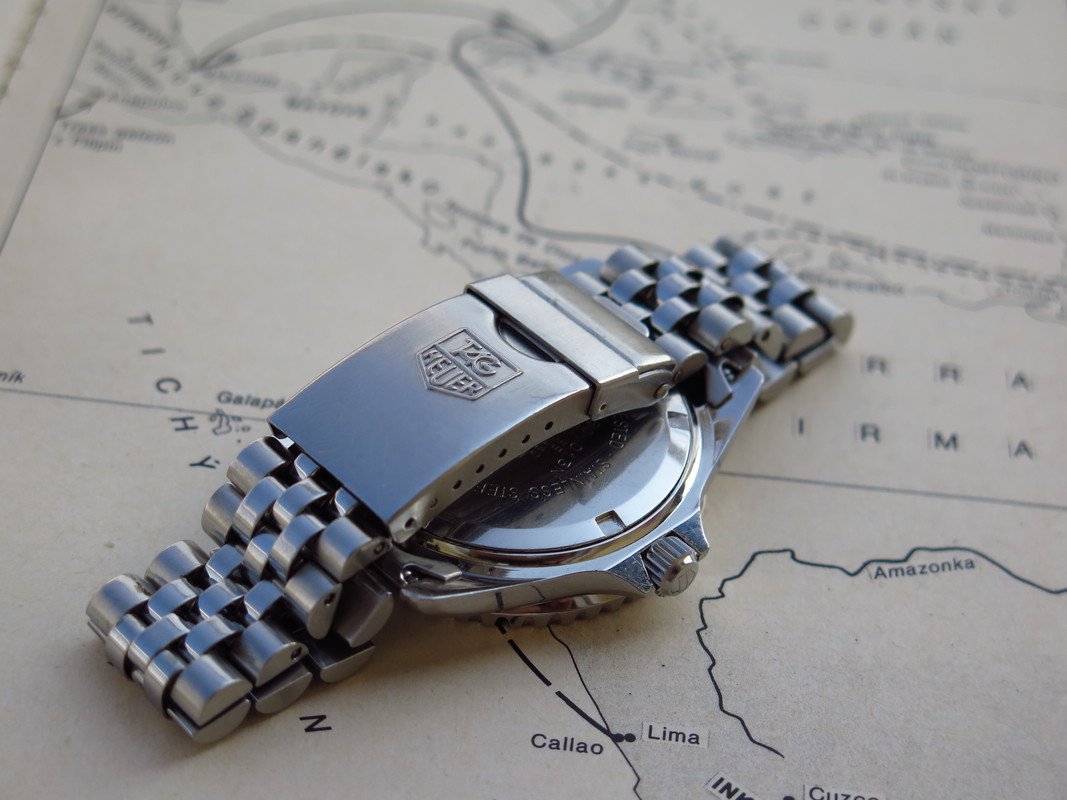 Notez que le texte ci-dessous est dans la plupart des cas traduit automatiquement à partir de sa langue d'origine.
Bonjour à tous,
J'offre mes boîtes TAG Heuer dans un très bon état et portable.
Réf.980.013 N
La montre a été produite de 1985 à 1992, date à laquelle la production de la série 1000 a été interrompue. Il semblerait que la série 1000 ait connu un succès extraordinaire et ait pratiquement sauvé TAG de la crise du quartz.
ETA Cal coche à l'intérieur. 955.114/TAG Heuer Cal. 4,88. J'ai installé une nouvelle pile Energizer la semaine dernière. La montre fonctionne bien.
Diamètre du boîtier en acier : 38 x 45 x 9,5 mm sans couronne ni protège-couronne. Avec une couronne de 41,5 mm. Le boîtier et le bracelet sont dans leur état d'origine non restauré. La montre est confortable et se porte très bien.
Distance entre les cornes : 18 mm. Le fermoir est doté d'une sécurité rabattable et d'une extension de plongée. La longueur convient à un poignet d'un diamètre d'environ 18 cm.
Lunette de plongée, main gauche, 60 clics. L'insert est en bel état. Le Lumibod d'origine a mis du temps, donc je l'ai refait, par rapport à l'ancien tritium, il brille plus.
WR 200, couronne vissée. Le fil fonctionne parfaitement.
Les aiguilles et le cadran sont en tritium, le tout est en bel état et sans patine.
Verre minéral.
Le prix de ce joli youngtimer est de : **16 000 CZK TVA incluse. Bureaux de poste/PPL ou bureaux de poste. La livraison personnelle est la bienvenue ici à Zlín.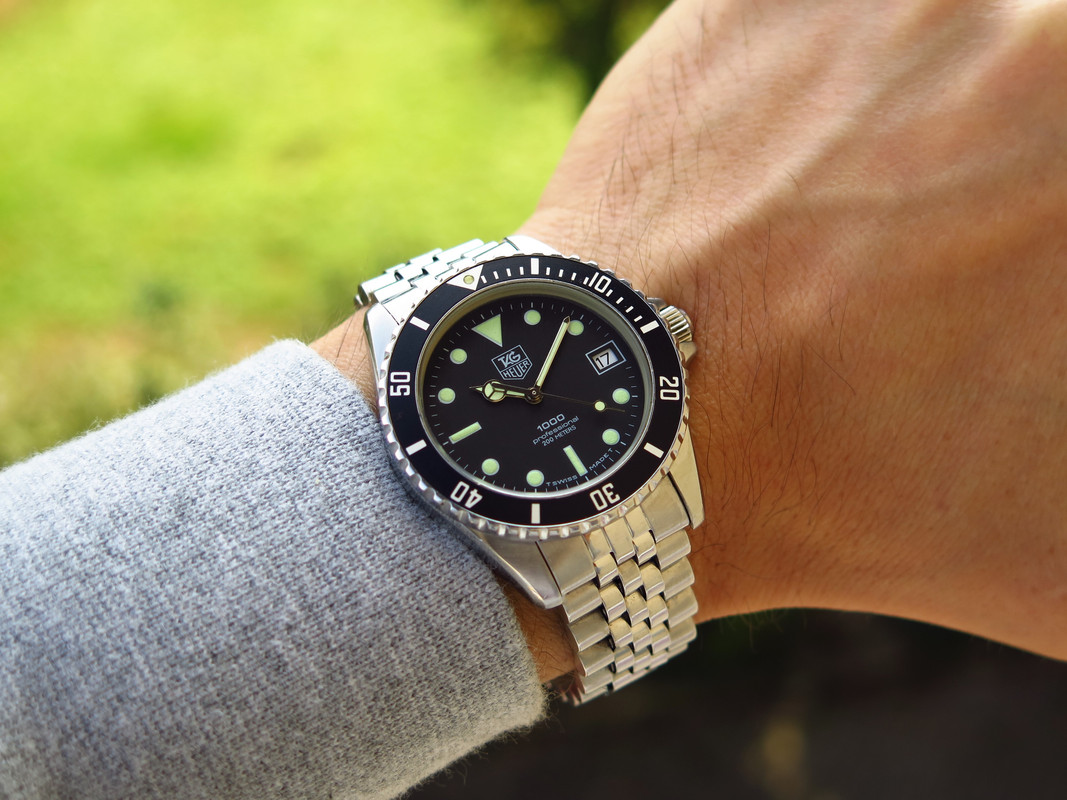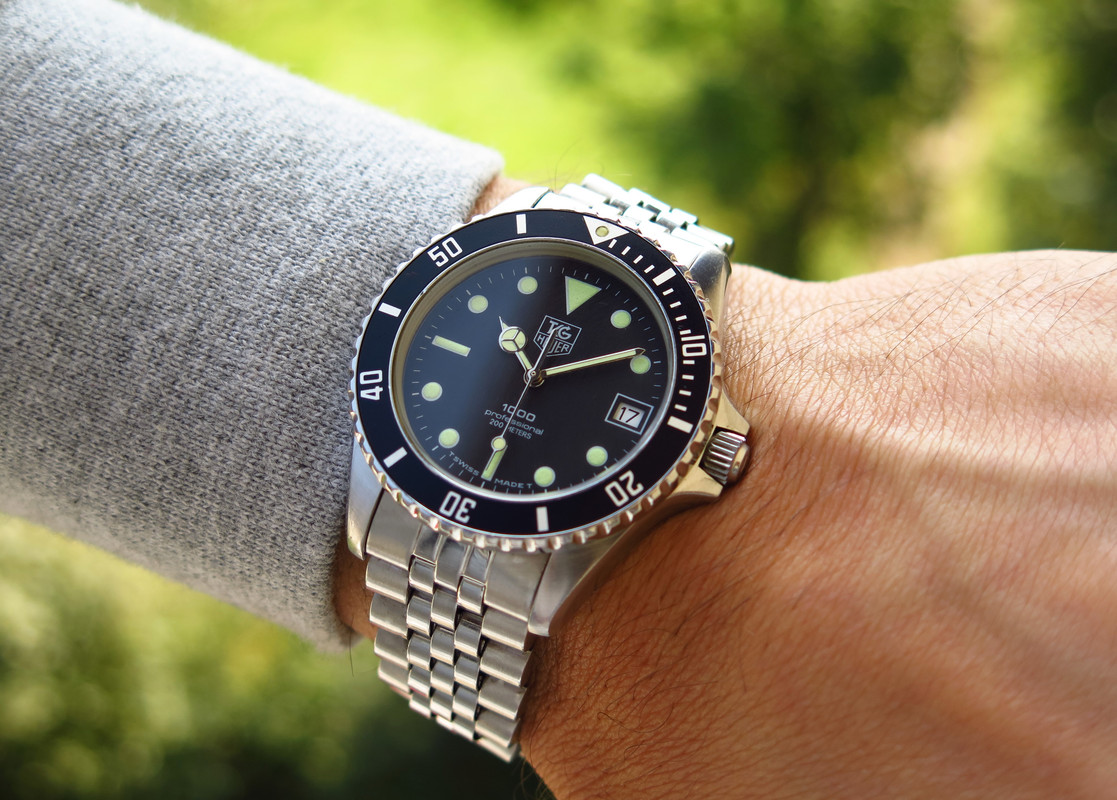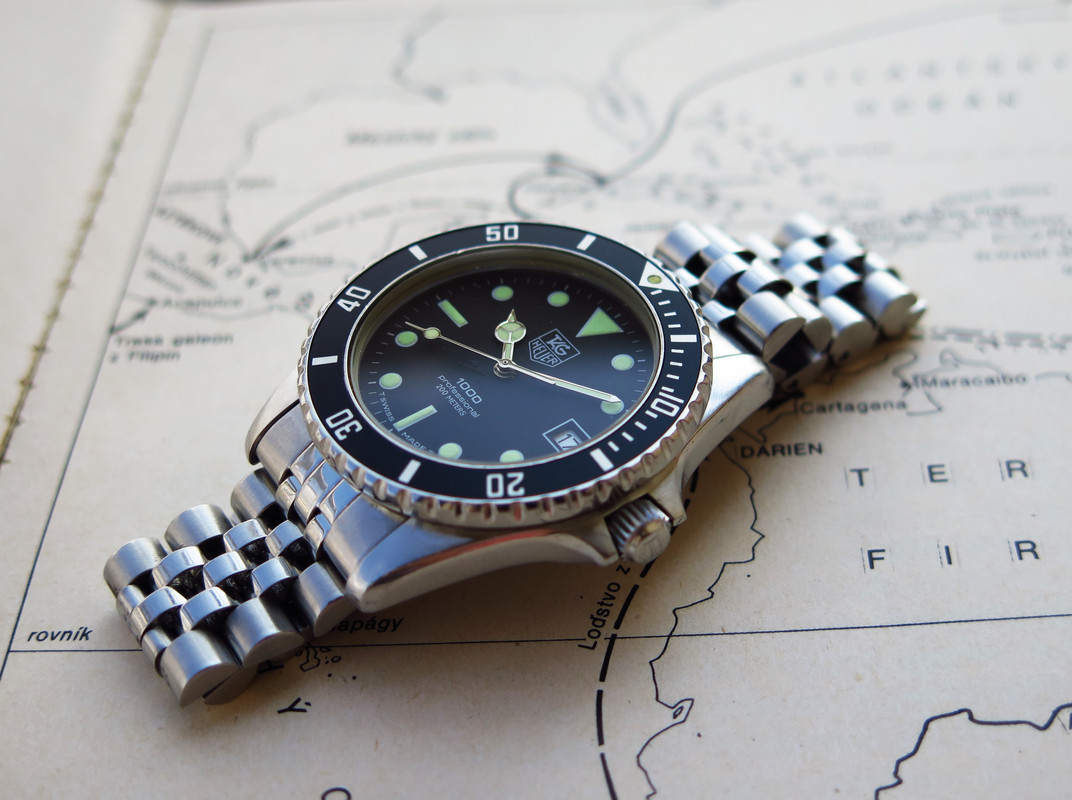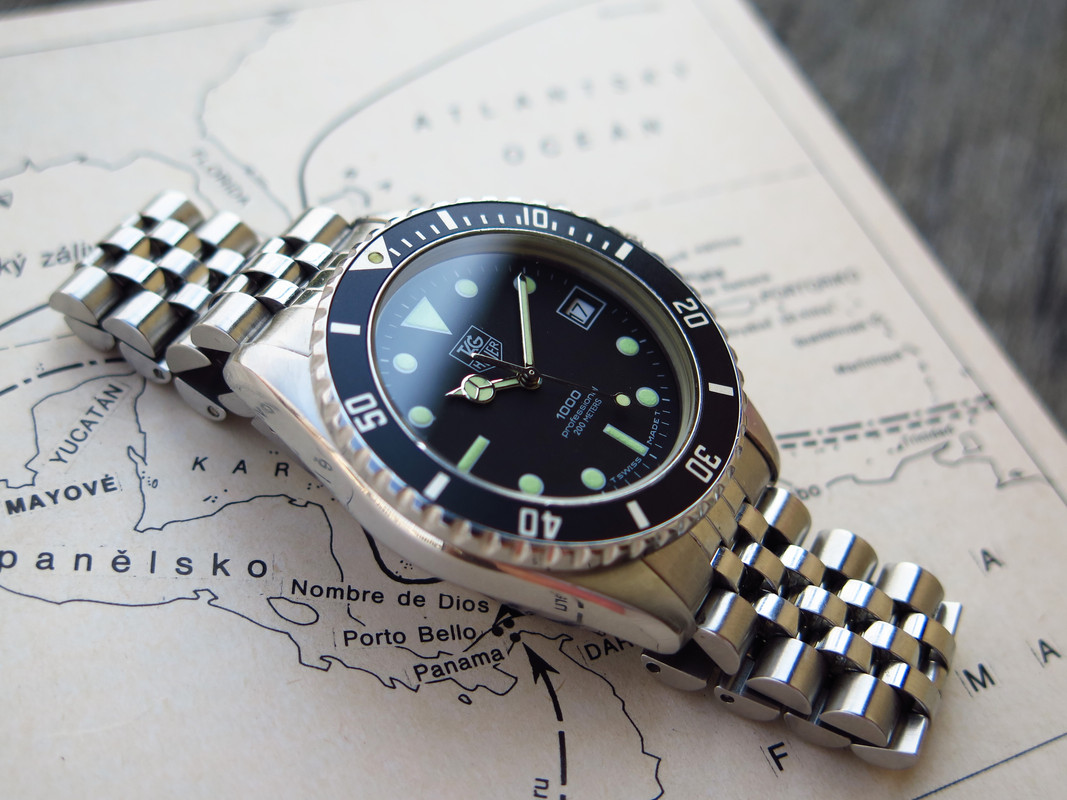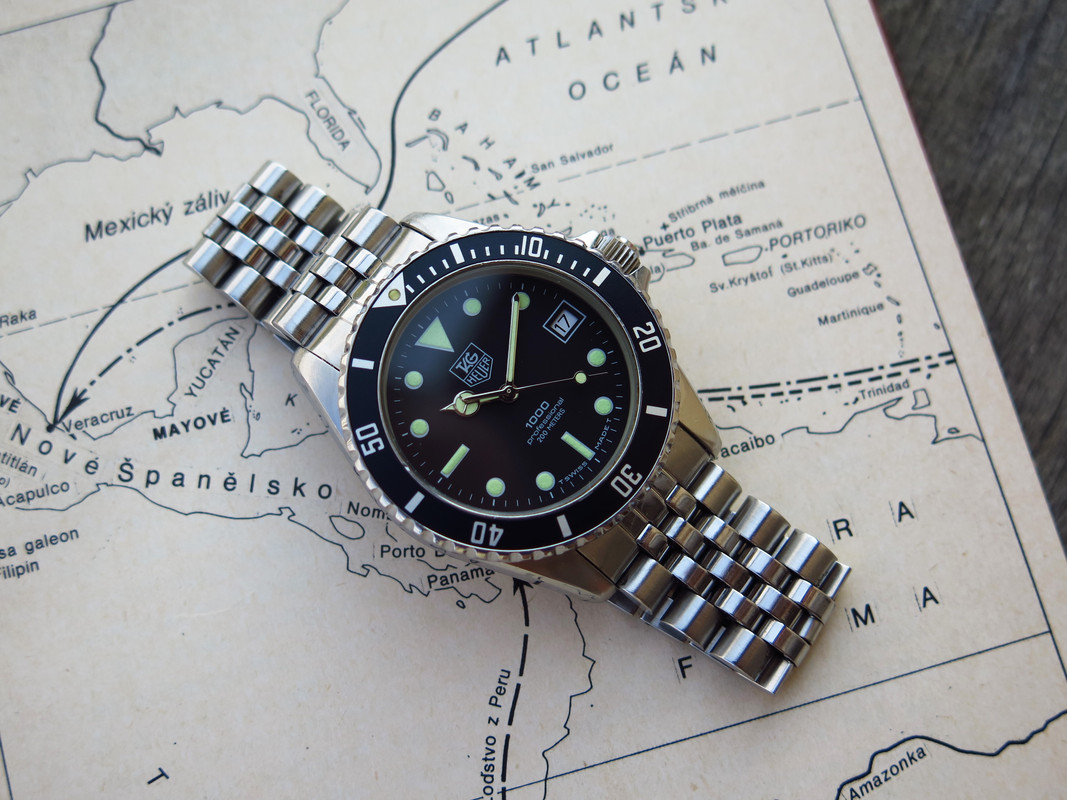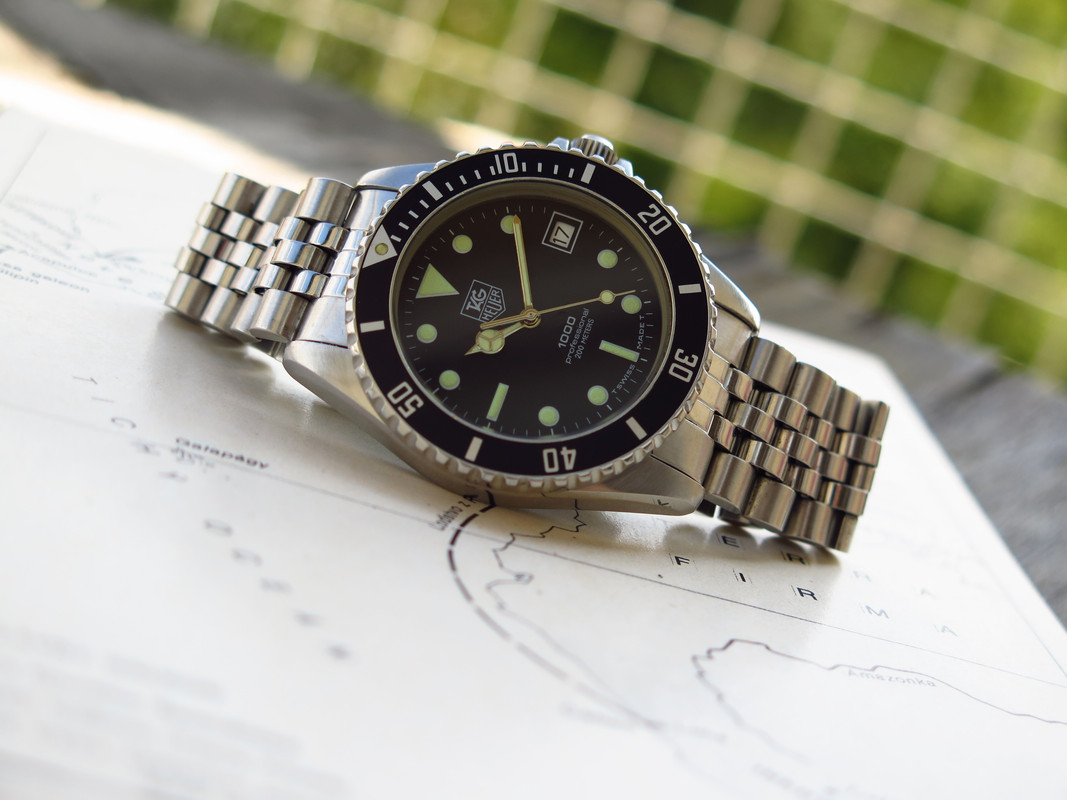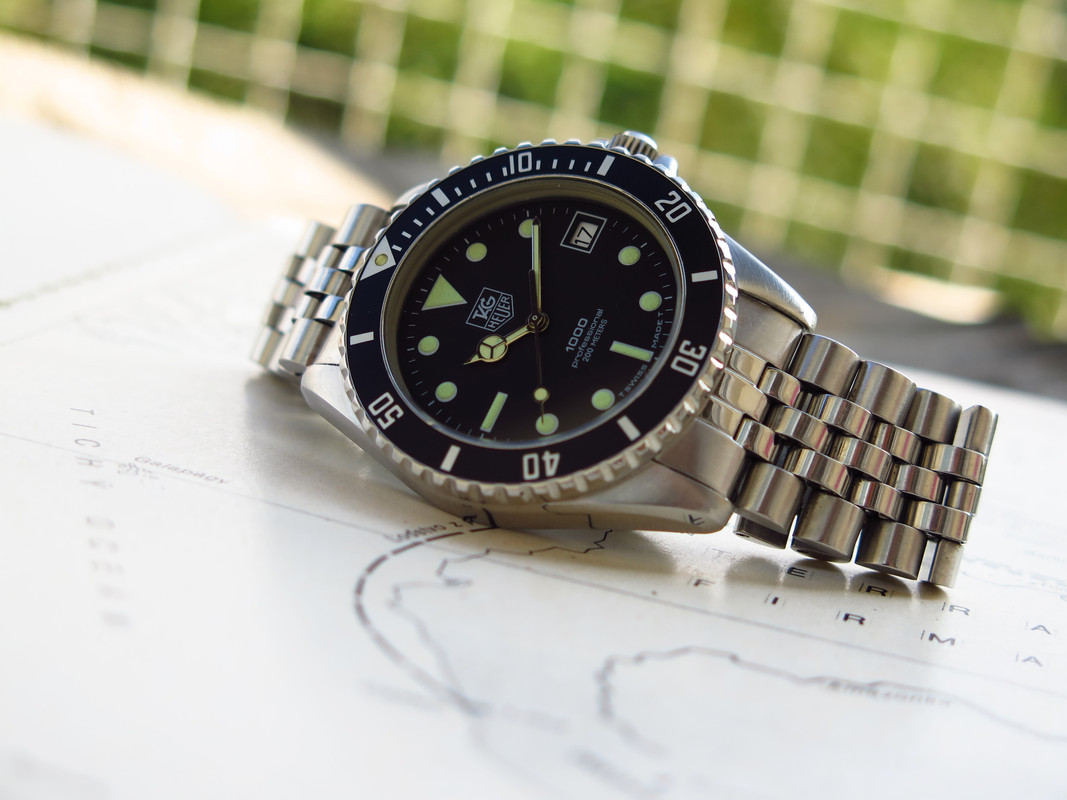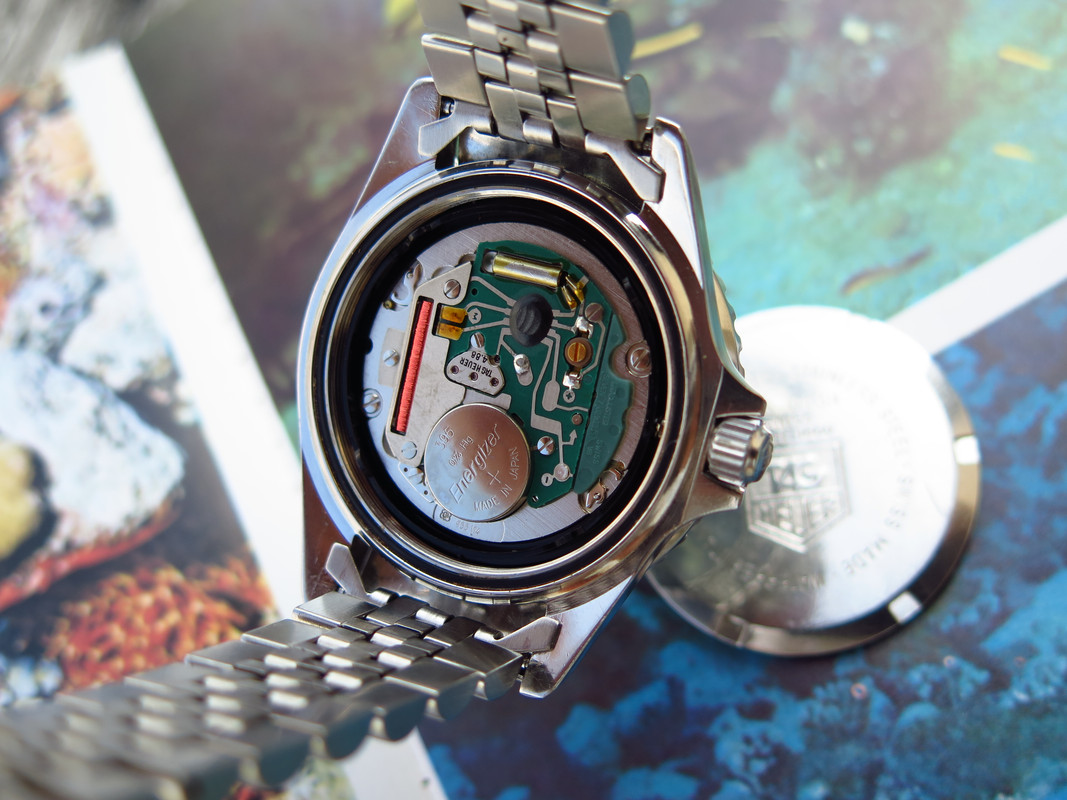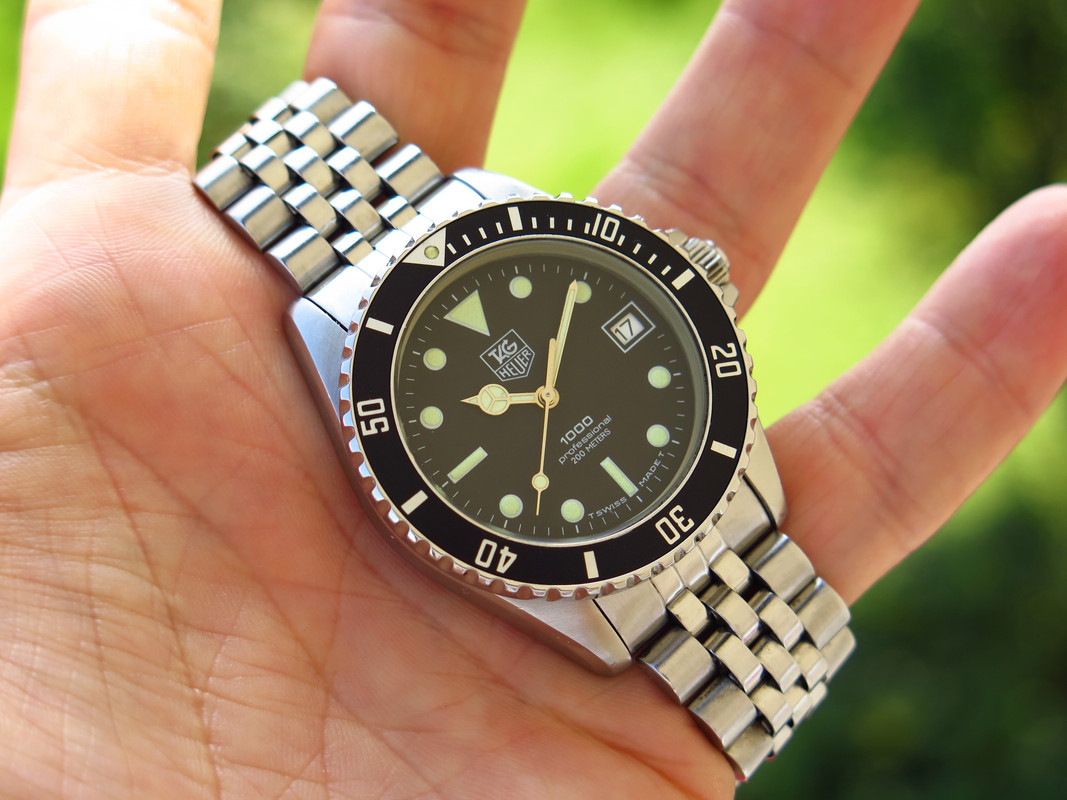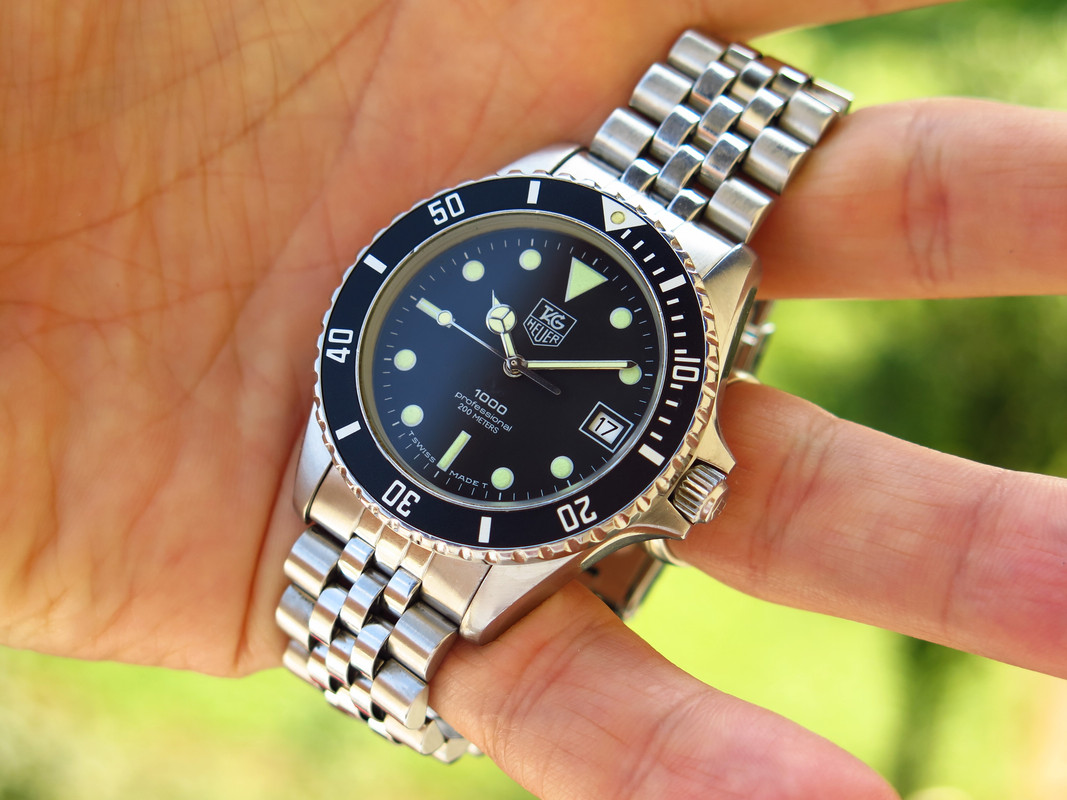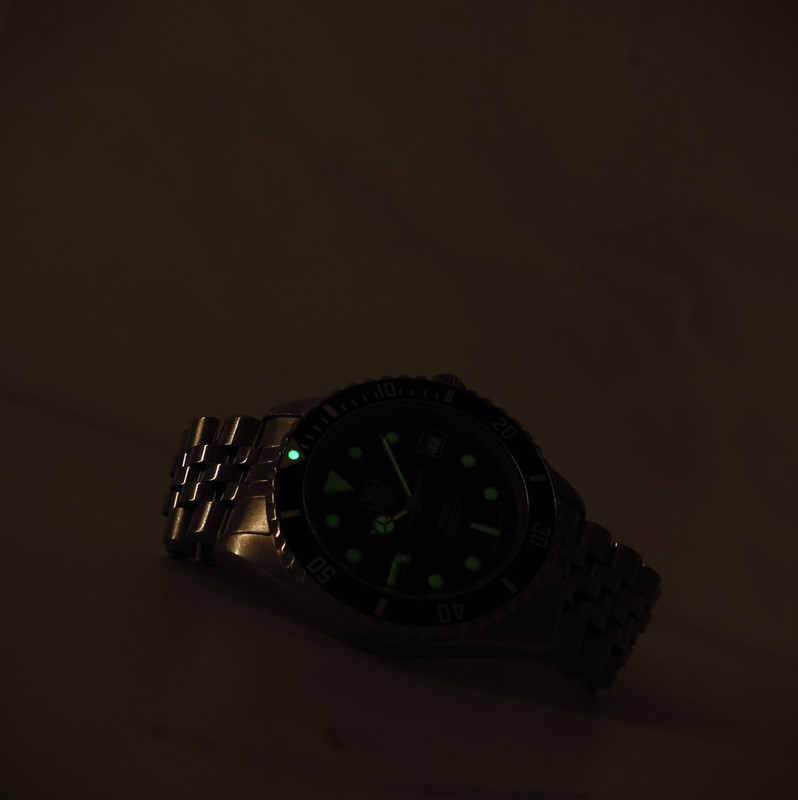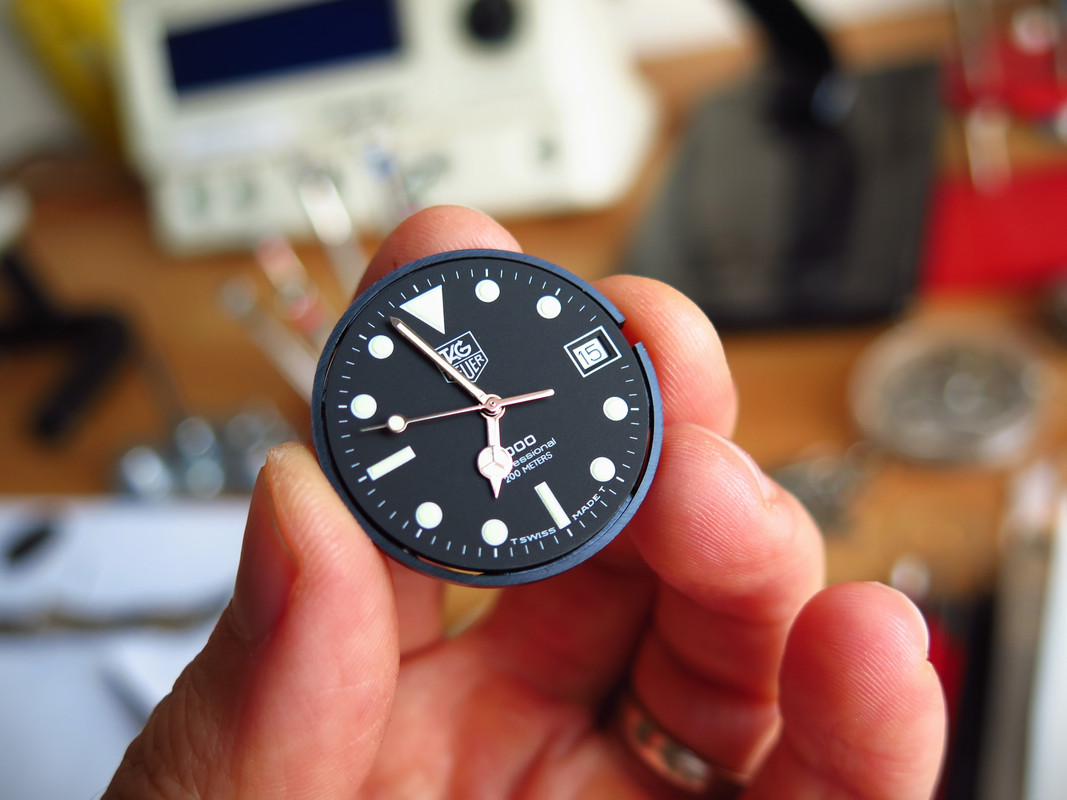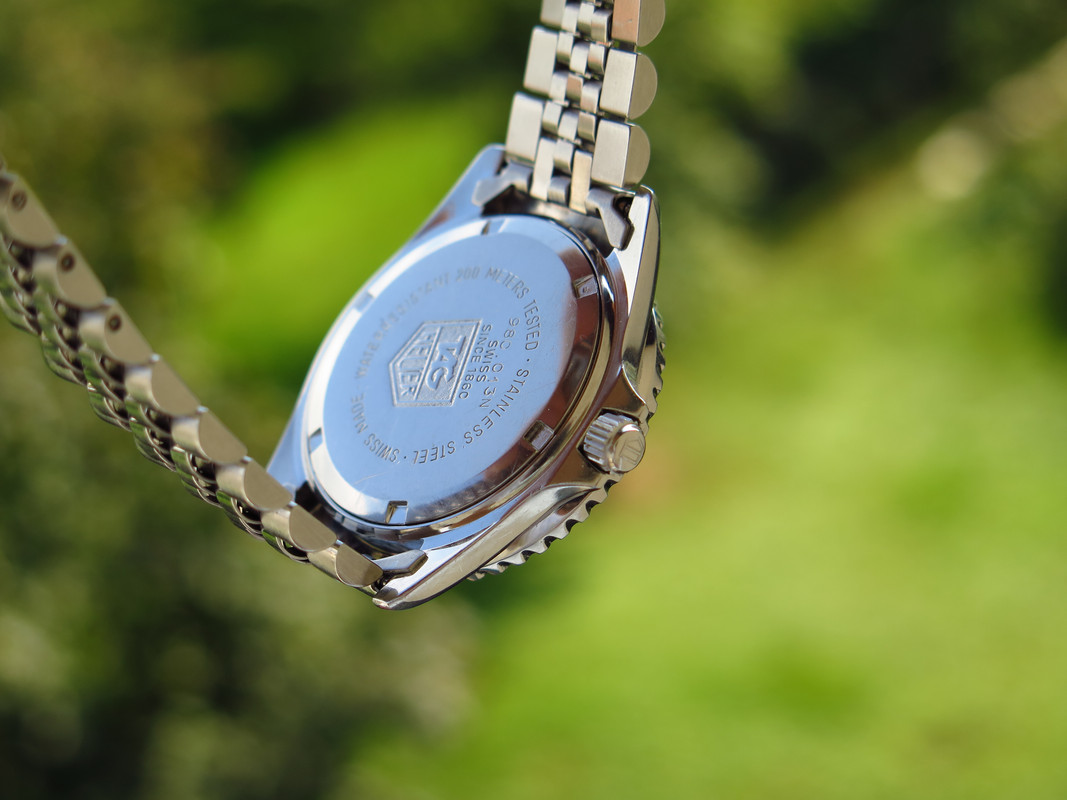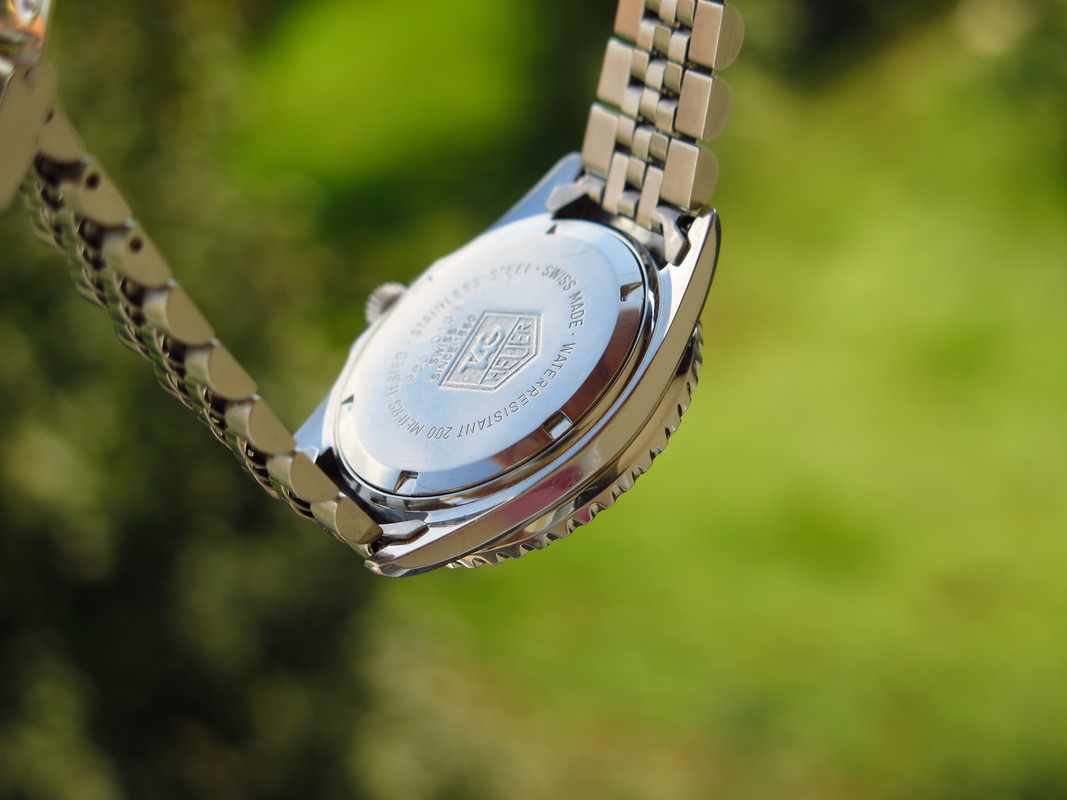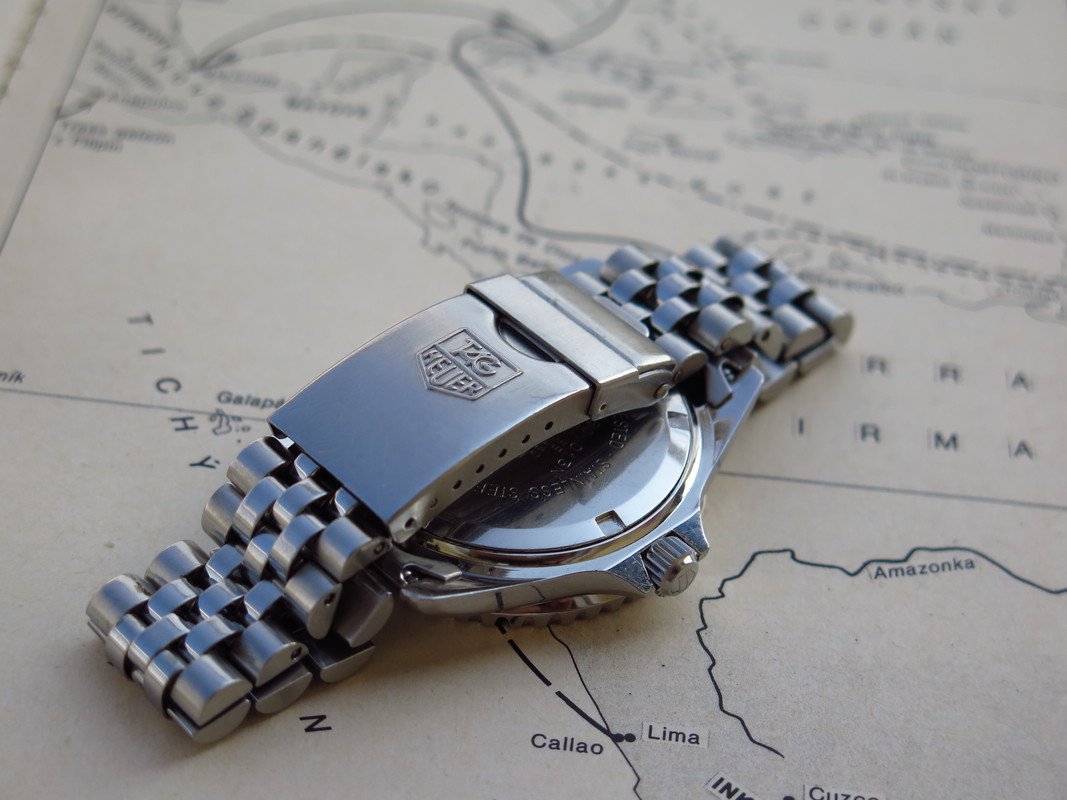 Houd er rekening mee dat onderstaande tekst in de meeste gevallen automatisch wordt vertaald vanuit de oorspronkelijke taal.
Dag iedereen,
Ik bied mijn TAG Heuer blikken aan in zeer mooie en draagbare staat.
Ref.980.013 N
Het horloge werd geproduceerd van 1985 - 1992 toen de productie van de 1000-serie werd stopgezet. Naar verluidt was de 1000-serie een buitengewoon succes en heeft TAG praktisch gered in de kwartscrisis.
ETA Cal tikt binnen. 955.114/TAG Heuer Cal. 4,88. Vorige week een nieuwe Energizer batterij erin gezet. Het horloge loopt soepel.
Diameter stalen kast: 38 x 45 x 9,5 mm zonder kroon en kroonbeschermer. Met een kroon van 41,5 mm. Zowel de kast als de band bevinden zich in de originele, ongerestaureerde staat. Het horloge zit comfortabel en draagt ​​geweldig.
Nokafstand: 18 mm. De sluiting heeft een flip-over-veiligheid en een duikverlenging. De lengte is geschikt voor een pols met een diameter van ca. 18 cm.
Duikring, links, 60 klikken. Het inzetstuk is in mooie staat. De originele Lumibod kostte tijd, dus ik heb hem opnieuw gemaakt, vergeleken met de oude tritium glanst hij meer.
WR 200, inschroefkroon. De draad loopt vlekkeloos.
Wijzers en wijzerplaat zijn van tritium, alles is in prachtige staat en zonder patina.
Mineraal glas.
De prijs voor deze leuke youngtimer bedraagt: **16.000 CZK incl. BTW. Postkantoren/PPL of postkantoren. Persoonlijke bezorging is welkom hier in Zlín.