P- SEIKO 3823-7000 VFA
Postad på Chronomag 2022-01-29 00:56:00 +0000 av **???**
Note that the text below is in most cases automatically translated from it's original language
Seiko 3823 VFA (Very Fine adjusted) for sale. The watch is from 1971. Until 1974, it represented the top Seiko range in terms of accuracy and price. This can also be seen on the dial, in the form of applied minute indices (who has it today?), Five-minute indices in a high gloss and the beautiful applied Seiko and Quartz logos.
Production: SUWA Year of production: September 1971 ie. This is a watch right from the start of production Model: Quartz V.F.A. Reference: 3823-7000 Machine: 3823 (38SQW), 7 stones Case: steel, 36x42x11 mm Accuracy: V.F.A. + 5s / -5s per month (factory specifications - I do not guarantee) Dial: ivory, manually applied hourly and minute indices, start of production without VFA - this piece was probably replaced by a later type - although it was quite common for Seiko to combine parts, when switching to newer variants Move: AS010 - the first version of the "Mesh" move, Battery: SR44SW - endurance 1 year List price: 135 - 150 thousand JPY (approx. 9000 USD in today's prices)
The watch is in good working order with a few scratches on the case (especially on the dimple on the battery cover). The dial is beautifully clean, as seen in the photos. The watch will have a new battery.
Price: 9,000 CZK + post office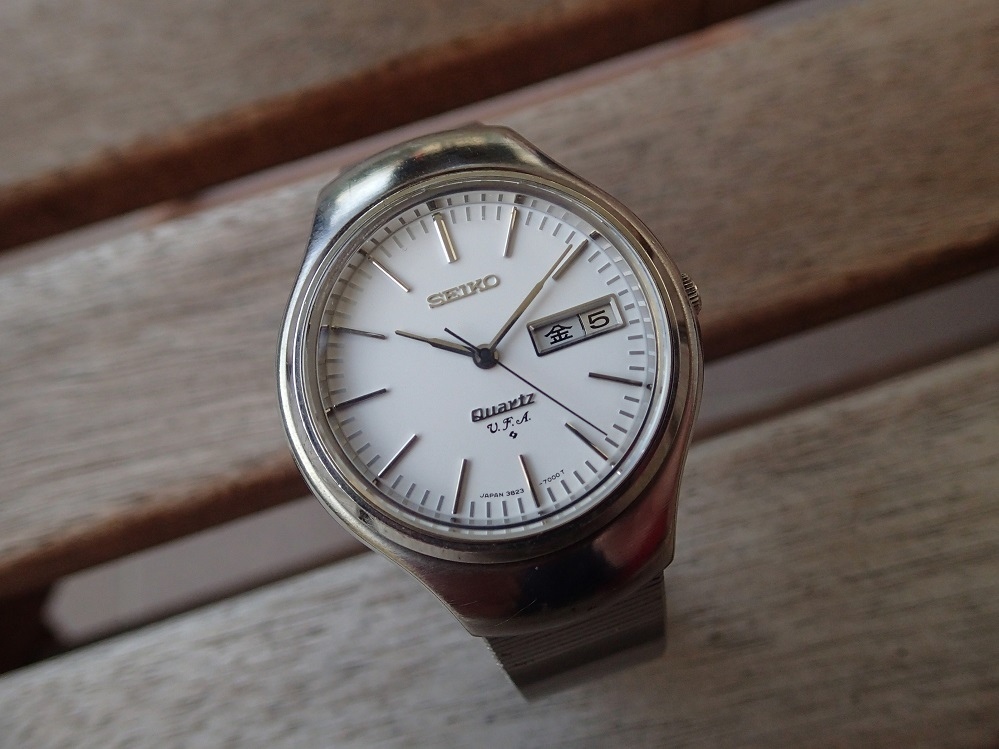 ![P5180087.JPG.1ca2e44f0a74409ee540644e0fc359a1.JPG](https://forum.chronomag.cz/uploads/monthly_2022_01/P5180087.JPG.1ca2e44f0a74409ee540644e0fc359a1.JG
Notera att texten nedan i de flesta fall är automatiskt översatt från sitt ursprungsspråk.
Seiko 3823 VFA (Mycket Finjusterad) till salu. Klockan är från 1971. Fram till 1974 representerade den det bästa Seiko-sortimentet när det gäller noggrannhet och pris. Detta kan också ses på urtavlan, i form av applicerade minutindex (vem har det idag?), Femminutersindex i högblank och de vackra applicerade Seiko- och Quartz-logotyperna.
Tillverkning: SUWA Tillverkningsår: september 1971 dvs. Detta är en klocka redan från produktionsstart Modell: Quartz V.F.A. Referens: 3823-7000 Maskin: 3823 (38SQW), 7 stenar Boett: stål, 36x42x11 mm Noggrannhet: V.F.A. + 5s / -5s per månad (fabriksspecifikationer - jag garanterar inte) Urtavla: elfenben, manuellt applicerade tim- och minutindex, produktionsstart utan VFA - denna del ersattes förmodligen av en senare typ - även om det var ganska vanligt att Seiko kombinerade delar när man bytte till nyare varianter Move: AS010 - den första versionen av "Mesh"-draget, Batteri: SR44SW - hållbarhet 1 år Listpris: 135 - 150 tusen JPY (ca 9000 USD i dagens priser)
Klockan är i gott skick med några repor på boetten (särskilt på fördjupningen på batteriluckan). Urtavlan är vackert ren, som syns på bilderna. Klockan kommer att få ett nytt batteri.
Pris: 9 000 CZK + postkontor
![P5180074.JPG.de44c3033a54feb302f7b99e42e9e4ad.JPG](https://forum.chronomag.cz/uploads/monthly_2022_01/P5180074.JPG.de44c3030eJPGe44c3030e4f303e5e30e30e30e30e30e30e30e30e30e30e30e30e30e30e30000000000000000000000000000000000000000000000000000000000000000000000000001/
![P5180087.JPG.1ca2e44f0a74409ee540644e0fc359a1.JPG](https://forum.chronomag.cz/uploads/monthly_2022_01/P5180087.JPG.1cae7e436cJ4404040404090f5400f54000f5400e44090f5400f5400f4400f50e4409f51e4409f51e4409f50000000000000000000000000000000000000000000000
Beachten Sie, dass der folgende Text in den meisten Fällen automatisch aus seiner Originalsprache übersetzt wird.
Seiko 3823 VFA (Very Fine Adjusted) zu verkaufen. Die Uhr stammt aus dem Jahr 1971. Bis 1974 repräsentierte sie die Seiko-Spitzenklasse in Bezug auf Ganggenauigkeit und Preis. Dies zeigt sich auch auf dem Zifferblatt, in Form von aufgesetzten Minutenindizes (wer hat das heute noch?), Fünf-Minuten-Indizes in Hochglanz und den schön aufgesetzten Seiko- und Quartz-Logos.
Produktion: SUWA Baujahr: September 1971 dh. Dies ist eine Uhr vom Beginn der Produktion an Modell: Quarz V.F.A. Referenz: 3823-7000 Maschine: 3823 (38SQW), 7 Steine Gehäuse: Stahl, 36x42x11 mm Genauigkeit: V.F.A. + 5s / -5s pro Monat (Werksangaben - übernehme ich keine Garantie) Zifferblatt: Elfenbein, manuell aufgesetzte Stunden- und Minutenindizes, Produktionsbeginn ohne VFA - dieses Stück wurde wohl durch einen späteren Typ ersetzt - obwohl es bei Seiko durchaus üblich war, bei Umstellung auf neuere Varianten Teile zu kombinieren Zug: AS010 - die erste Version des "Mesh"-Zugs, Batterie: SR44SW - Lebensdauer 1 Jahr Listenpreis: 135 - 150 Tausend JPY (ca. 9000 USD in heutigen Preisen)
Die Uhr ist in gutem Zustand mit ein paar Kratzern auf dem Gehäuse (insbesondere auf der Vertiefung auf der Batterieabdeckung). Das Zifferblatt ist schön sauber, wie auf den Fotos zu sehen. Die Uhr bekommt eine neue Batterie.
Preis: 9.000 CZK + Postamt
!!
!!
!!
!!
Notez que le texte ci-dessous est dans la plupart des cas traduit automatiquement à partir de sa langue d'origine.
Seiko 3823 VFA (très finement ajusté) à vendre. La montre date de 1971. Jusqu'en 1974, elle représentait le haut de gamme Seiko en termes de précision et de prix. Cela se voit également sur le cadran, sous la forme d'index minutes appliqués (qui l'a aujourd'hui ?), d'index cinq minutes très brillants et des magnifiques logos Seiko et Quartz appliqués.
Production : SUWA Année de production : Septembre 1971 ie. Il s'agit d'une montre dès le début de la production Modèle : Quartz V.F.A. Référence : 3823-7000 Machine : 3823 (38SQW), 7 pierres Boîtier : acier, 36x42x11 mm Précision : V.F.A. + 5s/-5s par mois (spécifications d'usine - je ne garantis pas) Cadran : ivoire, index des heures et des minutes appliqués manuellement, début de la production sans VFA - cette pièce a probablement été remplacée par un type plus récent - bien qu'il soit assez courant pour Seiko de combiner des pièces lors du passage à des variantes plus récentes Move : AS010 - la première version du mouvement "Mesh", Batterie : SR44SW - autonomie 1 an Prix ​​courant : 135 - 150 000 JPY (environ 9 000 USD aux prix d'aujourd'hui)
La montre est en bon état de fonctionnement avec quelques rayures sur le boitier (notamment sur le creux du cache pile). Le cadran est magnifiquement propre, comme on le voit sur les photos. La montre aura une nouvelle batterie.
Prix ​​: 9 000 CZK + bureau de poste
P5180067.JPG.379427785abfb52a457d44ac14aeb224.JPG
P5180074.JPG.de44c3033a54feb302f7b99e42e9e4ad.JPG
P5180076.JPG.e61849a3ec9cdddd4816fd1f014fa70a.JPG
[P5180087.JPG.1ca2e44f0a74409ee540644e0fc359a1.JPG](https://forum.chronomag.cz/uploads/monthly_2022_01/P5180087.JPG.1ca2e44f0a74409ee540644e0fc359a1.JG
Houd er rekening mee dat onderstaande tekst in de meeste gevallen automatisch wordt vertaald vanuit de oorspronkelijke taal.
Seiko 3823 VFA (Zeer Fijn afgesteld) te koop. Het horloge komt uit 1971. Tot 1974 vertegenwoordigde het de Seiko-topreeks in termen van nauwkeurigheid en prijs. Dit is ook terug te zien aan de wijzerplaat, in de vorm van aangebrachte minutenindexen (wie heeft die tegenwoordig?), vijf minuten indexen in hoogglans en de prachtig aangebrachte Seiko en Quartz logo's.
Productie: SUWA Jaar van productie: September 1971 dwz. Dit is een horloge vanaf het begin van de productie Model: Quartz V.F.A. Referentie: 3823-7000 Machine: 3823 (38SQW), 7 stenen Kast: staal, 36x42x11 mm Nauwkeurigheid: VFA + 5s / -5s per maand (fabrieksspecificaties - ik geef geen garantie) Wijzerplaat: ivoor, handmatig aangebrachte uur- en minuutindexen, start productie zonder VFA - dit stuk is waarschijnlijk vervangen door een later type - alhoewel het voor Seiko vrij gebruikelijk was om onderdelen te combineren bij het overstappen op nieuwere varianten Move: AS010 - de eerste versie van de "Mesh"-beweging, Batterij: SR44SW - uithoudingsvermogen 1 jaar Catalogusprijs: 135 - 150 duizend JPY (ongeveer 9000 USD in de huidige prijzen)
Het horloge is in goed werkende staat met een paar krasjes op de kast (vooral op het kuiltje in het batterijklepje). De wijzerplaat is mooi schoon, zoals te zien is op de foto's. Het horloge krijgt een nieuwe batterij.
Prijs: 9.000 CZK + postkantoor
P5180067.JPG.379427785abfb52a457d44ac14aeb224.JPG
P5180074.JPG.de44c3033a54feb302f7b99e42e9e4ad.JPG
P5180076.JPG.e61849a3ec9cdddd4816fd1f014fa70a.JPG
[P5180087.JPG.1ca2e44f0a74409ee540644e0fc359a1.JPG](https://forum.chronomag.cz/uploads/monthly_2022_01/P5180087.JPG.1ca2e44f0a74409ee540644e0fc359a1.JG